Cleary goes back to his roots
March 01, 2014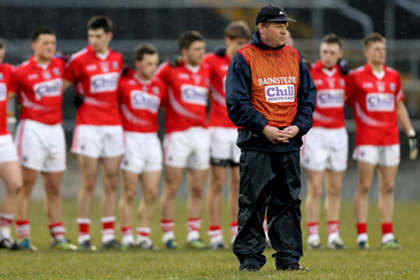 John Cleary in charge of the Cork U21s. INPHO
Former Cork U21 manager John Cleary has returned to manage his club Castlehaven's U21 team.
The 1989 and '90 All-Ireland winning forward spent six years as Cork U21 manager, having served as a selector under Tony Leahy for four years prior to that. During his time in charge, Cork won one All-Ireland and four Munster titles. They also lost last year's All-Ireland final to Galway, which turned out to be the Castlehaven man's last game in charge.
Following Conor Counihan's resignation as Cork senior boss, Cleary's name was linked to the vacancy before it was eventually filled by Brian Cuthbert.
Cleary is currently preparing the Castlehaven U21s for a South West Cork quarter-final joust with Clonakilty on March 16.
Most Read Stories