Sheridan to answer Fianna Fail's call
October 09, 2013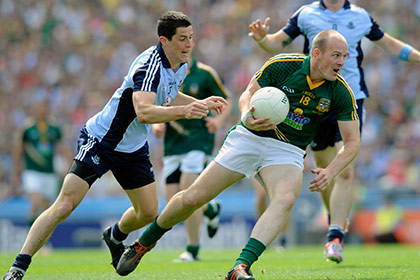 Meath's Joe Sheridan gets away from Dublin's Rory O'Carroll
Meath's Joe Sheridan is set to enter politics as a candidate for Fianna Fail in next year's local elections.
Sheridan was recently left out of Mick O'Dowd's plans for the 2014 gaelic football season but he intends to use the spare time to seek a nomination from the Micheal Martin led party.
He revealed he was asked to consider running a year ago but only committed to it in recent weeks.
"I have been involved in the local community over the last number of years and enjoyed that and this is something I could give back to them; I could give them a voice," he told the Meath Chronicle.
Sheridan was one of four GAA players who greeted Queen Elizabeth on her visit to Croke Park two years ago and he has also met Michelle Obama.
He is following in the footsteps of his former club and county team-mate Graham Geraghty who unsuccessfully stood for Fine Gael in the 2007 General Election.
Most Read Stories