McCarron in battle with gambling
October 07, 2013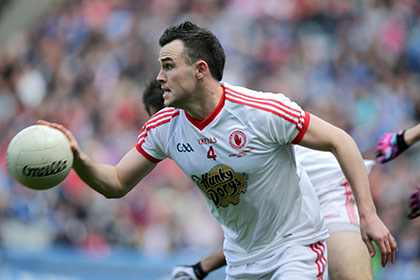 Tyrone's Cathal McCarron. INPHO
Tyrone All Star nominee Cathal McCarron is fighting a gambling addiction - and Mickey Harte has vowed to help him beat it.
The Irish News reports that McCarron has gone to London in a renewed effort to beat an addiction he has been battling 'for a number of years'.
There have been reports that the 25 year old got into trouble trying to obtain money to feed his habit but he rejected these when speaking to the paper from London last night.
"It is a testing time for me and I reject allegations made against me. It is a tough time surely," McCarron commented.
Red Hand boss Mickey Harte has been in contact with the Dromore St Dympna's player to offer his support.
"I have known Cathal had this kind of problem for some years and I thought he was on top of it," Harte revealed to the Irish News.
"The organisation that Cathal plays his sport for has provided support for players over the years for these sorts of things and it will be no different here.
"But ultimately the individual concerned has to make the effort. I have been speaking to Cathal on the phone and this is not where he wants to be."
Harte added he new nothing of the other allegations made against his star corner-back.
"I know there is a problem with gamblers needing to feed their habit and that does not make things any easier.
"Football is a secondary issue for Cathal at the moment. I hope he can sort things out."
Armagh All-Ireland winner Oisin McConville and Offaly's Niall McNamee are two GAA stars who have gone public with their respective battles with gambling addiction in the past.
Most Read Stories