Banner dominate All Star hurling nominations
October 03, 2013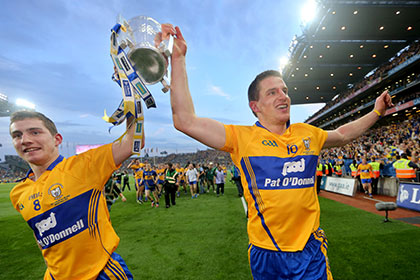 Clare's Colm Galvin and John Conlon celebrate with the Liam McCarthy. INPHO
All-Ireland champions Clare have 13 players nominated for this year's GAA GPA hurling All Stars sponsored by Opel.
Corner back Cian Dillon and wing back Patrick O'Connor are the only players who started last Saturday's All-Ireland final replay win over Cork not to make the shortlist of 45, with late call-up Shane O'Donnell - who scored 3-3 in a man of the match display - being nominated for the full forward position.
Runners-up Cork have nine players on the list, while Dublin's first Leinster SHC success in 52 years has also seen them receive nine nominations. Seven players from Munster champions Limerick are shortlisted, and they are followed by Kilkenny, Waterford and Wexford who receive four, two and one respectively.
Surprise omissions include Limerick captain Donal O'Grady, who many had tipped to receive an All Star at midfield, team-mates Declan Hannon, who scored 0-17 in two games in the Munster SHC, and wing back Paudie O'Brien, Galway talisman Joe, Canning, Kilkenny's Richie Power, Maurice Shanahan of Waterford and the aforementioned Patrick O'Connor, who was one of Clare's most consistent players in their march to a first All-Ireland title since 1997.
In all, 13 of last year's nominees are included on this year's list.
The shortlist for the Player of the Year and Young Player of the Year Awards have also been confirmed by the selection panel.
The senior category includes Tony Kelly (Clare), Anthony Nash (Cork) and Podge Collins (Clare) and the young player category also includes Kelly and Collins who are joined by county colleague David McInerney.
The All Star team will be named on Wednesday, November 6 - two days before they are presented with their awards at the All Stars banquet which takes place in Croke Park this year.
Hurling All Star nominations
Goalkeepers
Anthony Nash (Cork), Patrick Kelly (Clare), Gary Maguire (Dublin)
Full backs
David McInerney (Clare), Domhnall O'Donovan (Clare), Richie McCarthy (Limerick), Tom Condon (Limerick), Peter Kelly (Dublin), Shane O'Neill (Cork), Conor O'Sullivan (Cork), Paul Murphy (Kilkenny), Tomás Waters (Wexford)
Half backs
Brendan Bugler (Clare), Patrick Donnellan (Clare), Liam Rushe (Dublin), Michael Carton (Dublin), Brian Murphy (Cork), Wayne McNamara (Limerick), Gavin O'Mahony (Limerick), Kieran Joyce (Kilkenny), Michael Walsh (Waterford)
Midfield
Conor Ryan (Clare), Colm Galvin (Clare), Joey Boland (Dublin), Paul Browne (Limerick), Daniel Kearney (Cork), Kevin Moran (Waterford)
Half forwards
Tony Kelly (Clare), John Conlon (Clare), Colin Ryan (Clare), Séamus Harnedy (Cork), Patrick Cronin (Cork), Conal Keaney (Dublin), Danny Sutcliffe (Dublin), James Ryan (Limerick), Eoin Larkin (Kilkenny)
Full-forwards
Podge Collins (Clare), Conor McGrath (Clare), Shane O'Donnell (Clare), Patrick Horgan (Cork), Conor Lehane (Cork), Paul Ryan (Dublin), David O'Callaghan (Dublin), Graeme Mulcahy (Limerick), Richie Hogan (Kilkenny)
Nominees for player of year
Tony Kelly (Clare), Anthony Nash (Cork), Podge Collins (Clare)
Nominees for young player of the year
Tony Kelly (Clare), David McInerney (Clare), Podge Collins (Clare)
County-by-county breakdown
Clare - 13
Cork - 9
Dublin - 9
Limerick - 7
Kilkenny - 4
Waterford - 2
Wexford - 1
Most Read Stories