Back then: Mayo legend Jackie Carney
September 18, 2013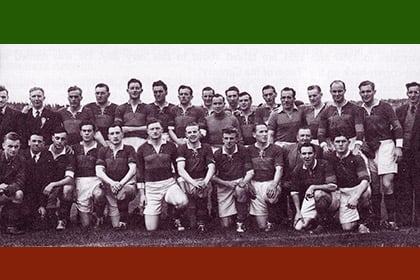 The powerful Mayo squad of the early 50's. Front, left to right Jimmy Curran,
Jackie Carney (co-trainer)
, Mick Flanagan, Peter Quinn, Sean Flanagan, Padraic Camey, Mick Mulderrig, Billy Kenny, Peter Solan, Mick Downey (masseur), Uam Hastings, Joe Staunton. Back l-r: Back, left to right: Dr Jimmy Laffey (Chairman Co Board), Gerald Courell (co-trainer), John Forde, Henry Dixon, John McAndrew, Tom Langan, Joe Gilvarry, Tom Acton, Billy Durkan, Paddy Irvin, Sean Wynne, Mick Caulfield, Tommy Byme, Sean Mulderrig, Eamonn Mongey, Paddy Prendergast.
Mayo have won three All-Ireland senior football titles in their history - 1936, '50 and '51 - and a key figure in each of those successes in both a playing and management capacity was Jackie Carney, who passed away at the age of 79 in 1984. However, his 92-year-old widow Eithne is still living an active life in her home town of Kells, Co. Meath and last week she welcomed us into her home to share her memories of the Mayo football icon.
Eithne (nee McGee) met her late husband shortly after beginning a new job with Paddy Power bookmakers in Ballina in 1945. Within a year, they were married and went on to have five children - Patrick, who sadly died nine years ago; John, who is living in Kilmacanogue, Co. Wicklow; Eithne jnr who lives in Bray, Co. Wicklow; Anna, who resides in California; and Declan, who lives in New Jersey.
"Jackie proposed to me a fortnight after I met him," laughs the sprightly nonagenarian, who plays Bridge three nights a week.
"He was 15 years older than me, which would make him 107 if he was still alive. We married in 1946 in Kells where I moved back to after he died, having lived happily together in Ballina for 40 years. He ran a pub and grocery shop and I had a clothes fashion store. The two shops were only three or four doors from each other.
"Jackie was a wonderful, lovely man. Because he was that bit older than me, I never actually saw him play football, but he was always involved and enjoyed a special relationship with the players from the 1950 and '51 Mayo teams. He was always a fit man, which made his death from a heart attack all the more difficult to comprehend.
"He is buried in Adrigole Cemetery near Laharduan, where he originally came from. It's a beautiful cemetery which overlooks a lake."
One of the walls in Eithne's sitting room is adorned with medals from Jackie's illustrious playing career. Mayo were known as the league specialists in the 1930s, winning an incredible six-in-a-row of National League titles between 1934 and '39, and another in 1941. Jackie has all seven medals, a record he shares with none other than Kerry's Mick O'Dwyer.
Carney also won four Railway Cup medals with Connacht and Mayo SFC medals with Ballina Stephenites, but his most prizes possession was the All-Ireland medal he captured in 1936 when Mayo defeated Laois in the final. Lining out at right half forward, he was joined on that great team by Henry Kenny, father of An Taoiseach Enda Kenny.
Another outstanding Mayo footballer from that era was Gerald Courell, who didn't feature in the 1936 All-Ireland final, but who captained the Westerners' National League winning teams of 1934, '35 and '36. During their playing days, Jackie and Courell struck up a lasting friendship which was to serve Mayo well when back-to-back Sam Maguire Cups were annexed in 1950 and '51.
After losing the wind dominated 1948 All-Ireland final to Cavan by a point and the '49 All-Ireland semi-final to Meath, a talented Mayo team made amends in 1950 under the joint-management of Carney and Courell.
The campaign began in Carrick-on-Shannon with a win over Leitrim. Roscommon were accounted for in the Connacht final at Tuam Stadium and Mayo then swept past Armagh with 12 points to spare to set up an All-Ireland final showdown with Louth.
Despite losing centre half forward Billy Kenny to a career-ending injury after only five minutes, sterling performances from double All-Ireland winning captain Sean Flanagan at corner back and midfielders Eamonn Mongey and Padraic Carney (no relation to Jackie) helped Mayo to a gritty 2-5 to 1-6 victory. Padraic Carney later became known as 'The Flying Doctor' after he returned from New York to play in Mayo's 1954 National League semi-final and final victories over Dublin and Carlow respectively.
A confident Mayo team set out on the defence of their title in June 1951 with a comfortable victory over Sligo. They also proved much too strong for Galway in the Connacht final at Tuam Stadium to earn a first meeting with Kerry since the 1948 All-Ireland semi-final. The sides played out a draw before Mayo won the replay on September 9.
Mayo had only two weeks to get ready for the final against Meath, which offered them a chance to avenge their semi-final defeat of '49 and their National League final loss to the Royals five months earlier. Meath got off to a good start and had opened up a three-point lead before Tom Langan - who was named at full forward on the GAA's Football Team of the Millennium - turned legendary Meath full back Paddy O'Brien and fired home a memorable 10th minute goal.
With Padraic Carney contributing five points and Joko Gilvarry adding a second goal, Mayo eventually won by 2-8 to 0-9. Sadly, and not for the want of trying, the Sam Maguire has eluded the county ever since.
The contributions of Jackie Carney and Gerald Courell to those successes cannot be overstated. Mayo were superbly organised and, as was the practice then with teams that had several players living outside the county, the team was brought together in Ballina for a couple of weeks' collective training before the All-Ireland semi-final and final.
"They all stayed together in Francis Street in Ballina, and trained during the day up in Stephenites," Eithne remembers.
"Collective training was the done thing in those days. Jackie used to put them to bed at night and get them up in the morning. He was very fond of them as they were of him. They were a terrific bunch of lads who remained good friends for years after. They always looked out for each other in their lives outside football. They were a real team in every sense of the word."
Eithne believes nothing has changed as far as the Mayo public's passion for the game is concerned.
"They loved their football then in the same way as they love it now. Football was all that people had outside of their working lives in those days. People cycled from Ballina to Croke Park to see the team play. That's how keen they were. Those who didn't travel to Dublin had to rely on Michael O'Hehir's radio commentary."
She continues: "The All-Ireland final weekend was special. The Mayo team always stayed in Barry's Hotel on the night before the final. That was the Mayo hotel in Dublin. It used to be packed with people looking for tickets and wanting to meet the players."
As Mayo bid to end their 62-year wait for All-Ireland honours against Dublin this weekend, Eithne is acutely aware of the alleged curse that was put on the team by a priest when they last raised Sam in 1951. The story goes that while passing through Foxford on returning from their All-Ireland win, the team neglected to pay proper respect to a funeral.
So enraged was a local priest that he cursed the team and the county that while any member of the '51 team lived, Mayo would never win an All-Ireland final.
"That story had taken on a life of its own in recent years!" she smiles.
"As far as I'm aware, there are only two members of the 1951 team still alive - Paddy Prendergast in Kerry and Dr Paraic Carney in Canada. There could be one or two more - I can't say for certain. I'd like to think that it (the curse) is a myth. The longer Mayo goes without winning an All-Ireland, the more legs the story seems to grow.
"I'll be hoping and praying that they can do it on Sunday. As a Meath woman, it would give me added satisfaction if they could beat Dublin! I'll be watching on television at home, but my son John and his daughter Hannah will be in Croke Park cheering the Mayo team on.
"I've no doubt that Jackie will be looking down from heaven and willing them on. He was a great man who people still talk about today. He is still held in very high regard in Mayo. I know this from the time I spent a few days in St. James' Hospital in Dublin a few years ago. I got preferential treatment from the Mayo doctors because I was Jackie Carney's wife!"
The former Mayo and Donegal footballer, Martin Carney, who is best known nowadays as an analyst on RTE, is a nephew of the late, great Jackie Carney. By coincidence, Martin's brother Dermot has spent much of his working life in Kells where he was principal of St. Ciaran's Community School. He lives in nearby Athboy.
Most Read Stories