Bray Emmets Kick Fada Competition
July 29, 2013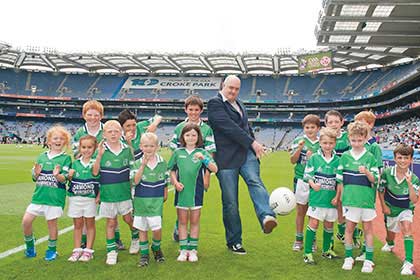 Dara Ó Briain launched the 14th annual All-Ireland Kick Fada competition hosted by the Bray Emmets GAA Club in Co. Wicklow
Dara Ó Briain launches All-Ireland Kick Fada Competition
Irish comedian Dara Ó Briain has launched the 14th annual All-Ireland Kick Fada competition hosted by the Bray Emmets GAA Club in Co. Wicklow. The event will take on an international flavour this year to coincide with The Gathering and appropriately, the Dublin Airport Authority (DAA) will act as main sponsors.
Ó Briain, star of BBC shows such as 'Mock the Week' and 'The Apprentice: You're Fired' was in attendance at Croke Park for the three Round 4 Football Qualifiers and took time out form his hectic schedule to assist the North Wicklow club launch the promotional campaign for what promises to be the biggest competition in the contest's history so far.
The National All-Ireland Kick Fada competition, the longest running event of it's kind in the country, will see kickers from all over Ireland take part in the hope of succeeding last year's winners Damien Sheridan (Longford) and Serena Hannon (Dublin). In addition, this years DAA Kick Fada is being expanded to include an international competition as part of The Gathering 2013 with champion kickers from Britian, Europe, Australia, Canada, and the United States among those flying into Bray for the 14th September event.
Ó Briain, a former footballer and hurler with Bray Emmets and who has attended the event in the past, said he was delighted to be part of the DAA Kick Fada weekend.
"Over the years, this has become recognised as a genuine All-Ireland Gaelic Football competition and I am very proud that it is taking part in my old club, Bray Emmets," he declared. Competitors of any level are welcome to register for the event for free while there is also free admission for people attending on the day.
Bray Emmets GAA Club, in conjunction with the DAA, will also be revealing the identity of the next inductee to their Kick Fada Hall of Fame next month. Previous winners include Jimmy Keaveney (Dublin), Mick O'Dwyer and Donie O'Sullivan (Kerry), Billy Morgan (Cork), Brian McEniff (Donegal) and Frank McGuigan (Tyrone).
For further information, please contact Conor Spillane, Bray Emmets PRO at
[email protected]
or 087-6543345.
Concubhair Ó Spealáin
Oifigeach Caidreamh Poiblí
Emmet Bhré
Bré
Co. Chill Mhantáin
www.brayemmets.com
www.facebook.com/BrayEmmets
www.twitter.com/BrayEmmets
Most Read Stories