It's not McHale Park, it's MacHale Park!
July 25, 2013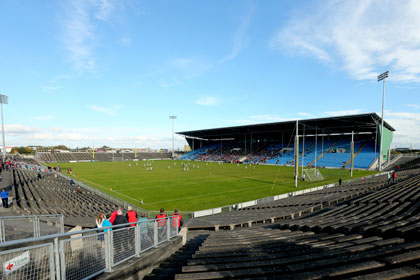 MacHale Park Castlebar. INPHO
The Mayo county board has confirmed that the spelling of its county grounds has been corrected.
Down through the years, MacHale Park (or Elvery's MacHale Park to give it is full present-day title) was wrongly spelt McHale Park, but the county board has now rectified that after an appeal by former Mayo state solicitor Liam MacHale to restore his great, great granduncle's name, which had been accidentally changed.
His great, great granduncle was John MacHale, who was Archbishop of Tuam in the 1800s and who the Castlebar venue is named after.
Speaking to the Irish Examiner, Liam revealed how a trip to the Basilica of St Paul in Rome has led to the spelling being changed.
"Down the years it was drummed into us that we were Mac," explained Liam, whose family were guests of honour at last Sunday's Connacht SFC final.
"There was a historic reason for it. When the archbishop went to Maynooth, he spelt his name in Irish because the establishment had decreed that all Irish people should spell their surnames Mc while Scottish people should spell it Mac so they could differentiate between the two. He was strong-willed man and insisted on spelling his name in Irish.
"Only two years ago in Rome we went to the Basilica outside the walls and spotted it had two high altars. The original church had burned down in 1823 and was rebuilt in 1857 with a second altar. Above it was, carved in stone, was names of all dignitaries that attended and didn't I see John's name as MacHale Archbishop of Tuam there.
"When I came home I knew I had proof positive how he spelt his name because he obviously told the Italian stone cutters how it was spelt.
"I wrote to the county board chairman and said if stone cutters can get it right surely MacHale Park can? County secretary Vincent Neary, a very nice fellow, wrote back to say they would take us up on it."
Most Read Stories