Cluxton frees took eight minutes
July 15, 2013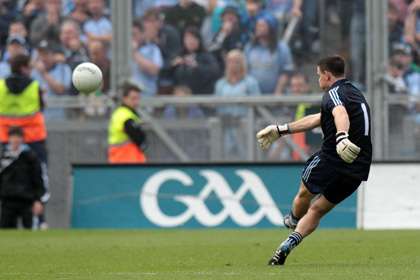 Stephen Cluxton kicks the winning point
Dublin goalkeeper Stephen Cluxton took nearly eight minutes to take seven shots at goal during the Leinster SFC final against Meath.
The startling statistic was revealed on The Sunday Game by analyst Kevin McStay who believes something needs to be done to prevent such lengthy stoppages as more and more teams turn to their goalkeepers to take frees.
The Sunday Game analysis showed that it took Cluxton 7 minutes and 54 seconds to take seven frees/45s, which is an average of 68 seconds per free. By contrast, Meath dead-ball specialist Mickey Newman took three minutes and 33 seconds to take five frees, which is an average of 43 seconds.
However, McStay estimated that all of Newman's frees took in the region of 13 minutes, which equates to 18 per cent of the overall playing time.
"There are things like cards and substitutions involved, but it is a long time," the former Mayo star said of Cluxton's trips up-field to take frees.
"It probably is time for the GAA to legislate for it because there is nothing specific in the rules. There is no sense that Cluxton is deliberately wasting time or anything like that…
"But the referee does not have to add on anything if he feels Cluxton or Newman were deliberately wasting time, and they weren't. There is nothing to outlaw it, but a lot of the opposition teams, especially to Dublin, will be looking at it very, very carefully."
The programme also showed hilarious, but disturbing footage of a team official who threw off his glasses before getting involved in the melee which broke out at the end of normal time in last night's All-Ireland football qualifier between Wexford and Longford at Glennon Brothers Pearse Park.
Wexford won by 2-15 to 0-16 after extra-time in what is likely to be Glenn Ryan's last game in charge of Longford.
Most Read Stories