O'Hara calls on Walsh to step down
May 27, 2013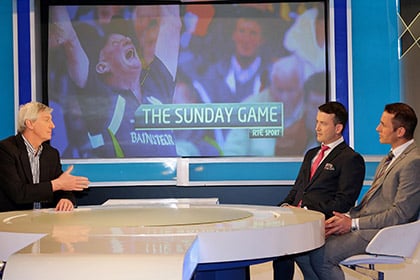 Michael Lyster, Donal Og Cusack and Eamonn O'Hara on The Sunday Game set. INPHO
Eamonn O'Hara has launched a stinging attack on Sligo manager Kevin Walsh in the wake of yesterday's shock Connacht SFC defeat to London.
The 37-year-old, who announced his inter-county retirement two weeks ago after being deemed surplus to requirements by Walsh, didn't mince his words in calling for the former Galway midfielder to step down on The Sunday Game last night.
"Kevin Walsh made big calls this year and last year, but now every one of them has come back to backfire against him and for me I think he lost the players throughout the league," the 2007 Connacht SFC winner blasted.
"Kevin Walsh has a lot to answer for. To be honest with you, I think he will (resign) and I think he should do the county board a favour. These players deserve an awful lot more to be honest with you.
"They work very hard and they have trained extremely hard - I know that first hand - but they deserve better training sessions, they deserve better quality in terms of their tactical awareness and stuff like that, and that hasn't come.
"We have a lot of infighting and there is a lot of resignations at county board level. Kevin Walsh's results over the last two years have gone unnoticed because of this infighting.
"No-one even is being held accountable to this. We got to a Connacht final last year. We are papering over the cracks. I think going forward Kevin should make the right decision for the sake of Sligo football and not for anybody else."
Speaking on RTE Radio 1 this morning, former Armagh star Oisin McConville claimed O'Hara was out of line and had used The Sunday Game as a platform to "grind an axe" with the embattled manager.
Most Read Stories