A day in the life: London's Mark Gottsche
May 23, 2013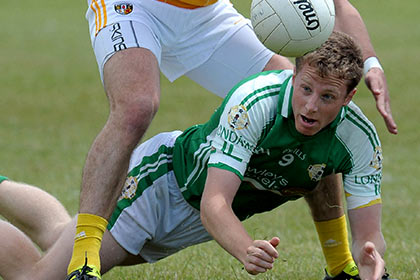 London's Mark Gottsche. INPHO
Like all those who pull on the London jersey in this year's Championship, and have done so over a long number of years, Mark Gottsche has come to the UK capital in search of work and has bedded himself down well in the Irish Community here, as a key part of London GAA where he is working as the Senior Games Development & Logistics Manager.
For most Exiles, London is a second home but Gottsche can call on a third place he calls his own, as the surname would suggest he is of German extraction and was born there, before moving to Ireland and to Oranmore in Galway at a young age.
It was his late father, Jurgen who instilled a love of Gaelic games in Mark. Despite not knowing much about the sport before coming to Ireland, Jurgen dissected the rule-book 'Frank Murphy' style and was a passionate Gaelic Games supporter over the remainder of his life.
"Dad got involved unintentionally. He read the rule book and then loved it! It grew from there with myself. I was born in Germany and moved to Ireland when I was five. Nearly the first thing I did was join the local club, it all started from there," Mark said.
"I started out on a day where it was lashing rain, so I didn't enjoy it a whole lot! Ah no I enjoyed it greatly! We are lucky in Oranmore that we have Gerry Fahy, who is in the primary schools for s long as I can remember. He instilled the passion in a lot of us, especially my own age group."
Mark won a Galway Minor Championship, and then progressed to donning a Senior jersey for the Tribesmen.
"We were always one of the top clubs teams, we had a great rivalry with Moycullen, Salthill and Michaels. The four of us at my age-group anyhow. We did have a lot of success.
"I did four years in Galway studying Accounting. Then I decided I didn't want to be an accountant. I went to Jordanstown for a year and done a Masters in Sports Management. Then I was thinking to work in a sports organisation I would have to go to England. Ironically enough I ended up working for the GAA! That was just the way it worked out in the end."
Life isn't easy in the bright lights of London, and it's tough to get the time to play football, but Mark jumped at the chance.
"I moved over in November 2010 and then played a couple of club games at the start of the season. Then at the end of the National League I got the call to come into the squad, about eight weeks before the Mayo game. I said yes instantly. Something I always wanted to do was play inter-county football. Unfortunately I'm not around to play for Galway or be selected, but it was still something I wanted to do.
"It's not easy. For a collective session we would be based out in Greenford, which is about five miles from Ruislip. It's North-West London, then there are lads who are teachers living over in the East or down South in Clapham.
"I'd say only about 20 percent of lads would drive to training, the rest would take public transport. You leave work, go on the Tube out to training, train, have dinner and get back on the Tube. You might not get back home until 12 o'clock at night, and for the lads who are working on site's it's in for 6.30 in the morning. It is tough and it is a massive commitment for the lads."
A real danger then that Gottsche's new life in London may have been too busy for the rigours and the commitment required not just for football but for inter-county football.
"It does depend a lot on the job you have. Nearly every lad on the squad apart from the lads who were born in London aren't there to play county football, they are there for work. County football for them is a secondary thing and the job is number 1. But, that doesn't mean that we don't train the same way as the counties in Ireland. The guys are giving the same amount of effort."
Mark is on the ground day-in, day-out at the heart of London GAA where he is logistics manager and provides a link between the county board, the clubs and the team of coaches, who spread the Gaelic Games gospel in a number of schools and clubs throughout the English capital.
"I work with the management of the county board and all of the different clubs. Also I provide to support to Lloyd Colfer in his role as Development officer," he said.
"30 to 40 schools get a visit from our coaches on a weekly basis. Lloyd has four part-time coaches working with him at the minute, but some of the schools have their own coach which helps as well.
"We would organise tournaments also. The lads we have at the moment are students doing part-time work, some of them are in with the London panel as well which is great.
"We have 14 underage clubs at the moment, while there are also teams representing London at underage level.
"At under 14 level we send two squads to the All-Ireland Féile Peil na nÓg each year, North and South - that is divided for geographical purposes because of travel.
"We have two Under 16 teams which are the same again, and they will take part in the Dermot Earley competition in Connacht in September. The Minors will also play some games in Connacht that Lloyd has organised."
Gottsche made history earlier this year, becoming the first London based player to play inter-provincial football, having tasted action with Connacht. Amazingly he and the other London players on that squad only found out 24-hours previously of their Provincial call-up's.
"It was a great honour to be the first London based player to get on the pitch. I know there were three other London players sitting on the bench the same day. I was really proud. Obviously I'm still a proud Galway and Connacht man and it just meant an awful lot to represent my province.
"Myself and Eoin O'Neill from Galway were on the panel and Padraig McGoldrick from Sligo and Seamie Hannon from Longford, whom I suppose now is an honorary Connachtman! It definitely was a proud day for us.
"We played Carlow the day before with London in the league and we had no idea about it. I know Paul Coggins had mentioned it a long time back that he was hoping some London lads would be involved.
"After the game we were asked would we go up to the game and we all instantly said yes. It's a great honour to be playing at that level of football and it's what you strive for, when you are a six year old starting out. You always want to test yourself against the best."
And what of this weekend's Connacht SFC joust against the Yeats County?
"Sligo are definitely favourites going into the game. The ambush factor is sort of probably gone from us at this stage with the way we have played in the last two years, but you never know on the day. If you can deliver a performance and Sligo maybe have an off-day, things go right for us on the day you never know at the end with the result. You just have to control what you can and preparation for the game and see how we go from there.
"I think we have definitely dispelled the holiday in London for inter-county teams. It's definitely not a foregone conclusion anymore when teams come over to face us. Our performances in the league maybe haven't been as great as we would like them to be, but definitely in Championship we have put it up to teams in Ruislip, and I don't think we have let anyone out of Ruislip easily, definitely in the Championship anyway.
"On the day if we can perform to the levels we are capable of we will definitely be there or thereabouts in the end."
Most Read Stories