Top hurling referees facing the chop
April 25, 2013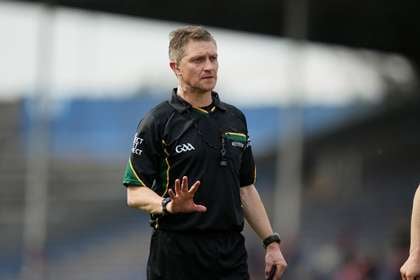 Westmeath referee Barry Kelly
The GAA is planning to reduce its elite panel of hurling referees by 25 per cent.
National referees' chairman Pat McEnaney briefed a meeting on Tuesday night about plans to cut the panel of referees for this year's championship from 12 to nine, meaning some of the country's most high-profile match officials are facing disappointment in the coming weeks.
McEnaney believes that the move will lead to greater 'match fitness' for the remaining nine championship referees because they will be taking charge of more championship games. There is speculation that Leinster and Munster will have four referees each, with the other coming from Connacht.
In an interview with this year's Westmeath GAA Yearbook, which is produced in association with hoganstand.com, last year's All-Ireland hurling (drawn) final referee Barry Kelly explained how there is fierce competition between match officials for the big games.
"It's like anything in life - you get greedy. Every referee wants the big matches and there are only three or four really big ones in hurling. There are only 24 hurling championship matches in all and I was lucky enough to do four of them last year - Tipperary v Limerick, Dublin v Kilkenny, Cork v Waterford and Kilkenny v Galway," the Mullingar man said.
The elite football panel of referees is expected to remain at 16, having been reduced from 18 for last year's championship.
Most Read Stories