The late Matt Gilsenan
April 06, 2013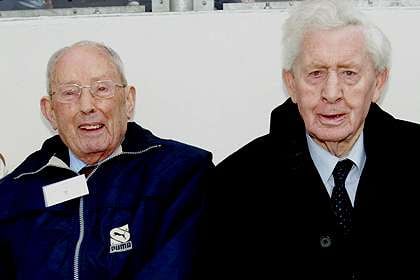 Two Meath greats. The late Liam Creavin (left) along with Matt Gilsenan (Meath captain 1939) at a Meath SFC final at Pairc Tailteann
It is with great sadness that we inform you of the passing of Matt Gilsenan who captained the 1939 Meath GAA football team in the all Ireland final.
Matt was 97 years old and a lifelong GAA supporter who remained a well of history, bright eyed and ever informative of events right to the end.
He will be sadly missed by his wife Eileen, 7 daughters and son Sean as well as his many grandchildren and great grandchildren.
His removal to the Church of the Assumption Moynalty will take place on Sunday the 7th of April at 18.30 and the funeral will take place on Monday at 11am.
His granddaughter the singer Deirdre Shannon (Gilsenan) and grandson Celtic Tenor Matthew Gilsenan hope to give him a fitting farewell.
Ar dheis De go raibh a anam
The following is an interview we held with Matt for the Royal County Meath Yearbook in 2007:The Great Mattie Gilsenan
It was 1939, with World War Two blazing across Europe and the Maginot Line demonstrating its vulnerability. Franklin D. Roosevelt was half-way through his spell as US President, Pius XII was Pope, Eamon De Valera was Taoiseach and a great man from north Meath captained his beloved county in the All-Ireland SFC final.
Some 68 years later that same great man is as fit and well as it is surely possible to be at the age of 92 and talking to him in his Moynalty home makes you appreciate how remarkably fresh he looks and how alert his mind still is as he recalls so many great days playing football for club, county and province.
Mattie Gilsenan scored a fabulous goal in that '39 decider against a star-studded Kerry team at Croke Park, but it wasn't enough as the hotly fancied and immensely talented Munster champions won by 2-5 to 2-3 to deprive Meath of their first title in the premier grade.
It had been 44 years since the Royal County had previously contested a final and the weight of history was firmly against them as they went into battle against a county that had already claimed the most coveted prize in Gaelic football on a dozen occasions.
But Meath gave a tremendous account of themselves against a Kerry team that contained such magnificent players as Danno Keeffe, Joe Keohane, Dan Spring and Paddy Kennedy and which went on to retain the All-Ireland title in the following two years.
Mattie had played for the Meath minors in 1933 and made his senior inter-county debut in the Leinster Championship match against Westmeath at Kells in 1935 when the home county won by four points, before bowing out of the title race with a single point loss to Louth at Croke Park three weeks later. He held his place for 11 years and normally lined out at right half-forward, with the occasional positioning on the 'forty'.
He was very much part of the action when Meath claimed only their second Leinster title in '39 when they beat Wexford by four points in the final and again the following year when they got the better of Laois by three points to retain the provincial crown. That was the day that the great Peter McDermott won the first of his six Leinster SFC medals.
However, leading your county in an All-Ireland senior final has to be the high point of a player's career and it was a proud moment for the Moynalty man as he lined out alongside the likes of Tommy 'Boiler' McGuinness, Tony Donnelly, Ted Meade and Jim Kearney before 46,828 spectators at Croke Park on 24th September, 1939.
Meath, who had earlier lost the National League final to Mayo, pushed Kerry all the way and were considered quite unfortunate not to win. They were on level terms at the interval, thanks largely to the brilliant goal scored by Mattie which gained rich praise in one of the newspaper reports of the match the following day. Judging by this grand assessment, it must have been some score.
"The Meath captain was in sparkling form and his goal was not only the best of the match, but the best of the season and one of the best in the records of the GAA," it stated in glowing terms. "The movement that led up to it was delightful. Gilsenan started the movement and the ball was handled by Joe Loughran, Tony Donnelly and Jack Cummins. The latter centred a low ball for Gilsenan who had crossed to the far wing in support to tap the ball down to toe and send in a first class drive which O'Keeffe, the Kerry custodian, did not see until the ball shook the net."
It was clearly a spectacular goal, but it was Kerry who just about did enough in the second half to shade the verdict by a couple of points. Sadly, Mattie is now the only surviving member of the Meath team that started the final that day.
Galway ended Meath's dream of a second successive All-Ireland final appearance the following year when eliminating them at the semi-final stage and they in turn were beaten by the Kingdom in the decider - the first of three successive defeats at the last hurdle for the Connacht men.
However, 1940 was a particularly successful year for Mattie because, apart from winning his second Leinster SFC medal, he became the first Meath player to captain Leinster in the Railway Cup and led them to a final victory over a Munster team that was packed with many of the Kerry players who had deprived the Royal County of All-Ireland glory the previous September.
The other Meath players on the Leinster starting 15 were Tony Donnelly and Jim Kearney (brother of Mattie's wife Eileen) and that was one of three Railway Cup medals which Mattie won during a magnificent career.
The highlight of his club playing career was winning a Senior Championship medal with St. Mary's - a combination of Moynalty and Kilbeg - in 1937. They caused a shock by defeating the powerful Navan Gaels team in that championship. The town side won nine senior titles in the 15-year period between 1924 and '38, so beating them represented a great achievement. He also picked up an Intermediate Championship medal in 1936, as well as some Feis Cup medals.
If his career as a player was impressive, even though it didn't bring the ultimate reward in the shape of an All-Ireland medal, his contribution as a Royal County selector was absolutely extraordinary. Apart from being captain in 1939, he had the added responsibility of being a selector, a position he also held the following year when Meath again won the Leinster title.
And how about this for a truly amazing statistic - he was actually a selector on 11 Meath teams that won senior provincial titles. Apart from '39 and '40, there was also '47, '49, '51, '52, '54, '64, '66, '67 and '70. And, of course, Meath went on to claim the Sam Maguire Cup in three of those years - '49, '54 and '67. That is some record of service and some record of success.
Mattie had subsequent spells as a county selector and was part of Sean Boylan's set-up in the early stages of his long tenure as Meath manager, which clearly demonstrated the extent of the respect the man from Dunboyne had for him - above all a respect and admiration for his great knowledge of the game.
He has retained a tremendous passion for football throughout his life and must surely hold some sort of record for the number of club matches he has attended at various venues around the county over the years. Indeed, he is still going to games and loves his football as much as ever, maintaining a keen interest in the local club scene and the various Meath teams.
Mattie, who attended his first All-Ireland final the best part of 80 years ago in 1928 when Bill 'Squires' Gannon led Kildare to their second successive title with a one-point victory over Cavan, looks back with tremendous clarity at a magnificent playing career that was surely highlighted by the 1939 All-Ireland final appearance.
"It was marvellous to play in an All-Ireland final, though I suppose when you are young you don't think much about it," he said. "We were just beaten by a great Kerry team that had players like Paddy Kennedy, Joe Keohane, Eddie Walsh and Dan Spring. They were great players, honest players.
"It was the first time Meath contested a final as a county team. We had a lot of talented players at that time. Jim Kearney was the only member of the 1939 team to still be there in 1949 when Meath made the breakthrough.
"Collective training took place at Randalstown for about three weeks before the All-Ireland final. We had won some games in the Leinster Championship before serious training started. We had beaten Laois in the first round at Mullingar and Kildare in the semi-final at Drogheda, before beating Wexford in the final at Croke Park.
"Cavan were very good, but we beat them in the All-Ireland semi-final and then ran Kerry to two points in the final. Of course, they were very different times then and we enjoyed it all. Fellas were easier pleased in those days. It's a real rat race now."
Mattie can vividly recall the day he made his debut appearance for the Meath seniors - over seven decades ago.
"I can remember it as if it was yesterday," he added. "It was on a Church holiday in May, 1935 and it was a lovely day. We played Westmeath in Kells and I was at right half-forward. That was 72 years ago."
Leading his province to Railway Cup honours was another of the big highlights during Mattie's playing days.
"I captained Leinster when we won the Railway Cup in 1940," he said. "We beat Munster in the final. That was a big thrill. The Railway Cup was a big thing then and attracted huge crowds, over 40,000 as far as I can recall. It was a really great competition."
Having lined out for his county for 11 years, he obviously played with and against some great footballers, including his Meath colleagues in 1939 and the Kerry team that deprived them of a first All-Ireland senior title. They were clearly tremendous teams packed with fabulous players.
"I played with some really great footballers during my years with Meath, including Tony Donnelly who was a truly wonderful player," he recalled. "Others included Bill Shaw, Mattie Rogers, Joe Loughran, Ted Meade and Dick Cassidy from Kilbeg.
"Paddy Kennedy of Kerry was a brilliant midfielder, a really great footballer. Eddie Boyle from Louth was a great full-back and Tommy Murphy of Laois was another fabulous footballer."
Mattie played with some fine footballers at club level too and that 1937 Senior Championship success for the Moynalty-Kilbeg combination, St. Mary's, is still recalled fondly some 70 years later.
"We had a very good team then and beat Navan Gaels in that championship in '37," he said. "They were very strong and very successful. It meant a lot for the area here to win it. Sadly, they are all dead except for myself. We had also won the Intermediate Championship in 1936, so they were a great couple of years for us."
Mattie was part of Sean Boylan's selection team in the early stages of his long spell as Meath senior manager and he is full of admiration for the man who helped bring so much success to the county after many barren years when the Royal County supporters couldn't have even dreamt of the remarkable transformation that lay ahead.
He is fully aware of the massive part the immensely popular man from Dunboyne played in that transformation and is fulsome in his praise for the former county manager.
"Sean is one of nature's gentlemen," Mattie said. "You never hear a cross word from him; never a rough word. He is a great man and was a wonderful addition for Meath football. He did a huge amount for it and was so successful. He is a brilliant man who has made friends all over the country."
Now into his 90s, Mattie is still working away on the farm, driving his car, staying active and attending football matches on a regular basis. And why wouldn't he when the great game has been such an integral part of his life over so many years.
"I was out counting cattle in Carlanstown this morning," he added as the rain pelted down outside on a miserable day. "I have been lucky. That said, I never drank and never smoked. I have kept active all my life. It's great to be able to be active. It gives you independence. A farmer running after livestock tends to keep fit!
"And I am still going to games and was in Croke Park for Meath's Leinster Championship matches against Kildare and Dublin this year. What a great place Croke Park is now, with wonderful changes from my time playing there.
"I can remember the Cusack Stand being built in 1937 and I remember it being demolished as well. I was in Croke Park for the 1928 All-Ireland final when Kildare beat Cavan and Squires Gannon was the first man to receive the Sam Maguire Cup. I saw it being presented for the last time, to Mick Lyons in 1987, and the new one being presented to Joe Cassells in 1988. I saw them all."
And, having seen Meath in action several times during 2007, how does he assess the county's prospects for the future?
"I would be hopeful," he said. "The young lads look promising and that is important."
Mattie Gilsenan's record as a player and also as a selector of Meath teams is one of the truly remarkable stories in the proud history of Meath Gaelic Games. Chatting to him about it all so many years later was fascinating and enlightening, helped in no small way by his wonderful memory.
The passion for the game is burning as brightly as ever.
Most Read Stories