Friday interview: Bressie
March 15, 2013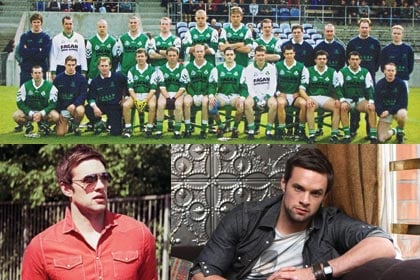 Niall Breslin in his Mullingar Shamrock's days (Top pic: Back row, sixth from left) and as we know him now as Bressie
Though it is in a different area entirely that he has subsequently carved out his career, Bressie was once an outstanding sportsman, representing both Mullingar Shamrocks and Westmeath at the highest level and also securing a professional rugby contract with Leinster.
The affable musician, producer and television personality spoke to hoganstand.com about his formative days, when gaelic football and rugby were right up there with music as his great passions.
Though born in Dublin, Niall Breslin (AKA Bressie) grew up in Mullingar and possessed a deep love of both sport and music from a very early age. It seems he was always destined to forge a career for himself in one or the other:
"My dad would have been into sport and my mother was a music teacher, so I had the best of both worlds. Growing up in Mullingar, at ten or eleven, there wasn't a lot else to do. These days, there is so much more for young people to occupy themselves with, though some of those things aren't particularly good…" he muses.
"I was very lucky to get to play gaelic football for the Shamrocks and rugby for Leinster," he continues. But did he have to make a call and chose one over the other?
"I had to make that decision in the end, but not when I was young. As a young lad, I was happy to play as much sport as possible. When you're young, you are trying everything. You find the sports and the activities that you love and you immerse yourself in them.
"I was offered a professional contract to play rugby with Leinster and, as my parents had already put three kids through college, the contract and the scholarship [to UCD] provided me with an opportunity to take some of the burden off them. So I decided to go with that."
Bressie had already established himself as a formidable footballer with both Westmeath - who he represented at all levels - and Mullingar Shamrocks. But now rugby was going to take precedence. He earned 24 caps with Leinster and represented Ireland at both U19 and U21 levels. Eventually, however, injuries caught up with him:
"When I got into the Leinster set-up I started to suffer from bad muscle injuries," he reflects. "Anyone who's involved with sport will tell you that these are very hard to treat. Throughout those three years with Leinster, I suffered with injury on an ongoing basis." Ultimately, these injuries put paid to a promising ruby career and Niall decided enough was enough.
But there was still the prospect of reigniting his GAA career, which had been put to one side but was now suddenly back on the agenda again. This, too, would end prematurely, however: "After Leinster, I went back to playing gaelic football again. I was called into the county squad by Paidi O Se, before Westmeath played Offaly in the Leinster championship. I suppose their perception would have been that I was a professional athlete who could bring something to the squad, but it didn't work out and the injuries came back to haunt me again."
Bressie was devastated. Gone was the opportunity to be part of a history-making Westmeath squad. An exceptional sporting talent had been cut down in his prime by a succession of injuries that simply refused to let up. The singer/songwriter is in no doubt as to what was the root cause of his problems: "I over-played and I was burnt out. I remember coming back from playing in the U21 World Cup and starting to play with Leinster again immediately. It was too much. The biggest thing I would say to any young footballer is to always listen to the professionals - the coaches, doctors, physios. These people know what they're talking about and it's important to rest. I burnt myself out and it was absolutely heartbreaking because I never got to show my potential for Leinster.
"I actually preferred the gaelic because it's a simpler game. I played professional rugby for three years and still didn't know the rules! Gaelic football was easier to play and as a game I think it also suited my physique better."
Bressie played the national code at all levels, starting out at St Mary's CBS and Shamrocks underage teams and working right through the various grades, gaining representative honours with the Lake County at minor, U21 and senior levels.
"I had a growth spurt at 16," the 6'6" star recalls. "I had played in goals up until then and they decided to try me in midfield. I was in the senior squad the following year and I loved it.
"I played two seasons senior with Shamrocks. We had a very strong team and should have won the SFC the second year. But we had one bad day and it cost us. I had played rugby with the Leinster U21s the day before the [1999] county semi-final against Tyrrellspass. I'd picked up a knock and I could hardly get my hands up above my head. Tyrrellspass eventually copped on to it. We lost that semi-final by two points, having won all our games up to then by 20 or 30 points. That was definitely one that got away."
Around the same time that he was deciding to retire from professional rugby, Niall's love of music was also sprouting wings. The end of one chapter in his life coincided almost seamlessly with the opening of a new door. "I was never keen on getting into the 9-5. I weighed up my options and music was my other passion, so I decided to give that a go."
The Blizzards was formed in 2004, releasing the critically-acclaimed albums 'A Public Display of Affection' and 'Domino Effect' in 2006 and 2008 respectively. Bressie released his debut solo album - 'Colourblind Stereo' in 2011 and his second full-length, 'Rage and Romance' is imminent. He's signed to none other than Sony Music and has also found fame as a television personality through his role as a judge on RTE's talent show The Voice of Ireland. As Plan Bs go, the music career hasn't been a bad one!
Bressie believes the discipline he learned from his days as a professional sportsman has been of tremendous value in his career in the entertainment world: "I've always said the discipline has helped me. When you go through that way of life, which is quite strict, you hold onto those values. I had to look after myself when I was younger, so I didn't party with my mates at college. You'd have a match the next day and you had to be fresh.
"People have this perception of music being all about drugs and alcohol but it isn't like that at all. I can't go to bed at 5 in the morning and stay in bed until 2 the following day. That isn't going to work for me. I've instilled that discipline and professionalism and work ethic in everything I've done. Even when The Blizzards started out - obviously, I couldn't overdo it because the other lads weren't coming from the same background - but I wouldn't let anybody drink before gigs. We were always professional."
Fitness is still of huge importance to Bressie and, to this end, he is currently preparing to compete in a triathlon. "There's a lot of bike work involved, which I hadn't done before, but I'm enjoying the challenge. I still place an emphasis on fitness and exercise. It's good for your head and it keeps you creative."
As his extraordinary success proves, creativity clearly isn't a problem for this particular former Westmeath footballer!
Most Read Stories