The late Jimmy Mulroy
February 13, 2013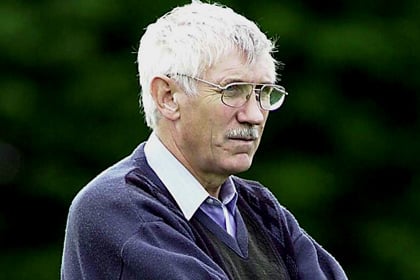 The late Jimmy Mulroy
Louth GAA is in mourning following the passing of former county footballer and manager Jimmy Mulroy.
The 72 year old Drogheda native passed away yesterday (Tuesday).
As a 19 year old, Jimmy made his Louth senior debut in 1959, just missing out on the Wee County's All-Ireland SFC triumph two years earlier.
He was an ever-present on the Louth senior squad for the following 12 years and lined out in a variety of positions, including midfield and full-back.
Jimmy and Louth narrowly missed out on a Leinster SFC success in 1960 when they lost by a point - 1-6 to 0-10 - to Offaly.
On the club front, he enjoyed great success with Newtown Blues, winning nine SFC medals, while he lined out at right half forward on the Leinster team beaten by Ulster in a Railway Cup final in 1964.
Once his playing days were over he took on the role of team manager with the county side in 1973 at just 32 years of age.
His highlight in charge of Louth was knocking the then National League champions and neighbours Meath out in the first round of the 1975 Leinster SFC and putting up a spirited performance against the star studded Dublin team of that era.
At club level, he successfully managed Oliver Plunketts in the early eighties when they won the two Junior and an Intermediate Championship, Newtown Blues and did a second term as Louth boss in the early 80s.
Equally well-known in political circles, Jimmy was first elected to the former Drogheda Corporation and Louth County Council in 1985 on the Fianna Fail ticket and he was a member of Seanad Eireann from 1987 to 1989.
Flags will be flown at half-mast at Drogheda Borough Council offices today as a mark of respect to the former Mayor and Senator.
Following is an interview carried out with Jimmy for Hogan Stand magazine back in July, 1994
Jimmy Mulroy
Arriving too late for that '57 success but Louth G.A.A. folk will always remember
The odds on Louth claiming this year's Leinster title are diminishing as steadily as the weeks pass to the Leinster Final itself. A win (albeit only by a point) over Westmeath was followed by that recent emphatic triumph over Carlow in Drogheda and now the stage is set for a semi final joust with Dublin or Kildare.
The big victory over Carlow certainly caught the attention of many people who look upon the Louth team as one filled with potential, just waiting to be fulfilled. One man who was greatly encouraged by their recent performances is former Louth star Jimmy Mulroy.
For most of his fifty-something years Jimmy has supported, or played in Louth teams and like many of his contemporaries he remembers with nostalgia the All-Ireland winning year of 1957, but the 1994 model, he says, certainly has promise. "This Louth team are very good, they are maturing into a very good Division Two National League team and a lot of the young players are developing into top class footballers. On their day they are good enough to give any team a run for their money".
In his own long and distinguished career, Mulroy emerged as one of the most talented players produced by Louth in recent times. Unfortunately he was not to get an opportunity to play in the All-Ireland final as Louth failed to reproduce the magic of '57 but enjoyed unprecedented success at club level, helping his club, the Newtown Blues (based in Drogheda) to a record nine county Championships during the 60s and 70s. He was also the Louth coach for two separate spells in the mid 1970s and again in '80s.
These days Jimmy plays a more quieter role, preferring to watch games rather than take an active involvement, although his duties as a member of Drogheda Corporation and an active political life not to mention his job of running his own firm, M. & L. Manufacturing, leaves him little spare time.
Born in Drogheda, Jimmy has lived in the coastal town all his life, playing gaelic football in the local Street League as a youngster before joining Newtown Blues in whose colours he was to enjoy many of his most memorable moments in the game. In his youth Mulroy was no mean soccer player either but at 17 the terms of the infamous ban meant the choice had to be made between Gaelic and soccer. "I decided to put my lot in with Gaelic football and it is a decision I have never regretted".
The Drogheda native was just developing into a fully mature footballer when Louth emerged from the blue to claim the 1957 All-Ireland defeating Cork 1-9 to 1-7 in the final This was only the third occasion that the Wee County had won the Sam Maguire (1910 and '12 were the two previous years) and their achievements whipped up a whirlwind of interest in gaelic football. The buzz around the north-east before and after the final left a lasting impression, particularly on a young man who already had a passionate interest in the game.
Jimmy Mulroy has every reason to remember the stars of '57 simply because he played with many of them. Two years after Louth won the title Jimmy made his Senior debut for Louth as a 19 year old, after playing two years with the county Minors.
Some indication of Mulroy's ability can be gauged from the fact that once in the Louth squad he remained there for the following twelve years, appearing in a variety of positions mainly midfield and full-back. The closest Louth came to glory during those years was a Leinster final appearance in 1960 when they were defeated by Offaly by single point, 0-10 to 1-6. On the club front it was a different tale, however, as the Blues dominated the local football scene with most of the nine county titles coming in a glorious spell in the 1960s, included a record bursting four-in-a-row in the early part of the decade.
The dominance of the Blues came about through a combination of qualities that separated them from the rest, including a group of highly motivated and talented players whose primary concern was honours for the club rather than glory for themselves. "We had a brilliant team in those days with some very talented footballers but there were no prima donna's, all the players were treated in exactly the same way. There was no special treatment for the county players, if you didn't turn up for training during the week you ended up on the sideline on a Sunday.. The club mentors were also tremendous people and totally committed to the club, they gave 100% just like the players. It was this level of commitment and a well balanced team that made the club great during those years", he asserts.
In addition to his Senior county titles, Mulroy won a host of other honours with the Newfoundwell based outfit including many O'Donnell Cup (League) medals. It is as an intercounty player, however, Jimmy Mulroy was better know to G.A.A. fans throughout the country even though Louth, while always capable of knocking out the big guns, rarely managed to make a big impression in the Leinster Championship. The Drogheda player captained Louth for a number of years "mainly because the Newtown Blues did so well" and was selected at right half forward for the Leinster team beaten by Ulster in a Railway Cup final in 1964, one of only Louth players to make it onto that particular team, the other being the renowned footballing talent, Frank Lynch.
Louth's annual knack of making an early Championship exit finally prompted Jimmy Mulroy to retire from intercounty football. hard training would be done in preparation for the Championship but invariably the Wee County would fall at the first hurdle. However, just as the Newtown Blues star stopped playing for Louth the new-fangled job of "team manager" was made available and he was asked to fill the breech, with new powers. The manager was given complete authority to appoint an assistant manager and trainer and he had complete control over team selection. There was also an advisory group set up to meet with manager at least once a year and put forward proposals on new players and tactics.
"The Louth County Board had set up a commission to investigate how they might improve football in the county and one of the conclusions they came to was to appoint a coach with complete control over their affairs so I was asked to take the job and I did. That was in 1973 and Louth was one of first counties to appoint a manger, I don't think Dublin had appointed Kevin Heffernan by that stage".
Although Mulroy was still a young man, just 32, well capable of continuing his own career in the red shirt, he took over the reins of management and did so with considerable success helped greatly by a vision of what he wanted to achieve. The highlights probably occurring running in 1975 when the men in red jerseys ousted National Football League champions Meath in the opening round before putting up a spirited performance to the star studded Dublin XV of that era.
"For three years, 1973, '74 and '75 I was manager and I tried to get the team to play a different brand of football. I wanted the team to play as a unit, to get players to run off the ball, creating space for others. Above all I encouraged player to use their natural ability, I never wanted to inhibit any player but it was also important for players to stick to a team plan. I enjoyed the three years as coach and we beat Dublin in 1973 after a replay, we beat them by a point and of course, the following year they went on to win the All-Ireland".
At club level the Drogheda man has also successfully managed Oliver Plunketts in the early eighties when they won two Junior and an Intermediate Championship and his beloved Newtown Blues and spent a second term as Louth boss in the early 80s. But time was always a precious commodity with the busy company executive, especially after 1984 when politics began to play a bigger role in his life. In '85 Jimmy was elected to the Louth County Council and Drogheda Corporation on the first count and a recent local election saw him retain his seat.
Married to Chris with two daughters Caoimhe and Christine and one son Cormac, who also play for the Newtown Blues, Jimmy Mulroy continues his love affair with gaelic football in general and Louth football in particular and little would please him more than to see the Wee County pick up another Leinster title and go on to even greater things.
Written by the Hogan Stand Magazine
Most Read Stories