John McAndrew RIP
January 04, 2013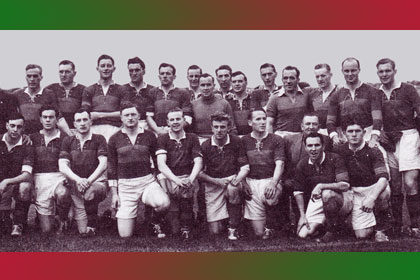 The powerful Mayo senior footballers from the early 50's. Front l-r: Mick Flanagan, Peter Quinn, Sean Flanagan, Padraic Carney,
Mick Mulderrig
, Billy Kenny, Peter Sloan, Mick Downey (masseur), Liam Hastings, Joe Staunton. Back l-r: John Forde, Henry Dixon, John McAndrew, Tom Langan, Joe Gilvarry, Tom Acton, Billy Durkan, Paddy Irwin, Sean Wynne, Mick Caulfield, Tommy Byrne, Sean Mulderrig, Eamonn Mongey, Paddy Prendergast
It is sad to report that John McAndrew, a star of the great 1950/51 Mayo team has died.
The following obituary is courtesy of Mayogaablog.com
It was announced yesterday evening that the death had occurred of Dr John McAndrew, one of the few surviving members of Mayo's back-to-back All-Ireland winning team of 1950-1. He was 85 years of age.
Originally from Kiltane, John was a brother of Pat McAndrew who was a key member of the 1948 team beaten in controversial circumstances by Cavan in that year's All-Ireland final. Pat was centre-back on that team but he emigrated to the United States soon after at the early age of 22.
John first broke into the Mayo team in 1949 when he lined out at midfield in a league game against Kerry in Tralee. He made his championship debut in the 1950 Connacht final (the county got a bye into the provincial decider that year) where he played at left half-back, a position he retained for the remainder of that All-Ireland winning campaign.
The following year - having, according to James Laffey's The Road to 51, served a three-month ban for "falling foul of the foreign games rule" - John was brought back into the team at midfield for the All-Ireland semi-final replay against Kerry. He remained in that position two weeks later for the final where a 2-8 to 0-9 victory over Meath secured the county's third All-Ireland title.
John went on to win a National League medal with the county in 1954 and he was also a member of the All-Ireland Junior winning team of 1957. Eventually he became the last man of the 1951 All-Ireland winning team to finish up playing championship football for the county, with his final championship appearance taking place in June 1960 in a Connacht first round tie against Galway at McHale Park, which ended in a 2-point defeat for the county.
A medical doctor (like his brother Pat), John moved to England after he finished up as an inter-county player and he practiced as a GP in the Black Country for many years. During his time in England, he also led John Mitchel's Gaelic football team in Birmingham to numerous Warwickshire Senior Championships. John provided some recollections on his playing days in this 2009 interview with irishabroad.com.
Notice of John's death was tweeted by his only son, Seán, yesterday evening.
May this great servant of football within the county rest in peace. Sincere condolences to his family on their sad loss.
Most Read Stories