Bogue has his say
September 25, 2012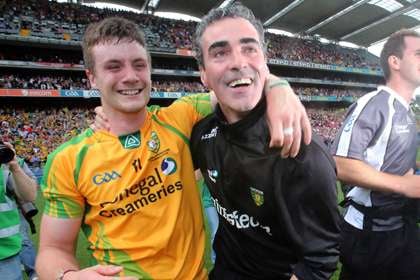 Donegal manager Jim McGuinness celebrates at the final whistle with Leo McLoone ©INPHO
The journalist at the centre of the row with Jim McGuinness has hit back at the Donegal manager's claims.
The All-Ireland winning boss raised eyebrows when he insisted that Belfast Telegraph GAA journalist Declan Bogue - writer of the book 'This Is Our Year' - be removed from the Sunday's All-Ireland final after-match press conference.
The fall-out from the book resulted in Kevin Cassidy's well-documented removal from the Donegal panel after the Gweedore clubman had participated in an interview with Bogue.
The journalist penned a response to McGuinness in today's Irish Independent in which he gave his side of the story.
"After Sunday's final, I took my place in the press conference, just as I had for the quarter-final and semi-final that Donegal were involved in," Bogue revealed. "It was made known to me that Jim would not talk to reporters while I remained in the room. With their deadlines in mind, I left as discreetly as possible.
"Without the prospect of being challenged, Jim then talked about the book. Just as he had at pre-championship chat night in Armagh. After a while, he refused to take questions on the matter.
"It was stated that I had no researcher on the book, which is an odd concept. Taking first-person accounts on a season was the format of the book. To question that is to question the honest of Kevin Cassidy's version of events.
"As for mention of vile attacks on Jim's character, I do not believe there is a case, as 'This Is Our Year' is nothing short of a eulogy to the management of Donegal in 2011. With absolute certainty, I say that nobody was "degraded" by the book."
Bogue insisted he stood over the book's content and that he has 'nothing to apologise for'.
"What am I responsible for? I don't know. Jim has never referenced specifics. It is this crude treatment that should be challenged, as should the precedent of a manager ejecting a reporter from a press conference. Calls for an apology are strange when the author is unaware of where the offence likes.
"I challenge people to read the book. This is not an appeal for sales, but a desire for honesty. Read Jim's quotes by all means, but then read the book and see if you can reconcile his pain with the content.
"I completely stand over this book and have nothing to apologies for."
Most Read Stories