Shefflin didn't see Brennan's retirement coming
January 25, 2012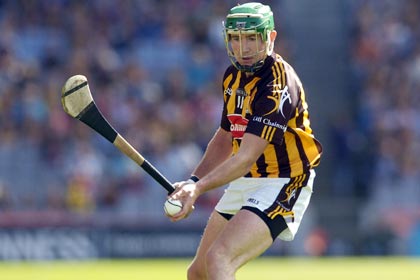 Kilkenny's Eddie Brennan
Eddie Brennan's decision to retire from inter-county hurling came as a surprise to fellow eight-time All-Ireland winner Henry Shefflin.
"I didn't think Eddie would go. He told me he was thinking about it and I said, 'Jesus no Eddie, you'll be grand' and I thought that was it and that he would come back," said the Kilkenny sharpshooter, who is currently recovering from shoulder surgery.
"But I was surprised because Eddie has so much to give but it was a great way to go out. And you can totally understand why he would do it - he has a young family, so you wouldn't try and twist someone's arm. I think his mind was made up and that was it, but obviously I was very disappointed to see him go."
PJ Ryan and James 'Cha' Fitzpatrick have also decided to call it a day, though Shefflin doesn't envisage his Ballyhale club-mate Fitzpatrick throwing in his lot with another county.
"I asked him that question and no. He's is very much rooted in the club and he has been very good to us. He was back training last weekend," he explained.
"He gave his reasons. He told me himself and I couldn't argue with any of them. He is a young chap and he has his own life to live. To be fair, 'Cha' was one of our star players and to go from that to sitting on the bench was very difficult to take and you can understand where he was coming from. I didn't try to talk him around."
He added: "Three (retirements) seems a lot. It has always been one or two the last few years or no one before that. Maybe it's a sign of the times.
"There's not many of my age anymore, that's the problem. Derek Lyng, Martin Comerford, Eddie, PJ (Ryan), there was a group of us there that is dwindling quickly."
Most Read Stories