O'Connor pays tribute to teammates
December 21, 2011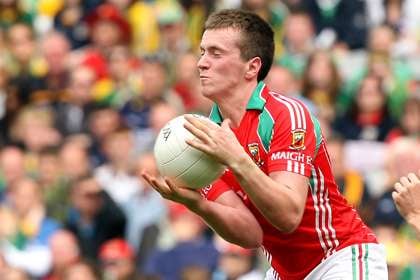 Mayo's Cillian O'Connor
Mayo footballer Cillian O'Connor has paid tribute to his team mates following his latest accolade.
O'Connor was crowned Young footballer of the Year a few weeks back and he has now added the Mayo Senior footballer of the Year award to his growing list of personal honours.
Speaking to the Mayo News at last weekend's awards ceremony, O'Connor stressed that the award would not be achievable were it not for the help of his team mates.
"It's a great honour to be chosen, especially given the way it was done with the public voting," said O'Connor. "It means that people out there recognise the season I've had.
"But it's more a recognition of how the team and the team's achievements. I wouldn't have got the award if it wasn't for the other 14 lads, not even just them either, the entire panel too and the entire management team and it's all them that I owe this award to. I think of it as a team award than anything else.
"It's closer to home and it's a bit more special when you are going up collecting awards with your friend. The local parish and the community are there too so it's that bit more special."
Most Read Stories