Protective body shields saving lives
August 30, 2011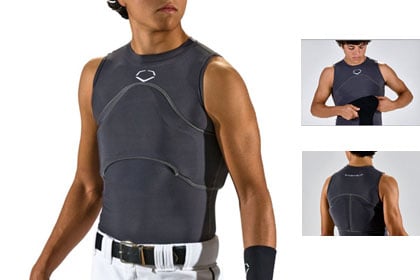 Evoshield A100 chest, heart and rib guards
Commotio cordis is the second most common cause of sudden cardiac death in Athletes
With the many advancements we have seen in the world of sports in recent years, the speed and intensity of games across the globe has increased exponentially. With this increase in intensity, the need to adequately protect athletes, regardless of age or playing level, has never been greater. EvoShield, a sports equipment company based out of Athens, Georgia, USA was quick to catch on to this and came up with a solution that could change the way protective equipment is viewed throughout the sports community.
EvoShield was birthed out of a radiologist's design for a protective vest to help prevent heart related injuries for his sons and has since evolved into much more. Using a lightweight custom moulding composite material, EvoShield's wide array of equipment form fits to the unique shape of each individual athlete's body, removing the element of added weight or hindrance caused by many traditional forms of protection. The composite comes soft, sealed in a foil bag, and once removed reacts with elements in the air and hardens into a custom-fit, protective shield that is lighter and more durable than other protective equipment previously available. Rather than absorbing the shockwaves of impact like its foam predecessors, EvoShield equipment actually disperses or attenuates the force of impact away from the athlete's body.
A recent hot topic of discussion in sports across the globe has been a lethal phenomenon called commotio cordis. Commotio cordis can occur from a blow to the chest area that disrupts the natural rhythm of the heart beating during a critical time of the heart's beat cycle and carries approximately a 65% fatality rate.
The few recoveries from this event were only possible with the use of an AED (Automated External Defribillator), a device that is now beginning to show up in sporting facilities across the nation. The exact nature of commotio cordis has not been found. Tests conducted by a leading facility in the south eastern United States showed that EvoShield's composite material reduces the impact of projectiles on the athlete's body more effectively than other protection available. The results, shown below, measure backface deformation, meaning the protrusion of a nonpenetrable projectile on an object directly behind a tested protective plate. The three items tested include EvoShield's chest protector, a generic brand.
As evidenced by the chart, EvoShield's chest protector generated almost 4 millimeters less of backface deformation than the average chest protector and almost 10 less millimeters than wearing no protection at all, and with an injury as volatile as Commotio Cordis, every millimeter can be extremely crucial. EvoShield yielded some of the best impact results ever seen for a material of its weight and thickness. Scientists noted that Commotio Cordis occurs not only as a result of blows over the heart, but also from blows to the rib cage and on the back under the scapulas, both areas covered by EvoShield's chest protector.
While there is no hard evidence to prove that EvoShield's technology actually prevents commotio cordis, there have been a number of anecdotal stories from parents whose children were struck in the chest, and walked away without harm, and as of yet there have been no reported cases of commotio cordis from athletes who were wearing EvoShield's protective equipment.
Parents have been quick to praise the performance of EvoShield's gear, one such mom claiming it may have saved her child's life. Janice McNamara's son Patrick, 12, was pitching in a little league tournament in Forsyth, Georgia when he was suddenly struck by a screaming line drive back up the middle. The ball struck Patrick directly in the chest, directly in the spot where he was wearing an EvoShield chest protector. Spectators feared the worst as he fell to the ground, but remarkably, the young pitcher was able to get up and walk off the field. The injury left Patrick with a slight bruise under his chest protector, but Janice claims that if not for her son wearing the EvoShield, things could have turned out very different.
"I strongly believe that if it had not been for EvoShield, my child would have been seriously injured, if not fatally," says McNamara. "Coaches, parents, and umpires were amazed at how Patrick was able to walk off the field and continue playing in the remainder of the game."
Stories like this are a chilling reminder that while rare, life threatening events do happen in sports, regardless of the playing level. Thankfully, Patrick had adequate protection that day that may have prevented him from any serious harm, and allowed him to get back to playing the game he loves.
The overwhelming majority of injuries that athletes encounter, however, are not life threatening, but many can still keep an athlete off the field for a prolonged period of time.
EvoShield's vision has been that no athlete should ever have to suffer from a preventable injury, and have designed their protective equipment to provide such a level of defense, without interfering with the players' performance. As parents know, many kids are reluctant to wear protective equipment for various reasons, whether it be the added bulk or simply because it doesn't "look cool". What many parents have come to find with EvoShield, however, is that kids actually want to wear it. Kids like the sleek, custom fitting look of EvoShield and the added confidence they get while wearing it. In more severe cases where kids with heart problems or kidney problems may need to wear protective gear to protect their body while playing contact sports, Wayne from County Meath says, "My son Jack was born with kidney failure and had his 2 kidneys removed in the first 6 months of his life and was put on dialysis for 2 years. My Wife Cassandra donated her kidney to jack, which had to be located in his abdomen when Jack was 2 1/2 years old. Jack is 8 years old now and doing brilliantly. He is obsessed with sports mainly gaelic football and soccer. His doctor has told him he must wear protective padding for any contact sports. Jack plays for the under 10 Navan O'Mahonys team and has found the custom fitted evoshield guard to provide the perfect protection for his abdoman and chest area".
And in other cases while EvoShield probably can't promise indestructability, what it can promise is a sleek look kids will enjoy wearing while also providing a level of protection parents will love.
Sports play a huge role in many people's lives, and not being able to go out and play the game you love is something no athlete should ever have to endure. With this in mind, having adequate protection, while still being able to perform at a high level, is the optimal solution everyone covets. And while no defense can ever fully guarantee 100% protection against all injuries, EvoShield appears to have found a steady balance of these two key elements; providing athletes worldwide with an unprecedented level of protection while still allowing them to go out and play at the top of their game. With this added dimension of protection, athletes now have the opportunity to go out and play with confidence, regardless of the intensity of their position, something that truly is game changing. EvoShield has a full range of products covering multiple sports including football, Hurling, softball, lacrosse, hockey, soccer, and other sports. For more information visit
www.evoshield-ireland.com
.
Most Read Stories