Den Haag: a proud tradition
January 10, 2011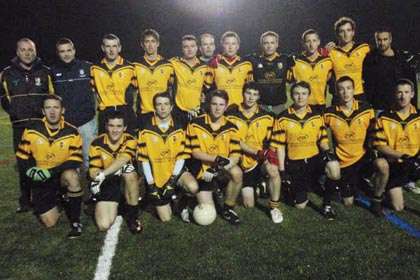 The Den Haag sqaud that captured the 2009 European Championships.
For this month's edition of Hogan Stand, we profile the history of Gaelic Games in the Netherlands and focus on its most successful club Den Haag through the eyes of its current chairman Wexford native Matthew Morris.
Football and Hurling has been played in the Netherlands since the 1970s in some form or other, teams visiting from Ireland back then, include Castlebar Mitchels, Aer Lingus Hurling and Football clubs and Glynn/Barntown of Wexford. In the mid nineties there were six Dutch gaelic football teams (Amsterdam, Spijkenisse, Etten Leur, Eindhoven, Tilburg and of course Den Haag), due mainly to large Irish construction gangs working over here before Ireland's boom, two of those teams now only exist (Amsterdam and den Haag), with one more after being established (Maastricht).
Regular tournaments were being refereed in those days by Noel Byrne from Rathdrum, and by him alone, Noel probably put up with more abuse than any person should have to.
Back in 1997 our veteran of European GAA and long time Den Haag Treasurer Mary Gavin, was organising a tournament on a Rugby pitch in South Amsterdam when she received a call from an irate Croke Park employee saying that she shouldn't be inviting teams over from Ireland and shouldn't be organising tournaments without Croke Parks permission. After ignoring this advice, we were next contacted by Croke Park to enter a European team in the 1998 International event in Dublin. Interest was growing in Croke park and the then new GAA president Joe McDonagh came to Amsterdam to see how things were running, he was so impressed that he formed the first European Board in November 1999, Joe had the vision to see that how the GAA could grow in Europe like in Australia and the USA, he visited many tournaments while he was president and with his background team of Debbie Massey and Barney Winston, they supported and encouraged us to keep going, Joe is still returning, and has gone to many conventions, and was there for the recent European Championship success of Den Haag in Maastricht this November. Europe was givin county status and joined the Leinster Council in 2006..
Tournament Formats
European GAA tournaments are held over one Saturday, games are between 10 and 15 minutes aside, depending on amount of games, this leads to a semi and sometimes a final, Games are mainly 11-a-side because of pitch size restrictions, with some tournaments being 7-a-side (such as Guernsey in the early years of the championship). Ladies is usually 9-a-side. The first European championship had eight tournaments in the year, between March and November, where you had to at least play six. With the popularity of hurling coming into the fold more, a regional format was devised for the mens football, with the ladies and hurling being still a European format but with six tournaments for the ladies and five tournaments now for the hurling. Gaelic Football is separated into six regions Benelux East and Central Europe, Iberia, North West Europe and Scandinavia.
Travelling to hard to reach places like Rennes, Munich and Guernsey was always a problem, the expense alone shows how much people love playing for their clubs in Europe. A duel player and championship winning coach 2009 Sean Simpson from St. Galls in Belfast, worked out he travelled about 15000 km one year to play his championship games in both codes.
Club Tournament History
The tournament in its championship format started in 2001, it was the best six out of eight tournaments, with Paris Gaels and Den Haag hotly contesting it, Den Haag lost to Paris by just one-point over the whole year, a determined Den Haag trained all through the winter and started the next season in flying form and won the first three tournaments, they only had to show up at the last few to collect there first European football title, meanwhile we were developing a hurling team also and played and won the first and only European Hurling tournament of 2002 against a Zurich side. This was a great year for Den Haag and set the groundwork and also the clubs resolve to be a main player in European GAA in both codes. Special thanks have to go to Wicklow's Willie Hempenstal our coach, midfield dynamo and mastermind of that win. Also to Wexford's Colm Doyle from who was a veteran of European GAA at that time and a gifted hurler.
Five members of the Den Haag GAA team represented Europe in an International tournament in Dublin for a week in September 2002 against teams from North America, Canada, Australia, Scotland, London and Rest of Britain. We were definitely the new kids on the block but both ladies and gents European teams found the experience worthwhile. This was the third time players from Den Haag have represented Europe in this event.
Willie went on to coach us in the next few years' campaigns, which saw Paris Gaels again win in 2003 and 2005, with Munich Colmcilles winning in 2004. We were well placed as runners up or at least third in the league during those years, we had a great influx of Australian Aussie Rules players who really took to the game and enjoyed the craic, I remember one guy climbing his markers back to catch a ball much to the amusement of the referee who had to book him and explain the rules. Our hurlers after winning against Zurich again in 2003 also struggled for the next few years.
Two things happened then that changed the luck of Den Haag, the Den Haag ladies because of their small numbers joined with Amsterdam to form Holland Ladies, the other was the arrival of Limerick's Denis Reidy, from Gerald Griffins club, to the Netherlands for work. Denis from Limerick had many years experience coaching UCC and was quickly grabbed by the Ladies to coach.
This produced their first tournament win in Luxembourg, June 2005, with the men beating Paris well and Munich in penalties but losing to Lux. The Ladies went on to earn their only win to date in the European Championship that year.
Denis joined Den Haag later and was soon playing both codes and next year coached the footballers. 2006 saw Denis lead us to another Football Championship in a smash and grab type attempt which no-one seen coming, and a Hurling championship in 2007 using the same methods. Denis took advantage of the weekend player rules which existed in European football in 2006 and the Hurling in 2007, and although his methods were criticised by anyone but Den Haag, the rules changed in the following conventions, I feel we would of not continued our successes without these wins and it would not of lead us to continued success in the future. Denis had to leave due to work in 2007, but he never really left as he kept in contact, sent any players coming to Netherlands to work, to play with us and returned again in 2010 to a new job.
But as with the team over the years, people leave and others come. The following year we had Donegal native Declan Bonner, coach us with some tournament success and a lot of heartbreak, he also established himself as a hurler and is still playing and involved. Then in 2009 when we were stuck for a football coach, up stepped a gifted St Galls Hurler and our hurling coach Sean Simpson aged 22, who hadn't played any football until he came to study over here. Sean spent a year he was meant to be studying to be an architect, building the Hague team and bringing in players from the far reaches of Holland in both codes. He was rewarded with a close fought Football Championship win in 2009, where it was decided in the last match of the season against a strong Budapest side in Maastricht. Sean selflessly didn't play that day and his speech in the dressing room before the final (where he told us he wanted to throw away his runner up medal from last year) had the team so wound up that Budapest in the final never really got a look in, beating them 3 - 10 to 1 - 5 in a 12 minute a half game.
Sean had to go back to his studying and as chairman I had to find our next coach, that year we got a new player from Down Danny Craven, he's a PE teacher in Rotterdam and although he never played much gaelic football at home, really took to the sport when he joined half way through the season, and ended as one of our best forwards that year. I asked him to take up coach as he had experience of training, and he brought new ideas not tried in Gaelic training. Danny had us playing fast ball, with players running off other players out wide and devised drills for getting us to learn this. By the time the championship came around we were playing his style of football and didn't lose a championship game until the first game of the last tournament against Paris.
We were unbeaten in Munich and Budapest and after the initial defeat in Maastricht went on to beat Paris well in the final. Seamus Howlin, from the Leinster Council, who has been a great supporter of European Football and has seen many tournaments in Europe, commented to me how the level of football has grown in Europe in the championship and I have noticed it myself, teams such as Belgium, Paris and Luxembourg have really grown in skill, with Budapest and Stockholm also knocking on the door. This is the first time any team has one the football championship two years in a row and with Danny committed as coach next year, I believe three in a row is a possibility.
Invitational Tournament
Every year for the last five years, to begin our season Den Haag has organised an 11-a-side invitational tournament, every year this is growing in success and we have now merged it with a St Patricks Day Festival which is held in Den Haag. The invitational includes both men and ladies and is aimed at junior level teams. Last year we were runners up in the tournament, which is a good gauge of how far we have come with this. We had a legends team attend two years ago, which had many of our old players come over for the weekend. Teams that have kept attending over the years include Dublin teams Ballinteer, Ballyboden and UCD Freshers; we also had Clane GAA, AIB bank and Blackhall Place attend. The ladies competition has only being going for the last two years and has been growing since. This year it will be held on March 12th and any teams, who would like to attend, will find details on our website.
Club Community and spirit
There is one person in this club who's input cannot be emphasised enough, that is Galway women Mary Gavin, she has being involved since the early 90's and since I know her for the last 10 years, she has been secretary of the club. Den Haag would of never got off the ground without her in the early days and the amount of work she does is phenomenal.
To be involved in the Den Haag club takes a lot of players weekends and involves a lot of traveling and commitment. Often we would drive the 600km to Luxembourg early on a Saturday morning, play a full day of either hurling or football and drive back with sore legs. Dual players have the worse of it, and most hurlers end up footballers and vice versa.
Sean Simpson a gifted Belfast hurler for St Galls has coached our footballers to European glory and is one of our top half backs.
Barry Lennon played League of Ireland soccer with St Pats and Kilkenny City before joining Den Haag when over here studying; he is now one of our best backs in hurling and a clinical finisher in football. Declan Bonner from Donegal won Den Haag Hurler of the year 2009. The list could go on.
What makes the club a success, I think is we have a wide selection of players, from construction workers, to students to office workers in the UN, the International criminal courts, Shell and other big international companies in Den Haag. We all play and party together and the camaraderie is brilliant. People come over to a foreign city and already have a community to help and support them through the club. Now with Ireland going through harder times, I believe the club will grow and we will be there to support anyone who comes to the Netherlands.
Most Read Stories