Sheedy's resignation shocks Tipperary
October 07, 2010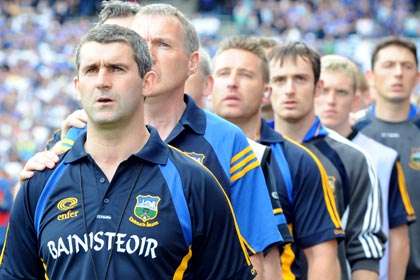 Former Tipperary manager Liam Sheedy
Tipperary hurling is in a state of shock this morning following the decision of senior manager Liam Sheedy and his selectors Eamon O'Shea and Michael Ryan to step down.
The news comes as a bolt from the blue for Tipperary players and supporters still basking in the warm afterglow of last month's sensational All-Ireland final victory, which stopped Kilkenny from achieving an unprecedented five-in-a-row.
There had been some speculation in recent weeks that Eamon O'Shea would vacate his selector's role due to his commitments as a lecturer in NUIG, but the rest of the management team was expected to return in 2011. However, due primarily to the huge level of commitment involved, the management has decided to step down en bloc.
Since taking over as manager from Michael 'Babs' Keating in late 2007, Portroe man Sheedy has transformed Tipperary's fortunes. In his first season in charge, he delivered Waterford Crystal, National League and Munster honours. Last year, Tipp retained their Munster crown before going on to suffer a narrow and somewhat controversial defeat to Kilkenny in the All-Ireland final.
And after they surprise capitulation at the hands of Cork in this year's Munster championship, they regrouped brilliantly to claim their first Liam McCarthy Cup in nine years. Ironically, Nicky English also stood down as manager in the aftermath of Tipp's 2001 success.
A joint statement issued by Sheedy, O'Shea and Ryan this morning read: "We have informed Tipperary County Board that we are stepping down as the Tipperary Senior Hurling Management team.
"Over the last three years we have given of our time on a voluntary basis to put in place a top class professional set-up that would allow the players to develop, grow and be successful. Our aim when we took over was to take Tipperary hurling to a new level and we are very happy that we have achieved that.
"Hurling in Tipperary is in a very healthy state and the future is very promising. This is exactly what we wanted to achieve and we are delighted that Tipperary can look forward to more success with optimism.
"We all have responsible, demanding, professional jobs and we are very grateful to our employers for enabling us to carry out our role with Tipperary with such great support in what is a very challenging economic and working environment. However, we have found ourselves working up to 16-hour days in order to deliver in both roles and this is simply not sustainable on an ongoing basis. This has led to our decision to stand down.
"We have thoroughly enjoyed the last 3 years working with people who strive to be the best they can be in every task they do. We are all lucky to have families who are steeped in the GAA and we want to thank them sincerely for supporting us 100 per cent throughout the journey we have taken
"All of the players we have worked with over the last three years deserve huge credit for the effort and commitment they showed. They are a credit to their families, their clubs and their county for the manner in which they applied themselves at all times. We are absolutely delighted that they have reaped the rewards of winning Munster, National League and All Ireland medals. We thank them for their great co-operation with us.
"The relationship with Tipperary County Board and Tipperary Supporters Club was top class and we all worked well together to allow the team prepare in the best way possible. We thank them sincerely.
"We would also like to compliment and thank the backroom team for the work they have done throughout our term. They really set an extremely high standard and we are forever indebted to them for this.
"We would also like to thank the many thousands of loyal Tipperary supporters who gave us such great encouragement."
The attention now switches to who will succeed Sheedy as manager. Ken Hogan and Tommy Dunne, who were in charge of the Tipperary under 21 team which contained nine of Sheedy's senior side and which blitzed Galway in the recent All-Ireland final, are likely to come under pressure to make the step-up.
Most Read Stories