Ulster SFC final: Tyrone ease past Monaghan
July 18, 2010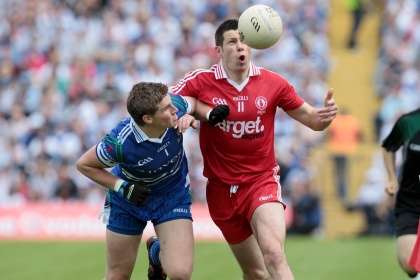 Monaghan's Darren Hughes and Tyrone's Sean Cavanagh keep their eye on the ball during the Ulster SFC Final at Clones.
Tyrone put Monaghan to the sword in the 2010 Ulster SFC final at Clones (1-14 to 0-7).
The holders made it back-to-back Anglo-Celt Cup victories with a ruthless performance, squeezing the life out of a shell-shocked Monaghan side to win with plenty to spare.
While this was a great day for Tyrone, Monaghan had their spirit smothered out of them by a suffocating O'Neill County display and in turn delivered an impotent, below-par display. For long periods, it was like men against boys. The losers' woes are summed up by a scoreless run of 40 minutes.
The sides were level on four occasions during the first half but Tyrone took control and reeled off four consecutive points to lead by 0-7 to 0-4 at the interval. Monaghan had under-performed, while Mickey Harte's men gradually grew into the game.
But for nine horrendous wides, the Red Hands could have been further clear. Martin Penrose was guilty of a bad goal miss, while the Freeman brothers both had goal efforts blocked by towering O'Neill custodian Pascal McConnell, when both should have done better.
An interesting aspect of the first half was that all eleven scores came from different players, with points from all three Tyrone half backs separating the sides at the interval. Ten of the first-half scores were from open play.
Inspirational Monaghan centre back and captain Vinny Corey failed a Sunday morning fitness test and was unable to take his place in the starting XV. This meant the versatile Darren Hughes was moved out of goal to start at centre back (bizarrely wearing the No.1 shirt to avoid a possible fine), with semi-recovered regular goalkeeper Shane Duffy starting between the posts.
A setback for Monaghan, certainly, but a change that had been mooted within the county all week, so not exactly a massive surprise... Banty also opted to give Rory Woods a start in place of Ciaran Hanratty.
Tyrone also received a pre-match blow when it was confirmed that former Footballer of the Year Stephen O'Neill wouldn't even be able to start on the bench. However, the O'Neill County still started as selected earlier in the week.
The holders attacked first and Colm Cavanagh sent a tame shot wide. Dick Clerkin made a fabulous early catch at midfield but the Monaghan attack petered out when Colin Walshe over-hit his attempted pass to Tommy Freeman.
It was Freeman who opened the scoring on three minutes with a sublime point after a neat interchange with Woods. Freeman then had a low shot brilliantly saved by McConnell as the home side cams close to registering a goal. At the other end, Tommy McGuigan steadied Tyrone with a wonderful point from distance.
Conor Gormley crept forward to put Mickey Harte's men in front in the seventh minute, with McGuigan again prominent in that attack. Paul Finlay had an excellent chance to equalise but he curled a free surprisingly wide. However, the Ballybay man made amends on nine minutes when he arced over an excellent point from play.
Monaghan's next attack ended abruptly when the referee harshly awarded a free in the other direction but justice was done when Davy Harte was off target. John Paul Mone's brilliant intervention denied Tyrone a goal chance after Walshe had been caught dithering in defence.
In the 14th minute, Conor McManus struck a lovely free from his hands to make it 0-3 to 0-2 after Ryan McMenamin's foul on Woods. Monaghan almost released Gary McQuaid but Justin McMahon made a superb block to prevent Damien Freeman's pass from getting through the O'Neill County defence. Owen Mulligan and McManus traded wides.
The ageless Brian Dooher dropped over the equalising point at the end of the first quarter as the holders exploited some loose marking. When Monaghan were caught again moments later, Sean Cavanagh missed the target. Woods edged Banty's boys back in front, with Owen Lennon's dominance at midfield starting to tell. But this was as good as it got for the losers...
Tommy Freeman was penalised when his marker Cathal McCarron seemed to throw himself to the deck and Martin Penrose squandered an exceptional goal chance before Philip Jordan popped over the levelling point in the 23rd minute. Gormley sliced an effort wide and Kevin Hughes fired over the fifth Tyrone point two minutes later after some uncertain Monaghan play.
Monaghan goalie Duffy - who missed the previous two games with a quad injury - was struggling noticeably on his kick-outs and his team won a 45 when McQuaid had a token gesture of a shot deflected out by Dooher. The disappointing Finlay drilled his shot wide - a poor attempt - but the match official did him no favours by insisting that he moved the ball mere inches before kicking it.
Mulligan booted Tyrone's eighth wide on the half-hour mark and Clerkin had a bad wide at the other end when he had other options that may have proven more prudent. Sean Cavanagh tore through to put two points between the teams for the first time - 0-6 to 0-4 - in the 33rd minute, with Mulligan starting to cause Monaghan problems. When Harte floated over a fantastic Tyrone point - their fourth in a row - it meant the entire half-back line had registered for the favourites.
In injury time at the end of the first half, McConnell made a routine save to deny Damien Freeman but it would have been a certain goal if the Magheracloone clubman had spotted Gollogly totally unmarked to his left. Tyrone had won the tactical battle in the first half, with Joe McMahon effective as a sweeper.
Penrose dropped a free over the bar two minutes after the restart (a very soft free awarded against Walshe) and Damien Freeman was wide after taking a pass from Woods. Monaghan No.13 Woods struck another wide as the game started to drift away from the outsiders.
It was all Tyrone as Sean Cavanagh became the first man to score twice, while Monaghan had gone 24 minutes without a score and were taking the wrong option every time. The management made a change by effecting a double substitution with Ciaran Hanratty and Hugh McIlroy replacing JP Mone and Gollogly. But it made no difference.
Joe McMahon thumped over a 45 to make it 0-10 to 0-4 with 47 minutes played. Seven points in a row for the winners, while Monaghan's challenge had totally dissipated. Mulligan's shot went wide off an upright and Hanratty was even further adrift. The mistakes continued to come on a very disappointing day for Monaghan.
Tyrone's blanket defence had Monaghan's inside forwards totally bottled up and the challengers' confidence seeped out like a busted balloon as that scoreless streak continued. Thirteen minutes from the end, Penrose was finally shown a yellow card for persistent fouling. In the 59th minute, McManus popped over Monaghan's first point in 40 minutes of play - a soft free that was moved into a more central position.
But Cavanagh slotted over a Tyrone point from play after - not for the first time - McQuaid gave up possession with a sloppy pass. Clerkin showed an impressive burst of pace to fist over Monaghan's sixth point on 62 minutes, but Lennon followed this up with a bad wide.
Colm Cavanagh put the icing on the cake with a facile goal five minutes from time; Davy Harte added his second point in the last minute of normal time; and sub Dessie Mone claimed a consolation point in the second minute of stoppage time.
But Penrose and Hughes had the last say as rampant Tyrone cantered home. Tyrone did what they do well while Monaghan failed miserably to live up to their pre-match hype.
Tyrone: Pascal McConnell; Cathal McCarron, Justin McMahon, Ryan McMenamin; Davy Harte (0-2), Conor Gormley (0-1), Philip Jordan (0-1); Colm Cavanagh (1-0), Kevin Hughes (0-1); Brian Dooher (0-1), Sean Cavanagh (0-3), Joe McMahon (0-1); Martin Penrose (0-1), Tommy McGuigan (0-1), Owen Mulligan. Subs: Peter Harte, Colm McCullough, Dermot Carlin, Brian McGuigan.
Monaghan: Shane Duffy; Dermot McArdle, JP Mone, Colin Walshe; Damien Freeman, Darren Hughes, Gary McQuaid; Dick Clerkin (0-1), Owen Lennon; Stephen Gollogly, Paul Finlay (0-1), Kieran Hughes; Rory Woods (0-1), Conor McManus (0-2), Tommy Freeman (0-1). Subs: Ciaran Hanratty, Hugh McIlroy, Dessie Mone (0-1), Martin McIlroy.
Most Read Stories