Model ring the changes
July 01, 2010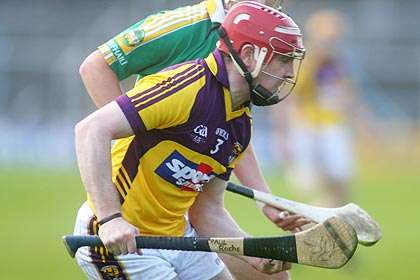 Wexford's Paul Roche
The Wexford team to play Tipperary in the All-Ireland SHC Qualifiers on Saturday shows a number of changes from the team defeated by Galway in the Leinster championship.
Paul Roche returns to corner back in place of his own clubmate Lar Prendergast. David Redmond, also from the Oulart-the Ballagh club, having recently returned from Australia, starts his first game of the year at wing back having been introduced as a substitute last time out.
Tomás Waters replaces the suspended Diarmuid "Gizzy Lyng" at centre forward while Tomás Mahon from the Rapparees club comes in for Michael Jacob at top of the right.
Wexford (SH v Tipperary) - 1. Noel Carton, 2. Paul Roche, 3. Keith Rossiter, 4. Ciarán Kenny, 5. Richie Kehoe, 6. Darren Stamp, 7. David Redmond, 8. Colm Farrell, 9. Harry Kehoe, 10. Peter Atkinson, 11. Tomás Waters, 12. Eoin Quigley, 13. Rory Jacob, 14. Stephen Banville, 15. Tomás Mahon
Most Read Stories