Travers hopes to make full recovery
June 17, 2010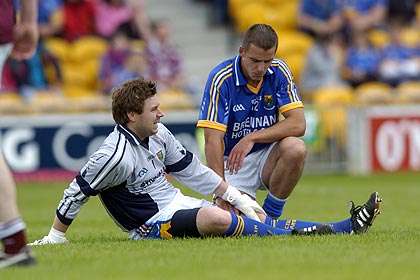 Wicklow keeper Mervyn Travers is injured against Westmeath at O'Connor Park Tullamore while Nicky Mernagh shows his concern.
Luckless Wicklow goalkeeper Mervyn Travers hopes to bounce back from a career-threatening injury.
The brilliant Garden County No.1 has been told that his intercounty career could be over after suffering a horrific knee injury against Westmeath eleven days ago. But he's determined to somehow defy medical wisdom and get back between the posts:
"I came down awkwardly and as soon as I hit the deck I saw my kneecap out of place and I knew immediately I was in trouble.
"It was a combination of the collision with [Martin] Flanagan and the way I came down awkwardly that did the damage.
"I had to make a decision to go into the tackle as otherwise it would have been a certain goal opportunity for Westmeath.
"My patella tendon ruptured and my kneecap snapped and I was taken to Tullamore Hospital as the game continued.
"The surgeon said I might not be able to return again to football at that level but I hope to prove him wrong."
Most Read Stories