McWalter's season is over
May 19, 2010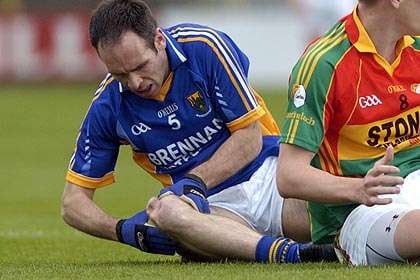 Wicklow's Pat McWalter suffers a broken knee cap against Carlow in the Leinster SFC clash at Portlaoise
Wicklow's Pat McWalter is resigned to missing the rest of the championship after suffering a horrific knee injury in last Sunday's Leinster SFC first round win over Carlow.
The St. Patrick's clubman was released from Tullamore General Hospital yesterday after undergoing surgery on a broken kneecap, which will sideline him for anything between three and five months.
"It is heartbreaking but it was more shock. I never saw the knee go like that. The knee was kind of pushed out of place," he told the Irish Daily Star.
"I remember getting pain and then looking at the knee and that just freaked me out, because I wasn't in unbelievable pain. But when I saw the knee, I knew there was something seriously wrong.
"At the time, the doctor thought it was a dislocation. But when we got it X-rayed, there was a break there."
The former UCD League of Ireland player added: "My inter-county season is over I would imagine, unless we win the All-Ireland. You might see me in the final yet. You can never write Micko (O'Dwyer off). You'd think the club championship. It tends to run into October. Maybe I could do something there. We'll see how we go."
Most Read Stories