O'Connor denies Walsh axing
April 29, 2010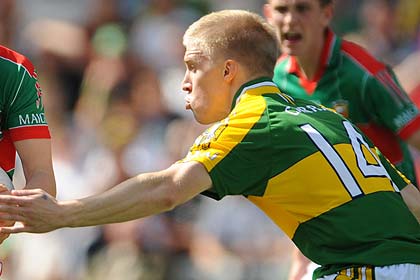 Kerry's Barry John Walsh
Jack O'Connor says Barry John Walsh could yet feature in Kerry's championship campaign, despite the fact that the Kerins O'Rahilly's youngster isn't part of his panel at present.
Walsh was released over the past fortnight along with Kenmare's Paul O'Connor, who is the holder of three All-Ireland medals. But the Kerry manager stressed that it should not be interpreted as "the axe for Walsh".
He said: "The panel is not closed, far from it. We left Barry John with his club for the moment where we think he'll find a bit of form. It has allowed us look at under 21s we haven't had a chance to see at close quarters before now."
Despite the number of retirements and defections of senior players, O'Connor claims the All-Ireland champions are in better shape now than they were this time last year.
"Nobody likes losing players but because we tried so many players in the league last year, we're reaping the benefits of that this time around," he added.
Most Read Stories