Leinster MFC: Meath's 44-point Cat win
April 17, 2010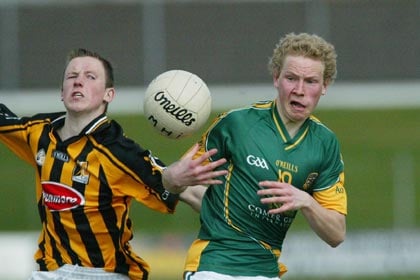 All eyes on the ball as Kilkeeny's Willie O'Connor and Meath's Paddy Fox fight for possession during the Leinster MFC at Pairc Tailteann
Meath 6-26
Kilkenny 0-0
It was one-way traffic at Pairc Taileann, Navan on Saturday afternoon as Meath eased into the ESB Leinster MFC quarter-finals at the expense of hapless visitors Kilkenny.
By the end 12 different players were on the scoresheet for Meath and apart from raising 32 flags the home side posted 14 wides to Kilkenny's three.
Shane Barry topscored for Meath 2-2, both his goals coming in quick succession in the run up to half-time which was reached with the board reading 5-9 to 0-0.
Donal Landy chipped in with 1-4 from play with his goal coming within 20 seconds of the off as Meath set about their task in a methodical fashion.
All bar 0-6 of the Meath tally came from play while four subs got off the mark.
Having won the toss Meath played with the strong breeze blowing towards the town goal in the first-half and added two more goals in the opening ten minutes courtesy of Liam Tolan and Farrell McManus.
It was 3-3 to 0-0 after nine minutes and the scoring rate dropped until Barry's brace of goals. Tolan picked up a knock and departed injured at the start of the second quarter.
Nearly 20 minutes elapsed before Kilkenny's first wide. Despite playing against the wind and sun in the second-half Meath raised more flags after the change of ends.
Daniel Queeney, Conor Devereux and Landy were withdrawn at half-time and replaced by Cian O'Brien, Seamus Mattimoe and James Conlon respectively.
Conlon was the first of that trio of subs to get off the mark and was quickly followed by O'Brien.
Conor McGill's efforts at full-back ensured Kilkenny didn't register a score while Alan Forde and Fergus Toolan pushed forward to assist the attack.
Toolan fired home Meath's sixth goal in the 51st minute. Shortly after a foul on Ben Doherty presented a scoreable free to Kilkenny but Matthew Holohan was wide from a central position.
Meath closed out the game with four more points with Toolan, Conlon and Paddy Fox (two) registering.
Meath - C. McHugh; A. Doyle, C. McGill, A. Forde; F. Toolan (1-2), B. Moore, E. Lynch; F. McManus (1-0), C. Sheridan; P. Fox (0-4,1f), D. Queeney (0-2, 1f, 1 45), S. Barry (2-2, 0-2 fs); D. Landy (1-4), C. Devereux (0-3), L. Tolan (1-0). Subs - B. McMahon (0-2,1f) for Tolan (15), C. O'Brien (0-2) for Queeney, S. Mattimoe (0-2) for Landy, J. Conlon (0-3) for Devereux (all ht), C. Downey for Barry (46)
Kilkenny - P. Boeye; S. Walsh, C. Walsh, B. Doherty; W. O'Connor, S. McDonald, C. Foley; S. Aylward, G. Teehan; A. O'Dwyer, D. Farrell, G. Malone; T. Aylward, M. Holohan, E. Guilfoyle. Subs - J. J. Corrigan for Boeye (21), C. Bolger for Guilfoyle (26), L. Blanchfield for Foley (46), J. Nugent for Farrell (48), T. Whitely for Bolger (55).
Referee - J. Murray (Dublin).
Most Read Stories