Wicklow defend fixture schedule after champions play two games in 24-hours
October 30, 2018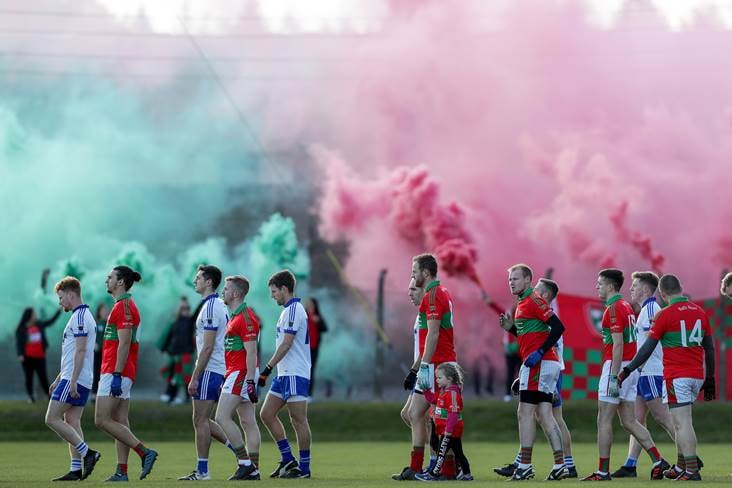 The parade involving Rathnew and St Patricks prior to the 2018 Wicklow SFC final replay at Joule Park, Aughrim ©INPHO/Laszlo Geczo
St Patrick's defeated Rathnew in a replayed county final on Saturday afternoon and were then forced to play Offaly champions Rhode the following day in the Leinster club SFC first round.

Winning manager Casey O'Brien was critical of the fixture makers after his side lost to Rhode. "No matter how fit one team is, it can't be an even playing field the next day. Surely to God somebody somewhere along the line must've been able to shift a few fixtures and put our match back. There has to be a weekend break somewhere," said O'Brien.

Today, Wicklow released a statement in which they said their hands were tied due to the number of dual players who participated in both the senior club football and hurling finals, and also the face that no floodlights in Joule Park meant the replay could not be held midweek.

"Wicklow GAA wish to congratulate St. Patrick's GAA Club Wicklow on their winning of the Renault Wicklow Senior Football Championship. Their participation in the Leinster Club Championship 24 hours after the county final replay was caused by the fact that the County football final ended in a draw. The reason that the replay could not have been played earlier was that there was a cross-over of dual players participating in both senior hurling and senior football county finals," read the statement.
"Our competition regulations do not provide for extra-time in a county final and we are constrained by Joule Park Aughrim not having floodlights to host a replay mid-week. We made efforts to change the date of the Leinster Club Championship match with Rhode but no agreement could be reached.
"In a county where both hurling and football are treated equally, we do our best to plan our fixtures in a way that gives the dual club player the respect he deserves. It is however impossible to legislate for all possibilities and if we had allowed for the possibility that both county finals could have ended in draws we would have had to start and to finish our senior championships four weeks earlier."
Most Read Stories