What they said … the football weekend in quotes
June 11, 2018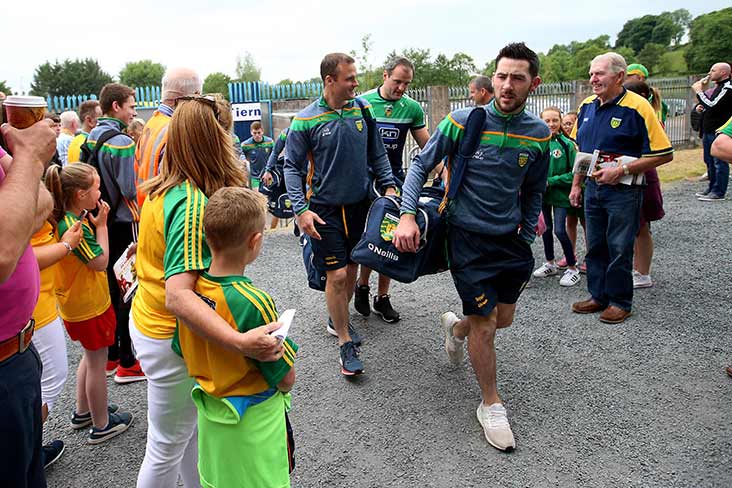 Mark McHugh and the Donegal players arrive at Clones for the Ulster SFC semi final clash with Down
"It was hard to see from my angle but, just a mid-air collision, that's all I saw. These things happen. We'll review that over the next 24 to 48 hours and just assess the situation."
Stephen Cluxton's injury is a cause of concern for Jim Gavin and the Dubs.
"We had five training sessions before the game so it's impossible for us to come along with a new game plan, we just are not able to do that. All can do is stick to the game plan we had, that's what we've been trying to use all season."
Denis Connerton explained why Longford didn't go defensive against the Dubs.
"The allegation is that he put his two knees in, but I didn't see it to be quite honest so we will just have to wait and see."
Neil McGee's red card was the only negative from Donegal's point of view against Down and manager Declan Bonner revealed they will consider an appeal in advance of the Anglo Celt Cup decider.
"It wasn't pretty for long stretches, but we managed to get through it. They're hard opposition to play against, so we're happy enough to have managed that."
Kerry native John Sugrue has guided Laois to the Leinster SFC decider.
"They're very united, really like a club team and I think they'll bounce back. It's going to take two or three days mind you. We'll have to wait and see the draw in the morning and I'm sure the heads will be lifted."
It's Tyrone up next for Turlough O'Brien and the Barrowsiders.
"Everyone's entitled to their own opinion. If that's the way people feel about something then they can share that with whoever they like. I'm happy to stand on my own two feet and I'm happy to do things the way we try to do them for the betterment of Tyrone football, and for the players we have at our disposal."
Mickey Harte isn't losing any sleep over criticism that has come his way from the likes of his former captain Sean Cavanagh.
"What did I say? I'm not too sure but what I said. It was hardly too complimentary."
Royal County boss Andy McEntee had to be restrained after confronting referee Paddy Neilan following their qualifier exit.
"David Coldrick had a poor game and I can't figure him out at all. He lives far too close to Kildare. He is a Leinster man. He shouldn't have been appointed."
The standard of refereeing in Owenbeg wasn't up to scratch either according to Derry boss Damien McErlain.
"It was about integrity. It was about pride in Kildare football. I let the county down as manager of this team the last day when so much was expected of us. That's not where we wanted to leave it this year."
Cian O'Neill and the Lilywhites brought their 12 game losing sequence to an end against the Oak Leafers.
"It is a tremendous personal achievement, coming back for his first start in three months I thought he looked very sharp and he offered us a real good presence in that forward line."
Stephen Rochford saluted Cillian O'Connor after his 3-9 haul earned him the distinction of becoming Mayo's all-time top scorer.
"You bring Lee Keegan and Andy Moran off the bench and sure that says it all, I don't need to elaborate on that."
Following their 3-7 to 5-19 defeat, Limerick manager Billy Lee pointed out the obvious.
"We played attacking football, we went for it right from the beginning and like any team at any level we made mistakes but we made those mistakes trying to be positive. I can't tell you how proud I am of the footballers in that dressing room."
Interim manager Paul Rouse and his players restored some pride to the Offaly jersey against Antrim.
"Bring them all on. It's fantastic for Waterford just to be in that second round. I'm just so delighted for the group of players and the Waterford GAA public."
Tom McGlinchey and Waterford's reward for their memorable qualifier win over Wexford is a round 2 clash with Monaghan.
"We had two Championship games and six League games. For us to develop we need lots and lots of high-quality games which we are just not getting."
A lack of competitive games is hampering London's progress in Ciaran Deely's opinion.
"It's our first competitive win this year and I think it will do a lot of good for our confidence."
Pete McGrath and Louth came away from Ruislip with the spoils.
"I've a great relationship with the Westmeath County Board and I've made some great friends among the players. We've had some fun along the way, but maybe it's time for a Westmeath man to take it on."
Colin Kelly stepped down as Westmeath manager after one year at the helm.
"I'm pleased for the boys to get the win but we're not taking a lot from today's game. We're just glad to be in the hat for the next round and see where that takes us."
It was mission accomplished for Kieran McGeeney and the Orchard County in Mullingar.
"We got out of Aughrim with a win - -that was all I wanted. There are things to work on for the next day."
The next day will see Mattie McGleenan and Cavan entertain Down at home.
Most Read Stories