What they said … the football weekend in quotes
June 04, 2018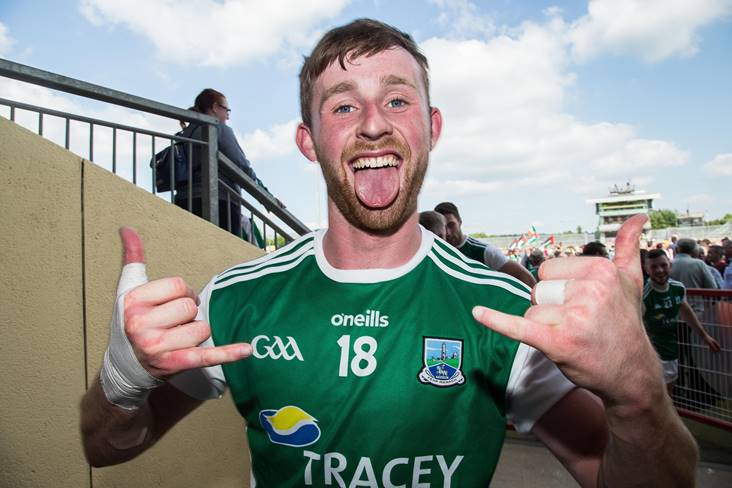 Fermanagh's Ciaran Corrigan celebrates after his side's Ulster SFC semi-final victory over Monaghan at Healy Park, Omagh.
©INPHO/Tommy Dickson.
"It's devastating in a way... so disappointing. We have to take it on the chin. The last day (against Tyrone) was a good day. We just have to accept it."
Malachy O'Rourke couldn't hide his disappointment after his Monaghan side were caught on the line by Fermanagh.
"We felt we had a really good chance and we also felt that there was a wee vulnerability (in Monaghan) under a high ball if it dropped short, and it came through. At times, it looked as if we were panicking. But we went out to play as controlled a game as possible, one that we thought suits the players that we have against Monaghan. Look, we're just over the moon."
Rory Gallagher has guided Fermanagh to the Anglo Celt Cup decider in his first year at the helm.
"They have been developing away in the background, and they were ready. They were ready to play today. They've been chomping at the bit, looking for a chance.  lot of credit is due to the debutants. They have a lot of big-game experience, and they played a lot of big games in the league against Division 1 opposition. They were ready."
Kerry's young guns put Clare to the sword in impressive fashion and it arch rivals Cork up next for Eamonn Fitzmaurice & Co.
"The way we set up it was designed to work offensively for us as well. It didn't and too many of our attacks were ponderous and slow and when we got to a certain point rather than attacking them we turned backwards. That's going nowhere and it's a tough defeat to take. I didn't see it coming anyway."
Colm Collins expected his Banner County players to put up a better fight in Fitzgerald Stadium.
"What could have been thrown at Kerry for the last number of seasons is that they aren't direct enough, they haven't defended well enough. Today is only a start, that's all it is. But the fact that this injection of youth is there is key."
Sunday Game analyst Tomas O Se liked what he saw from the Kingdom.
"There's Plan As, Plan Bs and Plan Cs out there. And sometimes you may not play the game you want to when you're forced by the opposition to do something else. And that's part of the trick. We'll do what we feel is right as much as we can and hopefully it's the right thing to be done and take our positions. And depending on how the game will pan out at different times, you give different instructions. I don't overly listen to people who haven't their homework done."
Kevin Walsh and Galway are doing in their way and it's working so far!
Most Read Stories