FL4 round-up: Saffrons, O'Moore men and Barrowsiders setting the pace
February 04, 2018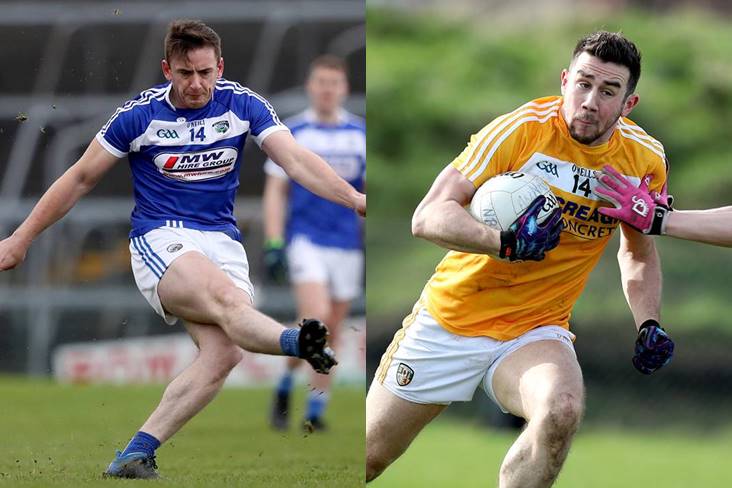 Laois' Gary Walsh and Conor Murray of Antrim.
Antrim, Laois and Carlow are the top three in Division Four, all with 100% records after two rounds.
The Saffrons lead the way on score difference after securing a tidy 2-12 to 0-10 win against Waterford in Carriganore. Brothers Conor and Ryan Murray netted for Lenny Harbinson's consistent charges, who outscored Na Deise by 1-6 to 0-5 in each half.
At Carrick-on-Shannon, Laois had to survive an amazing Leitrim fightback before prevailing by 3-16 to 3-10. Gary Walsh registered 1-8 for the winners and Trevor Collins and Eoin Lowry (penalty) also netted as they led by 3-12 to 0-6 at the three-quarters stage. Substitute Darragh Rooney (2) and Ryan O'Rourke pulled back goals for the hosts as they tried to pull off what would have been a remarkable win.
Carlow also maintained their perfect start when coming away from the Gaelic Grounds with a great victory over Limerick, 2-11 to 0-14. And London got their first win of the year, storming to an unlikely 1-16 to 0-10 triumph against Wicklow at Ruislip.
Antrim - C Kerr; P Healy (0-1), P Gallagher, N Delargy; K O'Boyle, M Sweeney, J Laverty; S Burke (0-1), N McKeever; P McAleer (0-1), S Beatty, P McBride (0-3); M Fitzpatrick (0-2), C Murray (1-1), R Murray (1-3, 0-2f). Subs: K Healy for J Laverty, O Eastwood for P McBride, R Johnson for P Gallagher, S McVeigh for S Beatty, R McCann for N McKeever.
Waterford - S Enright; B Looby, T O'Gorman, R O'Ceallaigh; J McGrath, S Ryan, A Trihy; T Prendergast, M Curry; C Murray (0-1), D Breathnach (0-1), D Guiry (0-1); J Curry (0-3f), J Veale (0-1), P Whyte (0-1). Subs: JJ Hutchinson (0-1f) for J Veale, K Power (0-1) for M Curry, J Mullaney for B Looby, M Scurry for D Breathnach, M Cummins for C Murray, F O Currain for A Trihy.
Referee - S Lonergan.
**
Laois - G Brody; D Holland, S Nerney, R Fennell; T Collins (1-0), C Begley, G Dillon; J O'Loughlin, D O'Reilly; A Farrell, P Kingston (0-2), B Glynn; E Lowry (1-1, 1-0pen), G Walsh (1-8, 0-6f), E O'Carroll (0-3). Subs: N Donoher for B Glynn, R Munnelly (0-2) for E Lowry, A Dowling for A Farrell, K Lillis for D O'Reilly, R Donohue for D Holland, J Farrell for C Begley.
Leitrim - D McKiernan; J Mitchell, M McWeeney, M Murphy; D McGovern, K Keegan, O Madden; D Wrynn, C Moreton; C Gaffney, R O'Rourke (1-0), B Gallagher (0-1); A Flynn, K Beirne (0-8, 6f), J Rooney. Subs: D Rooney (2-1, 1-0pen) for C Moreton, E Ward for A Flynn, J Heslin for B Gallagher, N Plunkett for M Murphy, D Moran for D Wrynn, K McGloin for C Gaffney.
Referee - B Judge.
**
Carlow - R Molloy; S Redmond, C Lawlor, D Moran; J Morrissey, D St Ledger (0-1), C Moran (0-1); B Murphy (0-1), S Murphy (0-1); S Gannon, D Foley (0-1f), E Ruth; P Broderick (1-6), D O'Brien, J Murphy (1-0). Subs: B Kavanagh for D Moran, D Walshe for S Murphy, K Nolan for C Moran, C Crowley for D O'Brien.
Limerick - D O'Sullivan; G Noonan (0-1), S O'Dea (0-1), B Fanning; D Daly, P White, J Liston (0-1); D Treacy (0-1), D Ward; D Connolly, C Fahy, T McCarthy; P Nash (0-1), D Neville (0-2), J Lee (0-4, 2f). Subs: P De Brun for P Nash, S O'Carroll (0-1) for T McCarthy, J Ryan (0-1f) for D Ward, T Griffin for P White, R Bourke (0-1) for J Lee, C McSweeeny for D Daly.
Referee - J Gilmartin.
**
London - G McEvoy; P Butler, R Jones, P Begley; C Dunne, S McManus, A Moyles (0-1f); A McDermott, J Moran; M Mangan, L Gavaghan (1-7, 0-4f), T Waters (0-1); R Elliott (0-3), M Gottsche (0-1f), F McMahon (0-3). Subs: D Carrabine for C Dunne, M Carroll for S McManus, M Walsh for P Begley, C O'Neill for R Jones, C Doran for F McMahon, E Murray for A Moyles.
Wicklow - M Jackson (0-1f); C Hyland, J Snell, P Merrigan; P Burke, D Healy, R O'Brien; R Finn (0-1), K Murphy; P O'Toole, J Stafford, D Hayden; G Murphy (0-2f), S Furlong (0-4f), D Keane (0-1). Subs: D Boothman for P O'Toole, T Smyth for P Burke, C Byrne (0-1) for D Keane, S Kearon for K Murphy, E Wolfe for G Murphy, E Murtagh for R O'Brien.
Referee - A Kissane.
Most Read Stories