Mullingar Shamrocks stalwart launches latest book
December 08, 2017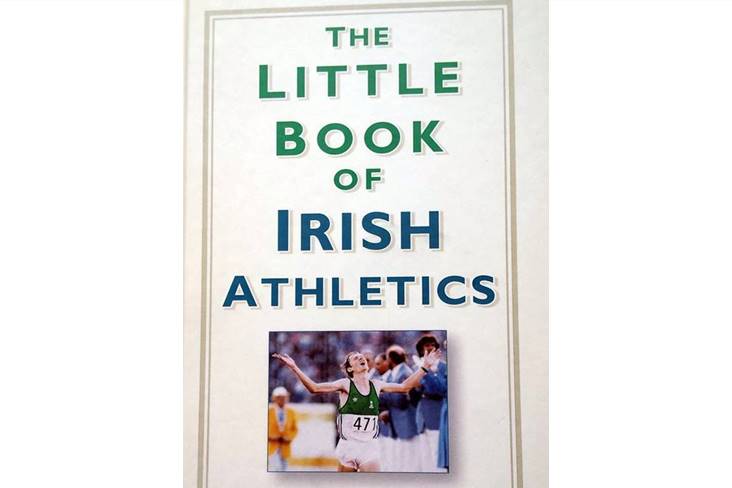 The Little Book of Irish Athletics is published by The History Press.
Mullingar Shamrocks and Westmeath GAA official Tom Hunt has again joined the rank of published authors with his latest book The Little Book of Irish Athletics published by The History Press and scheduled for launch this evening in The Book Centre, Waterford at 6.30pm.
The book documents Irish athletic excellence achieved in major international events with the focus mainly on the track and field dimension of the sport. The economic, political and socio-cultural context of these achievements has also been documented. This is not a clappy-happy, jumping up and down supporting mediocrity type of book as Ruby Walsh might say. Only athletic achievement at Olympic, World and European championship level is chronicled.
Two chapters deal with the various organisations responsible for managing the sport over the 140 or so years, three chapters document the achievements of Irish athletes pre-Irish independence; one on the world championships, one on the Olympics, Irish athletes and their superb relationship with the mile is explored as is the role of women in Irish athletics. The achievements of   Irish athletes in indoor athletics, the importance of the  USA scholarships system and the final chapter  is entitled More Milestones and deals with significant events  not covered in the earlier chapters.
Did you know that 10 men walked on the moon and one woman had been to space before a woman resident in the Republic of Ireland represented Ireland in athletics in the Olympic Games? or that Ronnie Delany won 40 successive races indoors in the USA in  a winning streak that included 33 successive mile victories or that six Irish-born athletes resident in the USA won 22 Olympic medals  between 1896 and 1924.
Were you aware that 250,000 people poured on to the streets of Dublin to welcome home Pat O'Callaghan and Bob Tisdall who won gold medals at the 1932 Olympic Games? or that Eamonn and John Coughlan are members of an elite group of 10 fathers and sons who have raced a mile in under 4 minutes and that Marcus O'Sullivan is one of three athletes to have broken the 4-minute mile barrier more than 100 times?
The stories of these achievements and several more are documented in The Little Book of Irish Athletics which has been described as 'a TARDIS' of a book, packing an enormous amount of information into its little spine. Tom, the uncle of former soccer internationals Stephen and Noel and a native of Waterford, has produced a pretty much perfect Christmas present for sports fans' by Eamonn Sweeney in the Sunday Independent; for The Irish Examiner, 'It is a glorious book, full of wit and charm and the sort of wonder that good history books carry lightly'.
It was chosen by Paul Rouse in The History Show on RTE Radio as one of the history books of the year: 'It's a great book, the little part is completely out of tune with everything else that happens in the book. It is short but it is full of history and full of brilliant stories, It charts the growth of athletics from the middle of the nineteenth century onwards … and stories of the importance of gender, class and geography in the shaping of the modern sporting world are explored'
Most Read Stories