Mixed reaction to experimental rules
December 10, 2018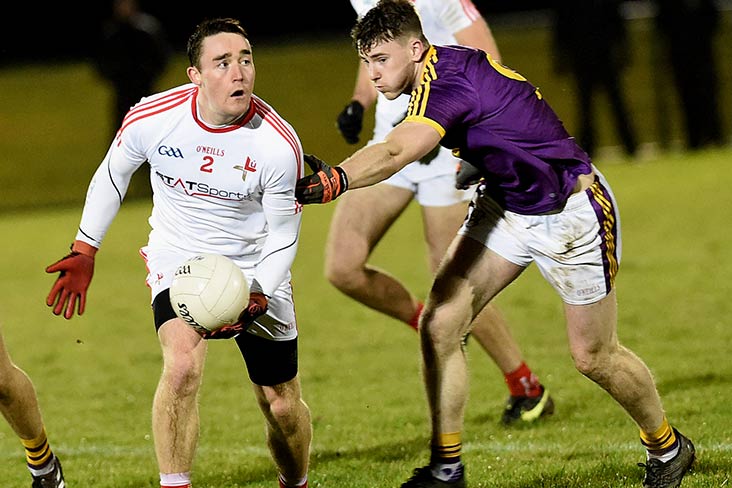 Louth's Hugh Osbourne is about to handpass as Wexford's Niall Hughes closes in during the O'Byrne Cup game at Darver.
There was a mixed reaction from inter-county football managers to the experimental rules which were implemented for the first time in the weekend's O'Byrne Cup fixtures.
The restriction on the handpass rule didn't find favour with Carlow boss Turlough O'Brien.
"I wouldn't be hopeful [about it having a future]. I don't think it's a better spectacle when the ball is being kicked away like that. No one wants to see that," he said.
"When there is a sweeper in play it's nearly a recipe for a turnover, last line in particular, turnover after turnover and here today that's going to be a problem, a big problem. I don't think it's going to add anything to it, when teams are at full strength and more competitive it will be even worse."
By contrast, new Longford manager Padraic Davis felt the handpass rule worked well.
"I think it fared out well in our game [against Wicklow]. In both sides, the communcation was good and they were calling out the third pass and it went both ways. I don't know if it has a place going forward, but we'll see. I'd possibly be in favour of the sin-bin rule, I suppose you're punishing both the individual and the team," he remarked.
Laois manager John Sugrue feels the experimental rules put added pressure on referees.
"It's a completely new concept, trying to watch lots of different things. I think it's very difficult for referees, even just the handpassing rule, we had five handpasses at one stage and there was no free blown. I'm not being critical of the referee, but there's an awful lot of information inside there that referees have to try to process," the Kerry native commented.
New Westmeath supremo John Cooney, meanwhile, believes the sin bin could have a future.
"The sin bin is not a bad option. Some of these fouls are not done intentionally and I was always in favour of a sin bin. Ten minutes off the pitch is a fair punishment," he opined.
Most Read Stories