What they said … the weekend in quotes
June 25, 2018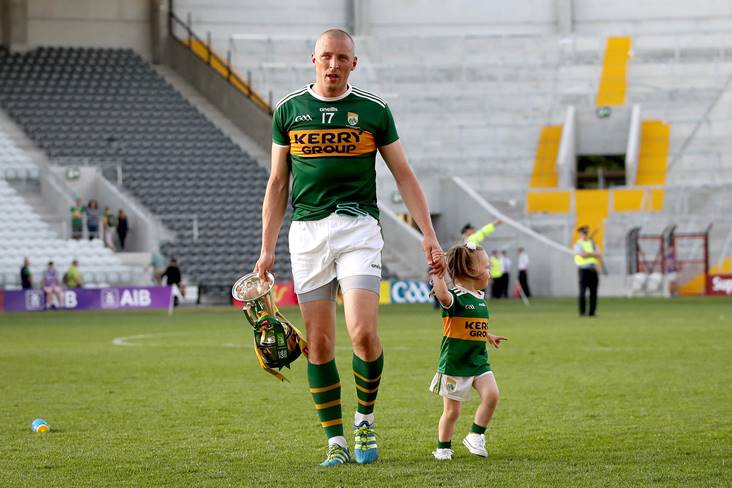 Kerry's Kieran Donaghy with his daughter Lola Rose after the Munster SFC final victory over Cork at Pairc Ui Chaoimh.
©INPHO/Ryan Byrne.
"We've had three or four years of hurt. We haven't had a feeling like this since 2014. They have worked hard and this is why, they're getting their rewards now. That's why you play football for Donegal, for days like this."
Donegal coach Karl Lacey outlined what Ulster title number 9 meant to them.
"I pay absolutely no heed to it. We know the players at our disposal and we are trying to win as many games as we can and we are trying to improve game by game and week by week."
Despite their 12-point defeat, Rory Gallagher isn't losing any sleep over criticism of the Ernesiders' style of play.
"They're all winners, they've won two All-Ireland minors, they've Hogan Cups. They're just winners."
The injection of young blood has rejuvenated Kieran Donaghy and the Kingdom.
"Let's acknowledge the opposition, they have real quality all over the field. They've an outstanding manager, he's tactically very astute. So we knew we'd have to play well but I felt that was in us. And we didn't do it. That is the most disappointing thing."
Ronan McCarthy and Cork were on the receiving end of a reality check in Pairc Ui Chaoimh on Saturday evening.
"I was surprised to see that he went, maybe the linesmen said something to the referee, I'm not too sure, but I was surprised he was sent off for that challenge."
John Small's dismissal was the only negative as far as Jim Gavin is concerned.
"I was reasonably confident we could have a go at them. I was probably the only who was reasonably confident by the look of things, including ye guys (the media)."
It's back to the drawing board for John Sugrue and Laois ahead of the qualifiers.
"It doesn't look good. He's gone to hospital, minimum it's a dislocation, we will have to wait and see."
Seamus O'Shea is set for a stint on the sidelines as Stephen Rochford turns his attention to a qualifier clash with Kildare.
"That'll stand to them now. They are still on the road. You have got to give to credit to Mayo as well."
Tipperary boss Liam Kearns took his hat off to the men from Connacht.
"It takes a few weeks to get a loss like that out of the system and then coming down here to get a win, I think that sort of draws a line under it."
It's onwards and upwards for Malachy O'Rourke and Monaghan.
"I have to sit down with the County Board now. Our year is over… so we'll take a bit of time now to see where we go from here."
Waterford boss Tom McGlinchey has a decision to make.
"I don't know what happened but I am very disappointed that the referee has seen fit to give red card to two of our best players. We will look at the video and see where it takes us."
Mattie McGleenan and Cavan are likely to appeal the red cards that were shown to captain Dara McVeety and Conor Moynagh after the final whistle in Brewster Park.
"It went against us today but only by a kick of the ball. We'll take stock and see where we are."
Eamonn Burns wouldn't be drawn on his future as manager of the Mourne County.
"Before half-time we won a series of Carlow kick-outs and that gave us the platform. We were hoping to impose ourselves in the second half."
Mickey Harte and his Tyrone players continued their progress through the back door with a 3-14 to 1-10 victory over Carlow.
"We came up against a top Division 1 team and held our own for 30 minutes. But we are very proud of the team who provided a great lift for the people of Carlow."
Barrowsiders boss Turlough O'Brien focused on the positives following their exit.
"I would like to say it was the high point of my tenure so far. It's your home pitch, to kick 25 points against a Division 2 team, I would be very happy with today."
Brendan Guckian guided Leitrim to a memorable qualifier victory over Louth.
"I will talk with one or two officials. Whatever decision I make, or they make, we will take it from there."
The curtain came down on a disappointing year for Pete McGrath and the Wee County.
"It had to be a big factor in the game. We're playing again next Saturday and, if we win that, we'll be out the following Saturday. We are going to need everybody."
The strength in depth of Kildare's panel was crucial to their victory over Longford, according to Cian O'Neill.
"Now we've had two good wins away from home (in the qualifiers) but we'll be up against some serious teams (in round three)."
It's Clare next up for Kieran McGeeney and the Orchard County.
"It's great to be there. You see who you get, look for a performance the next day and you never know where that'll take you."
Colm Collins and the Banner County are up for the challenge.
"Finals are going to be weird, lads can get built up to it and they mightn't play to their full expectation. It's a surreal kind of atmosphere but I'm absolutely delighted for the people in that dressing room."
Brian Byrne got to lift the Christy Ring Cup on behalf of Kildare at Croke Park on Saturday.
"A party tonight anyway and I think with these boys, the party could start again tomorrow too."
Donegal manager Mickey McCann and his players are going to enjoy their Nicky Rackard Cup success.
"It was five nights a well for some of them, then Sunday morning sessions to get the fitness back up. Myself and Darragh (Small) taking our first job in senior management, we wanted to blood in young fellas in the league which we did and thankfully the whole thing worked out in the end."
Sligo joint-manager Daithi Hand revealed that they left no stone unturned in their quest for Lory Meagher Cup honours.
Most Read Stories