Fitzgerald would 'tweak' new provincial format
January 03, 2018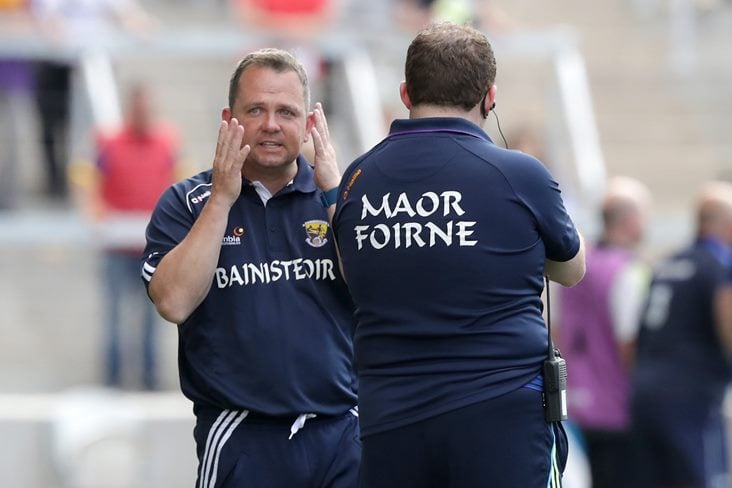 Wexford manager Davy Fitzgerald with selector Seoirse Bulfin
Wexford manager Davy Fitzgerald believes in general that the new round robin format in the provincial championships are good for the game, but there is one small change that he would make.
Five teams will participate in the Leinster round robin series with counties playing for four consecutive weekends, but Fitzgerald believes that an extra week-off during the series would be beneficial to all concerned teams.
"The format of the championship, I like it, I really do," Fitzgerald told the Wexford People. "You take Munster, and you take Clare, the last time I think we'd a Munster championship game there would have been 1993, that's a long time.
"I love that, the fact that the atmosphere around the town will be unreal. It will help the town. Then you look at the kids. It's the same in Wexford. Last year when we played Kilkenny in Wexford, it was incredible.
"The only thing I would tweak in it a small bit is … I think the running it in five weeks is just a small bit (rushed). If it was six weeks where you get one more break in it, I think, it would be great. That's the only thing.
"We've a three-week gap between the last match of the round robin and the final. I would have loved for them to push it out for one more week. We've a four-week run, we've Dublin, then we've Offaly, a massive match against Galway and then the following week you're coming out and playing Kilkenny, who have the week before it off. All I'm saying is make it six weeks, which isn't a big ordeal.
"We've a savage Leinster championship next year. I love the fact we're getting to play four big games. The only problem is you could be out of the championship in the first or second week of June, you could be completely gone."
Most Read Stories