Ladies: 'Sheer guts and effort' gets Donegal over the line
June 17, 2019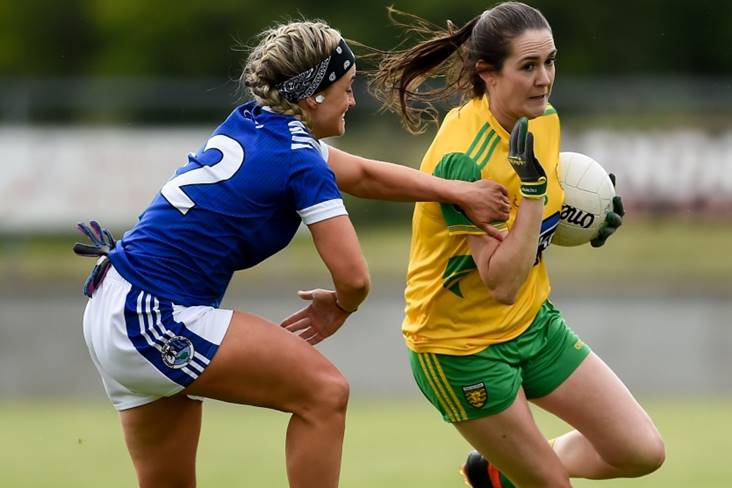 Katy Herron of Donegal in action against Donna English of Cavan during the TG4 Ladies Football Ulster Senior Football Championship semi-final match between Cavan and Donegal at Killyclogher in Tyrone. Photo by Oliver McVeigh/Sportsfile.
By ALAN GUNN
'Sheer guts and effort' was how Donegal manager Maxi Curran summed up his side's victory on Saturday evening in Killyclogher to keep them on course of a third successive TG4 Ulster Senior Football Championship title.
Curran saw his side finally come out on top after extra-time, as the defending Ulster champions had to kick the last five points to tie the game at the end of normal time following a brilliant Cavan performance.
"We were really pushed to the pin of our collar, with 15 minutes to go it wasn't looking good there, so that was the most pleasing aspect of it the will to keep battling was very pleasing," said Curran, whose side now face Armagh in the final, a repeat of last year's decider.
Geraldine McLaughlin and Karen Guthrie contributed 22 points between them but Curran was quick to point out the effort shown right through the team.
"They got the scores and will get the headlines but I thought Nicole McLaughlin and Emer Gallagher were brilliant in defence, Evelyn McGinley in her first year starting at senior did a very good job on Aisling Sheridan, Treasa Doherty on Aisling Maguire and Niamh Carr did a super job on Sinead Greene.
"I just thought there was so many warriors all over the field that put their shoulder to the wheel and give everything.
"There are a lot of children here tonight and that will do wonders for ladies football in Donegal to see girls battle so hard."
On the other side Cavan manager James Daly was obviously disappointed having seen his side come so close to claiming a memorable victory, only for Donegal to come roaring back at them with their late rally.
A Ciara Finnegan goal just before half-time ensured Cavan held parity with Donegal at the interval, 0-9 to 1-6, while an Aisling Maguire penalty in the first minute of the second-half gave Daly's side the upperhand.
But with Geraldine McLaughlin in superb scoring form Donegal roared back, and ruthlessly finished the job in the first period of extra-time.
"Nobody thought we would win here except ourselves," said Daly. "We came with a game plan and with 12 or 13 minutes to go we were up by five points. I felt if we didn't concede a goal and scored a point or two ourselves we would do it.
"We have experienced players, but we have blooded a lot of players over the last two years too and we are starting to see it. A loss like that this evening will be sore but it will drive them on more, we played a good brand of football here but just came up short.
"Donegal's class and experience of winning back to back title showed there in extra time but we can take great satisfaction from the game and things we can work on ahead of the All-Ireland Series in what is going to be a very tough group."
Most Read Stories