What they said … the weekend in quotes
May 06, 2019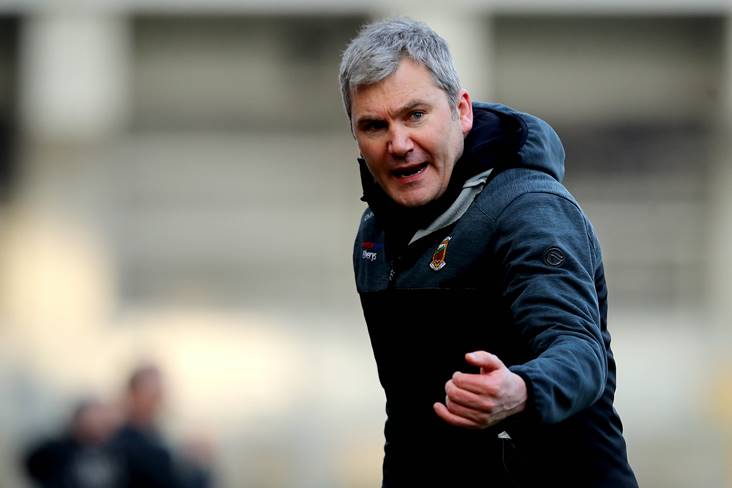 Mayo manager James Horan. ©INPHO/Ryan Byrne.
"We just got sloppy, but look, we have won a championship match and we're into the next round. The first half we set about trying to be ruthless. We were strong at times in the first half but if you contrast that to the second half we were equally as bad the other way. Overall we got through it."
Despite their 21-point winning margin, James Horan wasn't overly happy with Mayo's performance against New York.
"We came over for a victory and we go home with that. To look at it, you'd have to say two or three things. Maybe the aggression levels weren't as high as you would like, certainly our finishing wasn't as good as you'd want it and a lot of turnovers when we had totally dominated all the kick-outs."
Galway's display against London fell a long way short of the high standards that manager Kevin Walsh has set his team.
"I'm very proud of how they played, of how they performed. You have to remember that this is against a top Galway team who are likely All-Ireland contenders."
London boss Ciaran Deely couldn't have asked for more from his players.
"The elephant in the room on the restructure is that you have to accept that the provincial structures as we have known them, and loved them for many years, have to go. If they don't go, you're not restructuring."
The provincial championships are past their sell-by date, according to Kevin McStay.
"He was very helpful to players. He would do everything to make sure that the best team was on the field for the big day. That takes a lot of work in the background. It might be helping guys get jobs or giving fellows a break that might have difficulties. We were lucky to have him for those few years."
Offaly's 1982 All-Ireland winning captain Richie Connor led the tributes to manager Eugene McGee who sadly passed away over the weekend.
"Eugene McGee was a giant of Gaelic Football. Like Mick O'Dwyer and Kevin Heffernan, with whom he shared so many sideline battle of wits, Eugene was considered a man ahead of his time and responsible for creating a new era of popularity for the game in the 70s and 80s. A straight-talking man of great integrity, Eugene was a hugely respected journalist and author and his passion for the game always shone through."
GAA President John Horan highlighted the impact Eugene McGee had on gaelic football.
"I actually think he's a brilliant hurling mind. He has the capacity to go in to a county, play a certain way, have a strategy - and yet we overlook the whole motivational side of his ability. In terms of motivating a team, in terms of getting a team on side. I think the easy thing is to think is top talk about the sustainability of what Davy is doing."
Former Waterford manager Derek McGrath is a big fan of Davy Fitzgerald's management style.
"We've gone to war with Diarmuid on the playing field over many, many years … outstanding player. Dublin supporters and myself would love to see him back."
Jim Gavin revealed he would welcome Diarmuid Connolly back to the Dublin squad with open arms.
Most Read Stories