Overseas duty left 'Bonner' playing catch-up
December 09, 2017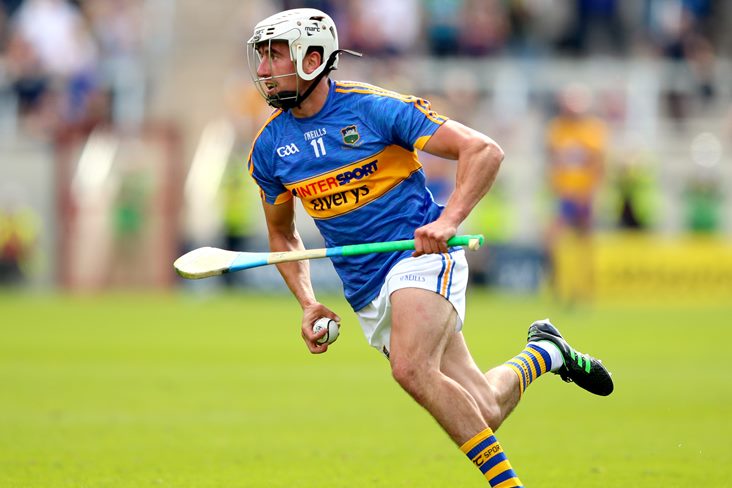 Patrick 'Bonner' Maher weighs up his options
Patrick 'Bonner' Maher admits he wasn't at his best for Tipperary in this year's championship because of a six-month tour of duty with the Irish Army in Golan Heights.
The centre forward missed the entire Allianz League campaign and only rejoined Michael Ryan's squad a few weeks before Tipp's surprise Munster SHC first round defeat to Cork.
"It's hard to come back from [being overseas], I didn't come back full-time until May and while your fitness would be up to a certain level, your hurling, it obviously takes you a while to get back into it. And that would always be one thing that stands to me is the fitness, but the hurling is probably something I lacked this year," he told the Irish Times on the Pwc All Stars Tour in Singapore.
"From my own point of view, I was fairly disappointed with how the year went for me personally. You put an awful lot of demand on yourself to try and get up to that level, but it's hard when boys have five months on you from a hurling perspective. You're kind of catching up for the year."
Maher's time in the war-torn Golan Heights was a real eye-opener for him.
"Yeah it's a fairly intense place to step into, going away from everything at home and all your comforts there and being thrown into a place that's in dire conflict," he explained.
"The first few weeks there you're very on edge because you're hearing explosives and you're hearing gunshots going off. Yeah it's that intense, I know the first week we were there a yoke pulled up fairly close to us and started firing back into Israel. There were rockets and everything going off and you're just lying there in your bed.
"You're in kind of prefab buildings and you're just sitting there like - the whole place is shaking - and you're just sitting there saying 'what am I doing here'.
"It's in the Golan Heights region. So it's a zone of separation between Israel and Syria it's along the fence there. It's interesting, like I said the first few weeks when you're out there it's very intense but then it nearly becomes a norm after about a month. You hear an explosion and you're just used to it. When you'd be on the Syrian side you'd see a lot more stuff going on. It's a norm for them to be carrying around weapons."
Most Read Stories