Roscommon agree deal to use St Brigid's club as training centre for county teams
December 26, 2017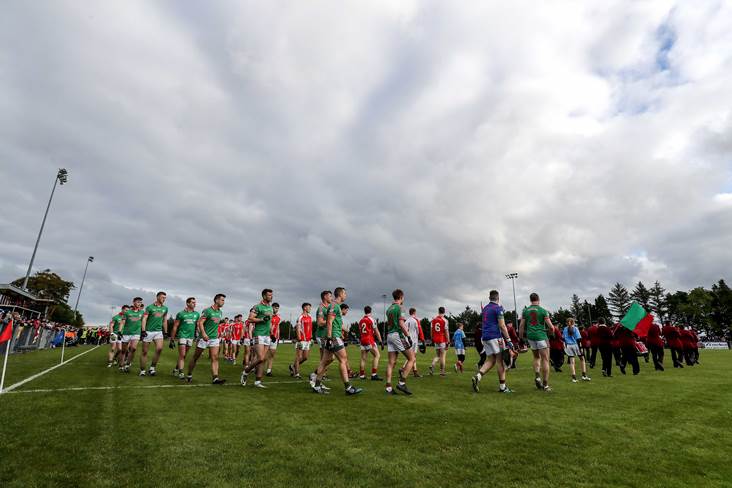 The St Brigid's and Padraig Pearses players parade before the 2016 Roscommon SFC final at Kiltoom.
by Declan Rooney
Roscommon GAA have signed a three-year deal with St Brigid's GAA club to use Kiltoom as their training base while they wait for the sod to be turned on their new training centre.
Ambitious plans to build a seven-pitch multi-sport training centre at Runnabracken near Oran were announced in 2010, but to date work has yet to commence on the centre of excellence, which will be named after the late Dermot Earley.
Planning permission was granted in November 2010 and 12 months ago Club Rossie launched a drive to raise funds for the project and said they expected work to commence on the facility last summer.
The purchase of the land was only fully completed in 2014 after some setbacks, but this week the project received a boost when it was confirmed that the government will be providing €111,500 to the project to go with the six figure sum raised in New York for the facility.
In the meantime Roscommon do not have their own training facility, and new County Board treasurer David O'Connor was adamant that the project will be going ahead. However, McStay said he was delighted to now have a short term place to call home.
"We don't own a bulb, or a square foot of grass to call our own for training purposes. This is a major issue, and this is why the Runnabracken row is a big issue, and why the Hyde Park row was previously," said McStay.
"We have nowhere to train, we have nowhere to call our home. To alleviate that, we've entered into an agreement that for three years, Kiltoom will be our hub, we've signed off on that and both sides are delighted.
"We had no other choice. We need lights, we need a pitch, we have to have that option. But it takes place in the overall context of another significant reduction in the senior budget. This is going to filter down to all the grades, because we're a smaller county and we don't have the resources that the bigger counties have.
"To me, this is where a revolution has to happen in the GAA. Eventually the Roscommons, Leitrims and other smaller counties are going to run out of resources unless they remodel all the finances within the GAA, I can't see any other way".
Most Read Stories