'Playing rules experiment is a step too far' says Malachy O'Rourke
December 28, 2018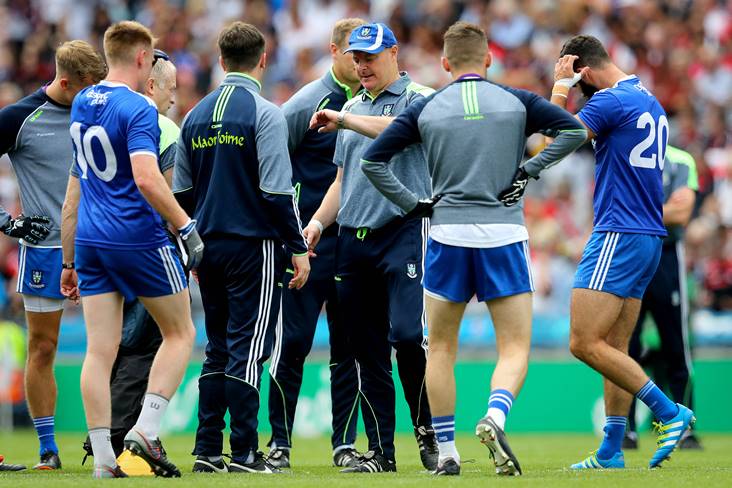 Monaghan manager Malachy O'Rourke speaks to his players.
INPHO/Ryan Byrne.
By Orla Bannon
Malachy O'Rourke says the playing rules experiment is a step too far and hopes it ends after the pre-season competitions.
The Monaghan manager will see the changes in action for the first time tomorrow when his team host Antrim in a Bank of Ireland Dr McKenna Cup opener at Clones.
"I do think there can be some tweaks to make the game a better spectacle, because at times when a game is very defensive it can lead to the team in front slowing the game down.
"But these rules won't solve those problems. I think they have gone too far.
"I don't like the fist-pass rule. In the attacking half of the field when faced with a defensive set-up you're able to use intricate fist passes to penetrate that, whereas now heading towards a packed defence you're going to end up kicking it away or kicking it back.
"The sideline kick, I don't understand it either.
"If it has to go forward the defensive team can put a lot of numbers there. You're not going to have as many attackers there because if you lose it, you're going to be wide open at the back, so again it suits a defensive team."
O'Rourke says it's unfair on players and coaches to train for one set of rules in the McKenna Cup and the league and another for the championship.
"If they're not changed back you spend the whole national league using them in training and spending a lot of time trying to get used to them to win national league matches – then the league is over and you switch completely to the old rules for the championship?
"I don't think that's fair. It's not fair on the players and the people that's coaching teams.
"At the very most should come out of it is a couple of new rules, a couple of tweaks that wouldn't make that much difference to what we're doing in training."
O'Rourke begins his seventh season in charge tomorrow.
A two-time Ulster SFC champion with the county in 2013 and 2015, who contested a first All-Ireland semi-final appearance in 30 years this summer, he says the Monaghan players are "driven competitors".
He also believes they are one of the most committed squads in the country.
"I suppose the big thing first of all is, and you're always conscious of it, is you have to see have you got the hunger and the desire to do the job justice," O'Rourke said.
"You have to make sure you're there for the right reasons and you've the hunger to drive the thing on and make the set-up good for the boys.
"After that, it's important that the players feel it's the right thing for them and they were very keen that we would stay on and that obviously had a big bearing on it as well.
"Once we got a bit of a breather after the All-Ireland semi-final, to be honest with you it didn't take me long to make my mind up because I know the group is very driven.
"I know how hard they work and what a committed group they are. The backroom team was the same, they were keen to stay on as well so after that it was probably an easy decision."
Most Read Stories