JFC: Familiar story for Kilmainhamwood
August 12, 2018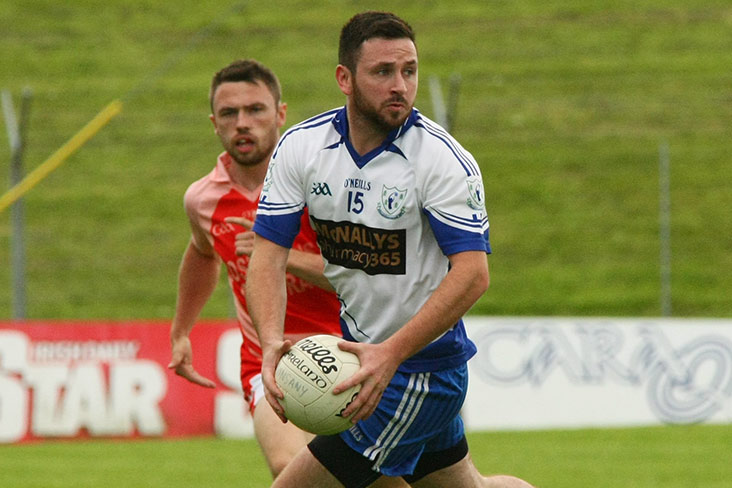 Kilmainhamwood's Steven Kiernan
Kilmainhamwood 1-10  Dunsany 3-10
In a familiar story of this season, once again Kilmainhamwood came out narrow losers after a good performance. Dunsany started off strong in the first ten minutes and dominated all parts of the game. But the Woods defense fought extremely hard and turned over lots of ball with David Carolan, Padraic Barber and Cathel Bennett putting their bodies on the line. Dunsany did go three points to zero up but a good ball from Harry Corbally found Paddy Carolan on the square who laid it off to David Russell who calmly slotted it into the corner of the net. An excellent point moments later from Russell had the Wood amazingly in front despite being on the back foot for almost 15 minutes. The game became much more even after this after Gary Yorke and Emmet Clarke grew into midfield. Both teams traded points for the remainder of the half with scores from Micheal Shankey, two from Steven Kiernan and another from Russll leaving the Wood a point in front at the half at 1-5 to 0-7. 
Dunsany started off bright again scoring a point as soon as the ball was thrown up. A punched goal soon after left Dunsany three in front. But the Wood fought back and some Steven Kiernan frees kept them in touch. A long distance point from Micheal Shankey saw the sides level with 10 minutes to play. Dunsany took the lead after a dubious line ball was given their way and with five minutes to go a rush of blood to the head from the Woods keeper saw Dunsany awarded a penalty. It was cooley slotted home and left the Wood 4 down with five to play. A Steven Kiernan point left three between the sides and soon after Emmet Clarke made an excellent run on goal which was snuffed out at the very end. 
A long range free which was not dealt with in the Kilmainhamwood area ended up dropping into the net and this finished the game off as a contest. 
Best for the Wood was David Russell in the Forwards and David Carolan in the backs. 
Next up for the Wood is Cortown in a relegation survival match. 
Kilmainhamwood: Padraig Carolan; Jude Collins, Padraic Barber, Cathel Bennett; David Carolan, Andy Farrelly, Alan Carolan; Emmet Clarke, Gary Yorke; David Russell (1-2), Micheal Shankey (0-2), Paul Carolan (0-1); Harry Corbally, Paddy Carolan, Steven Kiernan (0-5).
Subs: Damian Russell for David Carolan, Niall McCabe for Emmet Clarke.
Most Read Stories