"Few people in any club could hope to equal Patsy's contribution"
June 11, 2018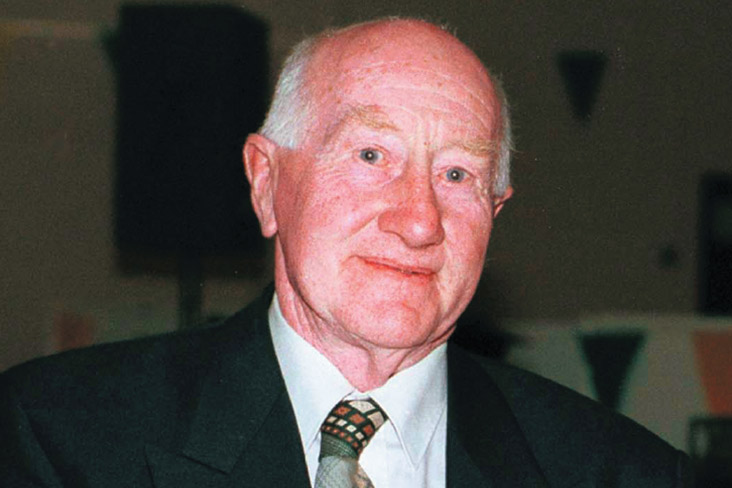 The late Patsy McLoughlin
Dunshaughlin GAA is in mourning following the sad passing of 'club legend' Patsy McLoughlin today.
A well-known and popular figure in Meath GAA circles, Patsy's passion for the GAA knew no bounds and he made a massive contribution to the well-being of the Association at club and county levels.
"Dunshaughlin GAA is sad to announce the death of club legend Patsy McLoughlin and sends its sincerest sympathy, thoughts and prayers to his daughter Anne, son in law Mark and his grandchildren Lorna, Dane, Gary and Matthew and his great grandchildren Evelyn and Daisy May. Ar dheis Dé go raibh a anam dilís," a club statement reads.
"Few people in any club could hope to equal Patsy's contribution to the GAA. His career with the club began over seventy years ago and during his playing career he was a regular in the number two jersey where he was the essence of reliability.
"He was a member of the team that won the club's first ever football championship in 1951, beating Carnaross in the Junior Final. He captained the club in 1954 and served as Chairman or Vice Chairman in each of the four decades from the 1950s. He also served the GAA at county level, as Chairman of the Meath Juvenile Board for four years, 1969-72 and Deputy Vice Chairman of the County Board in 1979.
"He was one of the foremost referees in the county in the 1950s and 1960s when he refereed a number of Leinster championship games. Patsy was the club's delegate to the county board for a couple of decades and he was Club President for many years. Patsy and his late wife, Daisy, were great supporters of the Meath team and rarely missed a championship game together.
"Along with Jim Gilligan, he compiled a history of the club, Black and Amber, in centenary year 1984 and contributed to the updated version published in 2015. He had an encyclopedic knowledge of the GAA in Dunshaughlin and of all who ever donned the black and amber. He could recall details of matches long past and recount the seed and breed of players of yore.
"Patsy was the winner of the club's Hall of Fame in 1999, the Meath County Board Hall of Fame in 2003 and had the honour of throwing in the ball for the county final in 2000, when Dunshaughlin captured its first ever senior football title.
"He had a great interest in juvenile football and was present at the meeting that revived the St. Martins Juvenile club in 1985. In his younger days he was also a capable cross country runner with the St Martin's Athletic Club.
"Patsy was a welcoming presence to all in Dunshaughlin GAA club, a presence that will be sorely missed by all who follow and support the Black and Amber."
Funeral arrangements:

Reposing at his daughter Anne's home(Grange End) from 2pm until 8pm on Tuesday. Funeral Mass on Wednesday at 12 o' clock in St. Patrick and Seachnaill's Church, Dunshaughlin followed by burial in the adjoining cemetery.
An interview with Patsy published in Royal County Meath Yearbook 1999
An All Rounder
Shane O'Brien talks to Dunshaughlin's 'Hall of Fame' winner, Patsy McLoughlin about his playing and refereeing days as well as his administration record.
Patsy McLoughlin has been one of Dunshaughlin's most loyal servants since first donning the black and amber in an U15 challenge game in batters town in 1943. As player, referee, official (at club and county board level) he has given a distinguished  service to the club this was recognised at the Dunshaughlin's dinner dance where he received the 'Hall of Fame' award from County Board Chairman Fintan Ginnity.
"I was very surprised when I learned that I was to received the 'Hall of Fame' award. I didn't think I deserved it,'' he reflects modestly. ''It was a tremendous honour for me and I'm extremely thankful to the club for choosing me. Anything I ever did I did because i thoroughly enjoyed myself and it has been pleasure to be associated with such a great club.
Since making their long overdue Intermediate breakthrough in '97  - Ironically at the expense of Duleek, who were then coached by Dunshaughlin manager Eamonn Barry - Dunshaughlin proved this year that they can mix it with the best in the Royal County.
''The Committee, Eamonn Barry included, have put in a terrible amount of work to make sure that we continue to make progress. There is few better chairmen or secretaries around than Paddy O'Dwyer or Cyril Creavin. The Players have responded accordingly, they gave great commitment this year. Unfortunately they couldn't beat Skryne in the final but they were a credit to the club.

''I'd love to see the Keegan Cup coming to Dunshaughlin soon, I'd definitely die a happy man.''
The seeds of Dunshaughlin's progress at adult level were sown by the club's underage section, St. Martins.
"We've had our fair share of success at underage level these last few years and the majority of the senior team would have come up through the ranks. It's vital to the progress of any club to have a good underage structure, after all it's the stepping stone to the adult teams. We're very fortunate to have Jim Gilligan as a teacher in the local school. He's put a lot of effort into underage football in the area and now it's paying off."
Together, Patsy and Jim Gilligan produced the history of Dunshaughlin club in 1982 and to this day it's still regarded as one of the finest club publications in the county.
The highlight of Patsy's days in the club colours was the junior championship success of 1950 at Martry's expense. It was Dunshaughlin's first ever football title win and the affable McLoughlin lined out in the number 2 jersey.
Whilst up in the senior ranks, neighbours Skryne proved to be Dunshaughlin's Achilles heel. '' We reached the senior quarter final in 1952 but Skryne knocked us out, and they did the same two years later in '54, this time in the semi-final. They went on to win the championship that year  so it proves that we weren't to far away."
He continues: '' We went back Intermediate in '55, Duleek beat us in the semi-final. O'Mahonys beat us in the final, after a replay, the following year. We had the help of Drumree players from 1950-'56 but they went back on their own in '57 we went down to Junior. We won the Junior Championship again in '58. Retired in '61.''
Patsy has a long overdue confession to make. ''I played in the minor final in '47 against Julianstown when I was a year overage. the game went to a replay but they won by two or three points so, I suppose you could say, justice was done!''
A Junior 'B' encounter between Donaghmore and Skryne in Dunshaughlin in 1952 was Patsy's introduction into refereeing, he blew his last whistle in 1980! On the domestic front, the minor final of 1961 was the highlight of his career as one of the men in black while he also refereed intercounty games. For example he officiated the Louth/Dublin U21 clash in Drogheda when one Jimmy Keaveney first came to the public's attention. He remembers refereeing four games in the one day!
''I was in charge of a Feis Cup game between St. Pats and Kilbride and a Junior Championship game between neighbours Donroe and Lougher, both in Skryne. Later that evening I refereed two seven aside games in Dunshaughlin. I slept well that night I can tell you,'' he adds laughing.
Did referees come in for the same level of criticism back the as they do now? ''No, but then there weren't as many rules in those days as there are today. I enjoyed my refereeing and there were some great teams around like St. Vincent, Skryne and so on. It was seldom referees would get any trouble from players from those teams.''
Patsy served three terms as Chairman of the Dunshaughlin club, 1952-'57, 1968 and 1983. In between he did a stint as Deputy Vice-Chairman and was the clubs Co Board delegate for a number of years. He's now an Honourary President of both the St. Martins and Dunshaughlin clubs.
Also at County Board level, he was chairman of the Juvenile board from1978-'81and also served on the Special Investigations Committee for a number of years. Patsy attended his first annual convention in 1948 and has only missed one since, in 1992 due to health reasons.
The Royal County's success this year was made all the more pleasing for Patsy, and indeed all the Dunshaughlin club, by the fact that one of their own featured so prominently throughout the campaign.
''Ritchie (Kealy) did us proud this year, he's a brilliant footballer and I was delighted for him. All the Kealy family are very dedicated and they have played a big part in our success of recent years.
''In 1967 we had Noel Curran and there was, of course,  Larry O'Brien and Billy Rattigan in '54. They were lovely footballers, Larry on the forty and Bill out on the wing. There were few better than those two around that time."
When I rang Patsy for this interview, are two clubs (I'm a Simonstown man), were due to meet in the quarter-final of this year's senior championship a couple of weeks later. When I informed Patsy of my allegiances he replied: ''Whatever the result I'll not fall out with you anyway… in all the years I've been playing refereeing or attending games I've never fallen out with anybody.''
That didn't come as too much a surprise too me, because that's the kind of gentleman he is.
Most Read Stories