B FL Div 4: Four from four for Seneschalstown
May 17, 2018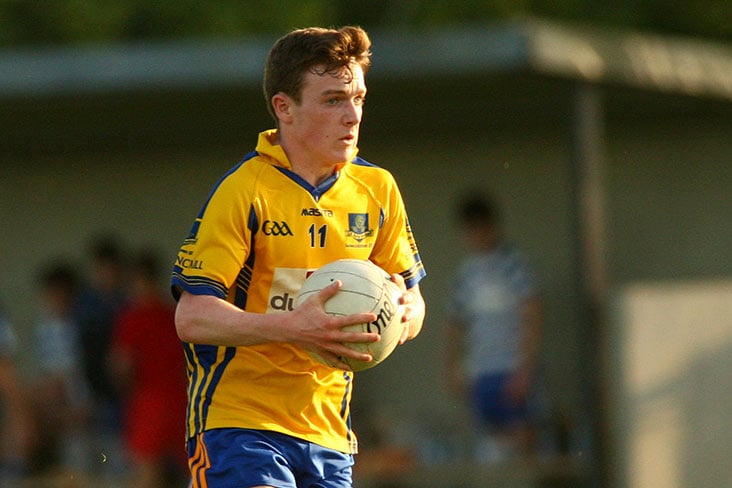 Seneschalstown's Alan Mulvany
Seneschalstown 3-15 Dunshaughlin  1-16
This was the fourth win out of four for the team and this was the biggest test to date.
The winners got off to a slow start in this game with Dunshaughlin taking the lead early on with their runners from midfield and sharp shooters in the inside line causing problems.
Sean Carey was moved back into the full back line and reduced the threat coming from Dunshaughlin main attacker.
Points from Alan Mulvany, Dylan Keating, Edward Meade, James Conlon and Ryan O'Dowd got Seneschalstown back into the game and the Yellow Furze men got a great boost with a goal from James Conlon just before the break.
This left the minimum between the teams at the break Seneschalstown 1-08 to Dunshaughlin  1-09
The team applied pressure on Dunshaughlin's kick outs to force the kick outs to the middle of the park where the midfield started to win clean ball and the half forwards and half backs won breaking ball.
The defence tightened up in the second half and forced Dunshaughlin to shoot from tighter angles and ensured a goal was not conceded.
There was strong running from Brendan Lynch, Alan Mulvany, Ryan O'Dowd and Neill Darby in the second half that created scoring chances for the inside forwards.
Goals from Alan Mulvany and Dylan Keating and some fine points from play by James Conlon, Ryan O'Dowd, Dylan Keating gave Seneschalstown their fourth victory.
Second half substitute Gerry McKendry also got on the scoreboard with a point from play.
Seneschalstown: Keith Waters, Ronan Conneely, Kevin Casey, Fionn Gallahar Hall, Neill Darby, Dylan Doyle, Sean Carey, Robert Ruddy, James Meade, Ryan O'Dowd 0-3, Ross Howard, Alan Mulvany 1-2, Dylan Keating 1-4, James Conlon 1-3, Edward Meade 0-2. Subs: Brendan Lynch for Ross Howard, Gerry McKendry 0-1 for Edward Meade
Most Read Stories