Ladies: Final heartbreak for Meath Under 14's
May 08, 2018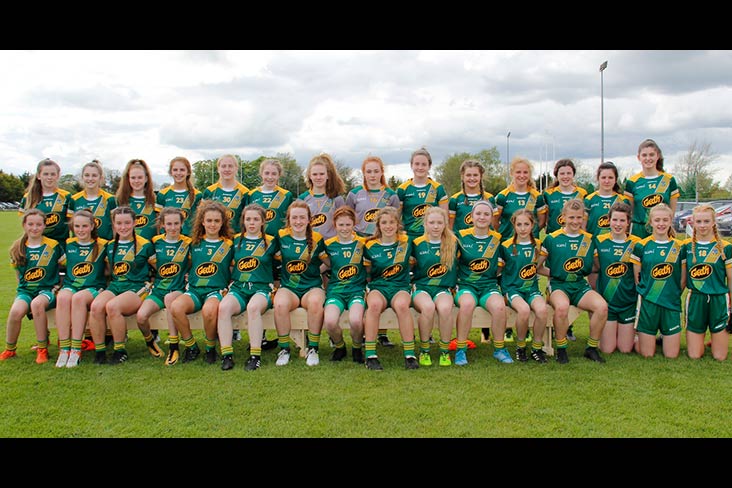 The Meath Under 14 squad before the Leinster final against Dublin
Dublin 3-6 Meath 2-8
First and most important thing today and every day in ladies football is this. It's always about the girls. It's all about supporting them 100%. Everything else is white noise.
To lose by a point is a buzz kill. The taste in the mouth is akin to lead. I knew, losing five college finals across the grades by a point left me feeling like Samuel Taylor Coleridge's Albatross from the Ancient Mariner. So many questions, but knowing that door is shut, it's becomes history.
The Meath U14s from 1 to 15 and beyond have no need to reproach themselves. They left it all on the sunny pitch in Clane, they had no more to give, they died with the boots on. Each and every one of them, subs included. So where to begin then? From the throw in Meath bossed the middle, Captain Ciara Lawlor and midfield partner Amy O'Leary lorded the exchanges. A one point lead became two and then three. Total supremacy under the Dublin kick outs, had the Royal in a good place. The only query was that this possession wasn't turning got the score board quickly enough.
When you play Dublin you also play more than a team, you play an innate self belief. Dublin were existing on scraps mainly through their free running Ava Lambe. Wearing 11 but with a brief to roam, she was the touchstone for them that could ignite the few chances they created. Coming up on half time The Royal has 80% possession but found that they had conceded two goals. The first came when Meath should have drilled it out but tried playing ball from defence. The second goal came from a penalty. From my vantage point I I wasn't sure why, initially it seemed a free out, then a free in before it becoming a penalty. I accept the referee called what he saw.
Half Time, what to say? Well the forward line was humming, Orlaith Mallon was showing and winning primary ball. Ciara Smyth and Roisin McManus were tearing up a storm, Katie Twomey was doing her thing, the defence marshaled by Flynn, Clarke and Lynch were on top albeit with an eye to be kept on Lambe. But going in a point down when they should have been a couple of goals and points ahead, had to drain some of the energy. We talk about all the bad weather we had, try running in Clane in front of a partisan crowd baying and cheering and suddenly the entire setting becomes a kaleidoscope of colour and speed for the girls. They are after all only 14.
If Meath flew from the blocks in the first half, they Dubs did likewise in the second half. Caitriona Flynn who made three massive first half blocks earned her corn in the second period. Ciara Smyth never forsook her station, Lawlor and O'Leary battled. But Dublin were now menacing. Shannon Russell had three poor wides but still poached 1-1. Grace Smith at 10 was becoming prominent. Then a few calls you need went against Meath. A tight call over a Royal playing the ball on the ground, and a blatant jersey pull to me 30 yards away but in front of the lines person, went against Meath. That's hard to take. In fairness the girls simply got on with it. Dublin, down to 14 with a yellow card outscored Meath 1-1 to 0-1 in those ten minutes. However going into the death zone Meath trailed by five points.
All seemed over but it wasn't, a Royal rally after a massive Robyn Murray save, sent Ciara Lawlor driving onwards. Now it was Dublin's turn to roast. A goal crashed in, now time became the enemy. And like an egg timer, the sands ran out. Dublin shaded it by a point. Let's not be churlish here, they deserved to win, our girls didn't deserve to lose, that's not being political or Tadg Dhà Taobh, that's the way it was folks. Two great teams, brave girls, parents who should be proud of them. A management team who left no stone unturned, who leave Meath and the Royal county in a healthy place of A football tonight.
Well done to one and all. No pride was lost, on such slender margins hang fate. The lesson learned? "Never again will it happen to me" should be each girls and managements mantra going forward.
Meath scorers: C. Smyth 1-2, A. Cosgrove 1-2, A. O'Leary 0-2, K. Twomey and O. Mallon 0-1 each.
Dublin scorers: G, Smith 1-3, S. Russell 1-0, L. Caffrey 1-0, A. Lambe 0-3.
Meath: Robyn Murray, Nikki Ennis, Kirsten Massey, Hannah Moran, Ciara Lawlor Capt & Amy O'Leary, Ciara Smyth, Amber Cosgrove, Tori Foster Campbell, Katie Twomey, Orlaith Mallon, Roisin McManus. Subs: Nora Clarke, Abbey McHugh, Sophia O Reilly, Louise Pearl.
Dublin: Molly O'Brien, Amber Taylor, Jane McGurrin, Alice Rudden, Rachel Callery, Lauren Caffrey, Ellen O'Shea, Erica Fields Capt & Leah Pidgeon, Grace Smith, Ava Lambe, Niamh Crowley, Shannon Russell, Ella Curtain, Sophie McIntyre. Subs. Hannah Byrne, Annabel Timothy, Kate Donaghy.
Referee: John Bermingham
Most Read Stories