"Thousands of young men are giving the commitment" - Jordan
February 20, 2018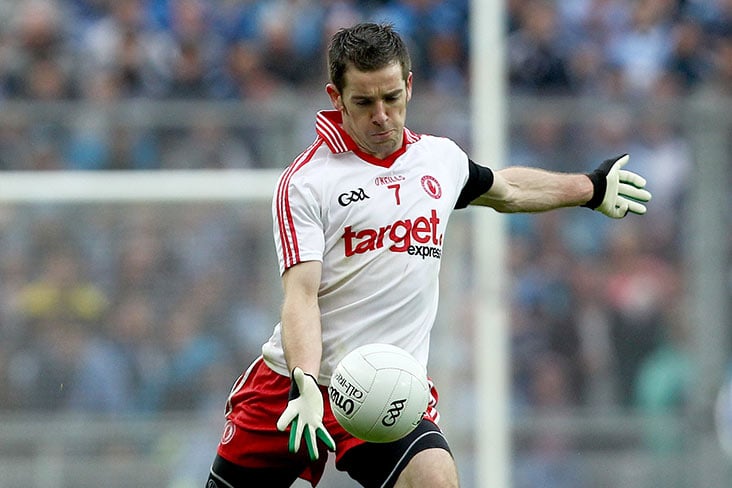 Tyrone's Philip Jordan
Philip Jordan argues that the level of commitment being asked of intercounty players is "not unsustainable".
As more and more players and former players point to the massive sacrifices required to pull on a county jersey these days, the former Tyrone star is of the opinion that it's an honour to be asked to compete at that level:
"Is the only reason to give that commitment to win trophies? I'd certainly hope not or else nearly every intercounty player in the country will be walking away," he wrote in his column for RTE.
"I know people will say it's easy for me to say because I played on a team that won a few All-Irelands and was consistently challenging for silverware, but for me it was never about that. I took huge pride in pulling on the Tyrone jersey every day, be that in Croke Park in September or in a McKenna Cup game on a miserable Wednesday night in January.
"There were no sacrifices involved for me. I loved pulling on the Tyrone jersey and I got a huge buzz playing in an Ulster first round game, just like I did in Croke Park, and that buzz kept me going. It was all about self-motivation.
"There's an argument made that the level of commitment required now is unsustainable, but quite clearly it's not unsustainable because there are thousands of young men around the country giving that commitment. I have no issue with the amount of training being done on a county panel, with most of them making the use of the most up-to-date sports science and support, and the lifestyle that goes with it. If you want to be the best you can be, not going out on a Saturday night for a few pints shouldn't be that big of a deal."
Most Read Stories