FL Div 4: Cortown dominate in Clonard
March 25, 2019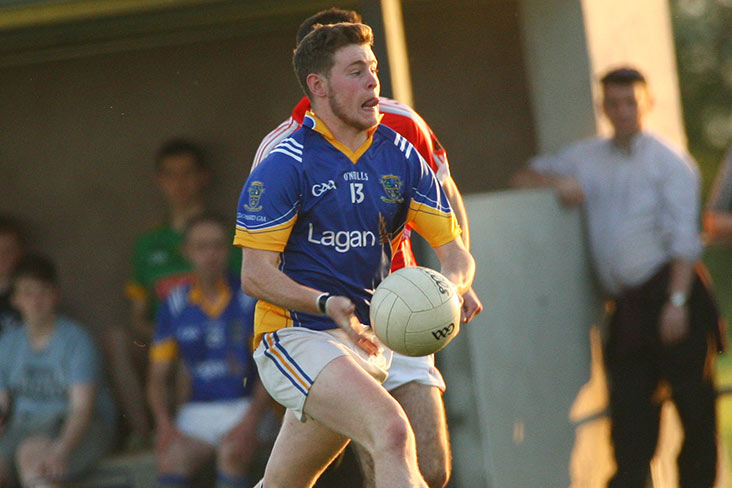 Clonard's Mikey Mullen
Cortown 1-13 Clonard 0-8
At 9.30 am on a bright Spring morning, players, management and supporters from Clonard and Cortown met for the second leg of a double header between the clubs on the same weekend. This time a significant wind blew diagonally across the Clonard pitch which made for tricky playing conditions.
A stronger line up for both teams took the field of play with clearly more players available for the Cortown men than the previous night as they fielded a completely new starting fifteen.
Cortown blazed out of the blocks with 1-2 within the first 5-6 minutes of play as Clonard showing heavy legs and tired minds from the nights previous game.
The North Meath side now had a spring in their step that maybe they could have the bigger panel. Some positional changes seen the home team grab a foothold on the game with a superb free from Niall Smullen and three fantastic efforts from Mikie Mullen showed a glimmer of hope for local supporters.
Half time showed 1-7 to 0-6 in favour of Cortown and the strong first half wind died down slightly for the second half throw-in.
The second half saw a passage of 12-15 minutes displaying Clonard's utter determination including dogged defending and great blocks and hassling from Paddy Coyne, Alan O'Donoghue and Shane Dunne. They did enough to keep Cortown to just two points in that period.
The downside was that Clonard tanks were emptied and multiple breaks from defence saw them kick away possession with long balls and tired hand passes. This you simply cannot do against a tough and clever team like Cortown.
With just two weeks to championship Bainisteoir and management really wanted a win for momentum but over the course of the next six or eight training sessions they will try work on what's required for April's attack on the Meath Junior Championship.
To echo the supporters of Clonard, keep working hard lads, eventually it will pay off. Final score Cortown 1-13 Clonard 0-8.
Clonard: P.Sheridan (Captain), C.L'Estrange, A.O'Donoghue, P.Coyne, K.Darby, C.Foley, S.Dunne, D.Flanagan, S.O'Reilly, E.Dowdall(0-1), E.Connolly, M.Mullen(0-3), D.Dixon, N.Smullen(0-4), R.Raleigh.
Subs: G.Raleigh for E.Connolly, J.Campbell for S.Dunne, J.Donlon for E.Dowdall
Most Read Stories