FL Div 4: 'Wood' down 'Drums' at home
March 25, 2019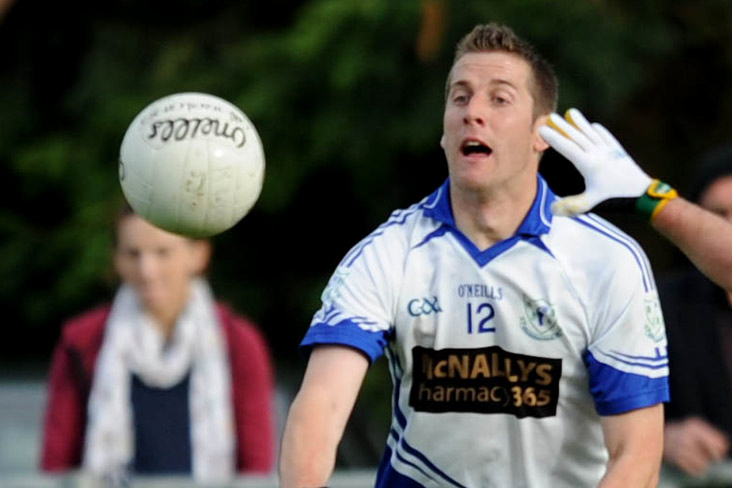 Kilmainhamwood's David Russell
Drumconrath 1-4 Kilmainhamwood 1-12
Kilmainhamwood had to work very hard to eek out what in the end was a flattering score line over their close neighbors in North Meath.
The first half was a very attritional type of spectical with neither side playing much flowing football but also neither side giving an inch and every player going for everything as hard as they could. Drumcondrath got the first two points and were on the upper hand until a good score from Paddy Carolan cut the deficit. Drumcondrath took a 3-1 lead before a Niall Bennett free closed it back to just a one point game. Both sides missed good chances and the score should have been higher than 3-2 at the break. At times there was a lot off niggaly fouling which disrupted the flow of the game and honestly if the ball wasn't on the field for ten minutes I'm not sure if anyone would have noticed due to the stop start bickering nature of the encounter.
The second half stated with the game continuing to go in the way of men in Red in white as a good counter attack goal saw the lead stretch to 4. However this was as good as it got for Drumcondrath. Paddy Carolan nearly scored a goal before two excellent David Russell points narrowed the margin. Some well worked moves lead to close frees been given as Niall Bennett kicked three in a row to put the Wood in front with 15 minutes to go. Continuos off the ball fouling saw Drumcondrath see two black cards which did not help their case. A superb Micheal Shankey point saw the Woods lead climb to two. The Wood were in control now as they were dominating Midfield. Another Paddy Carolan point put three between the sides before two more Niall Bennett frees saw the game over as a contest. With only a few minutes remaining a top class pass from Micheal Shankey was meet by David Russell who caught it between two men and drilled it low into the corner of the net.
Drumcondrath scored one more point but it was all over bar the shouting.
Best for the Wood was Padraig Barber and Niall Conlon in defense, Andy Farrelly in Midfield and David Russell up front
Kilmainhamwood: Damian Russell, Luke Owens, Padraig Barber, Jude Collins, Niall Conlon, Harry Corbally, Alan Carolan, Andy Farrelly, Paddy Carolan (0-2), Damian Farrelly, Paul Carolan, Oisin Fagen, Micheal Shankey (0-2), Niall Bennett (0-5), David Russell (1-3). Subs: Cathel Bennett for Damian Farrelly
Drumconrath Report
Kilmainhamwood 1-12 Drumconrath 1-4

Drumconrath failed to win at home for the 3rd time this year as their home form is in stark contrast to their away games where the Reds have picked up 3 wins.

Down a number of players for varying reasons Drums had a decent 1st half but did not capitalise on some good scoring chance with the result they led 0-3 to 0-2 with Tomas Conlon and Two points from Stephan Crosby.

Drums got a grat boost 3 minutes into the 2nd half as Daragh Dunne found the Kwood net but two Black Cards added to one they had recieved in the 1st half took its toll after holding Kilmainhamwood to 2 points for 40 minutes Drums conceded 10 points in 3rd quater with was topped off by a Kwood goal in injury time with the only reply a Daniel Byrne free.

Drumconrath: Eoin Muldoon; Packie Dunne, Declan Lafferty, Colm McEvoy; Daragh Dunne (1-0), Peter Tighe, Cathal Dunne; Stephan Crosby (0-2), Tomas Conlon (0-1); Cathal McEvoy, Robert McEntaggart, Thomas Duff; Patrick Farrelly, Daniel Byrne (0-1), Alan Dunne. Subs; Conor Martin for C Dunne, Jamie O'Neill for Farrelly, Dylan Dardis for Crosby (All Black Cards)
Most Read Stories