FL Div 1: All square in Skryne
March 23, 2019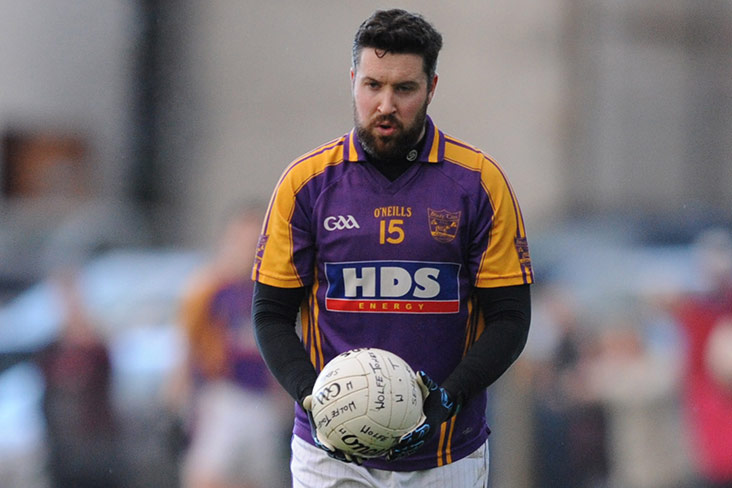 Cian Ward Wolfe Tones
Skryne 1-16 Wolfe Tones 2-13
Cé go raibh Bhulf Tón sé chúilíní chun tosaigh go luath sa chluiche bhí orthu teach ar ais go láidir sa deireadh chun an comhscór a bhaint amach.
This was a very entertaining open game in which both teams played some very enterprising attacking football in Skryne.
After building up a six point lead by the 20th minute the Gibbstown Kilberry men failed to score for the following 20 after which time they trailed by five. However they shook off this lethargic spell with a very determined closing rally to draw level at the end of normal time. They did create a few scoring opportunities in added time which they failed to convert and had to settle for a draw which seemed unlikely mid- way through the second half.
Bhulf Tón: Trevor Browne, Conor Sheppard, Shane Glynn, Robert White, Brughach O Fionnagáin, Éanna O Kelly Lynch, Éanna Harrington, Cian O Neill (0 01), Stephen Sheppard, Gary Mc Fadden, Cian Ward (1 04), Niall O Reilly (0 03), Sarán O Fionnagain (0 03), Padraic Diamond (1 01), Fiachra Ward (0 01) Subs: Killian O Brien for Gary Mc Fadden, Peter Carroll for Cian O Neill
Skryne Report
Skryne 1-16 Wolfe Tones 2-13
Skryne and Wolfe Tones had to settle for a draw in Skryne yesterday evening after a tough exciting encounter in this A League Division 1, Round 6 match. Both sides for different reasons left the pitch feeling they had dropped two points rather than gained one. Skryne held a six point lead midway through the second half and will have been disappointed to have let this lead slip, while the Tones who will have been happy to have pulled back this deficit, must have been disappointed to have squandered two gilt edged opportunities for goals during the match that may have seen them grab a victory.
The first half saw both teams swap scores for the first five minutes of the half with Mark Battersby, Ian Davis and Paddy O'Rourke all hitting points from play for Skryne while Wolfe Tones responded with three of their own also from play. Tones then hit the afterburners scoring a goal and three in the next ten minutes. Cian Ward was majestic throughout the match and it was his powerful shot from out near the 40 that got the Tones a deserved goal during this period of dominance. In truth Skryne looked a beaten team even at this early stage. However, the tables began to turn when Paddy O'Rourke popped over two pointed frees at the midway point of the half. Wolfe Tones responded with two points of their own, one which came following the first of their missed goal opportunities when a point blank shot unbelievably hit the crossbar and rebounded out to a Tones man who chipped over a consolation point. This seemed to spark Skryne into action as they hit the next three points in a row all from play with the impressive Colm Doherty kicking things off, before Jason Reddy and Niall Morley also got their names on the scoresheet. Skryne almost got a goal of their own but the Tones keeper did well to keep out an opportunistic effort from Niall Morley who had to react quickly when the ball broke to him in front of goals. Despite the attention of the Tones defence, Spud got the shot away and the keeper just managed to scramble it out to safety. Paddy O' Rourke converted another free before Skryne who were rampant at this stage got the goal they deserved when the ever industrious Eoin Smyth sent an inviting high ball into Paddy O'Rourke who spotted the darting run of Batts. Big Paddy knocked the ball down into the arms of the onrushing Batts who blasted past the Tones keeper. Two more points from Smyth and Batts saw Skryne leave the pitch at half-time with a three point lead and an impressive haul of 1-11 to 1-08.
Skryne picked up where they left off in the second half scoring five points to the Tones two in the first fifteen minutes, with Paddy O'Rourke adding three more frees, while Colm Doherty and Eoin Smyth added their second points of the game. Skryne were six points to the good at this stage. However Tones are not a team that will lie down and a dip in form for Skryne coupled with some old fashioned determination from the Tones saw the Tones mount a comeback that almost saw them snatch victory. Cian Ward hit a point from play to kick things off. The Kilberrymen rattled the crossbar again when the goal was at their mercy as they turned the screw on Skryne. Wardie was on target again with a pointed free before the Tones found the net for a second time with a well worked goal as the game moved into the last five minutes. A Cian Ward point levelled matters as full time approached. Both sides had opportunities in injury time to win the game, but in the end a draw was probably a fair result with both sides dominating at different times throughout the game. Full-time: Skryne 1-16, Wolfe Tones 2-13.
Skryne could have done with a win yesterday evening to lift morale, but there were plenty of reasons to be optimistic as they played some real quality football at times during a highly entertaining game. They also showed terrific spirit to drag themselves back into the game after a slow start. That coupled with the return of Stephen O'Brien, Paddy Carpenter and Eoghan Greene from the injury room will have given Skryne supporters a lot of hope for the remainder of the year. Skryne are still missing a sizeable number of key players, but things are beginning to look up.
Skryne: Ian Gillett; Mark Harrington, Michael Doherty, David Carroll, Ronan McCabe, Stephen O'Brien, Eoin Smyth(0-02); Ciarán Lenehan, David McGoldrick; Colm Doherty(0-02), Ian Davis(0-01), Jason Reddy(0-01); Niall Morley(0-01), Paddy O'Rourke(0-07, 6fs), Mark Battersby(1-02)
Subs: Paddy Carpenter, Eoghan Greene
Most Read Stories