The Rispin Blog: Agony and Ecstasy
October 04, 2018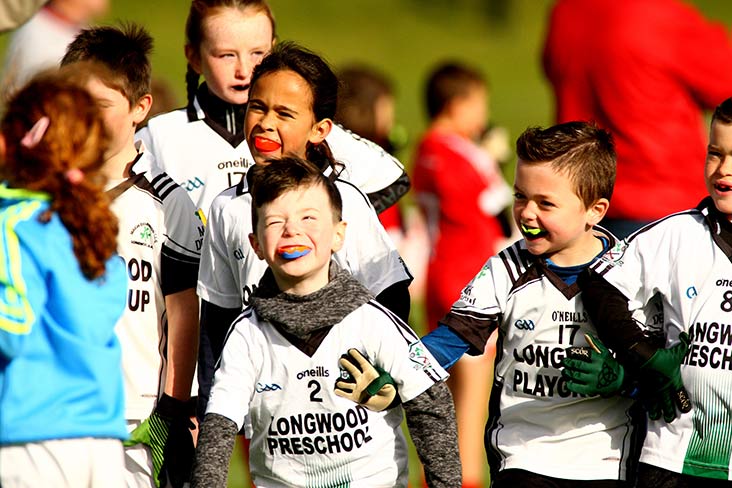 Happy in their gumshields. Longwood Under 9's played Ballinlough at half time during the IFC final.
by David Rispin

Last weekend was an action-packed weekend of football in the Meath Club Championship with no fewer than 3 finals down for decision as well as a couple of Semi-Finals in the Meath SFC. Despite the elements doing their best to spoil the games, there was still a number of quality moments in each of the games.
The Economies in Dunboyne, Enfield and Longwood have reported a significant boost with pubs prospering as a result of wild celebrations which will go on for the coming weeks and months. It's a unique thing to win a Championship, some will unfortunately never taste this type of success so for those lucky enough to win a Championship title with your club no matter what level it is, enjoy it because it doesn't happen every day!
As the year draws to a close, we now look forward to what I am anticipating to be one of the best Senior finals in recent years as Dunboyne and Summerhill clash. Both sides have been exceptional and nigh on flawless on their way to the decider so something has to give on Sunday week…let's hope it's not Sumerhill selector Dave Clare's shorts!! That's all to come but first why don't we reflect on what was a dramatic weekend in Pairc Tailteann as Dunboyne and Longwood ended their long waits for respective Junior and Intermediate Championship wins!
Castletown v St Ultans (Relegation Play-off)
Castletown preserved their Intermediate status for 2019 on Monday night last and in doing so ended St Ultan's stay in the grade. St Ultan's have been dodging bullets for the last number of years but the bullet firmly struck them in the heart on this occasion and their luck ran out. It was a spirited performance from Podge Coyle's men but if truth be told, the damage was done a fortnight previous when they were blown away by Kilmainham in Cortown of all places. It wasn't just the defeat but the margin of the defeat which left them in such a tricky situation.
For the first 5 minutes it looked as if Ultans just might have been on the road to a miraculous recovery as they lead by 5 points to no score. Paul Murray was awakened from his retirement to try and help salvage the Ultan's lives and he was unquestionably Ultan's best performer on the night.
Castletown found their feet and remarkably hit the next 6 points to take the lead. The inspirational Kevin Ross was firmly to the fore with a hatrick of scores with Tommy Smith and the impressive duo of Mark Kelly and Declan Cribbin also chipping in. For a relegation play-off it was a very good watch on a bitterly cold evening with some good football played by both teams in parts and a decent intensity throughout.
There's no doubt the sending off of Declan Galligan for a lash out had a big impact on the outcome but Castletown were the better team as the game went on. The extra bit of class really told and the aforementioned Ross sent over the final score of the opening period to ensure the Castletown men lead by the minimum at the interval.
The men in green and yellow used all of their experience to utilise their numerical advantage, often holding possession patiently waiting for a player to run off the shoulder. No one has more experience than the veteran Damien Ginnitty who was far too cute for the Ultans troops.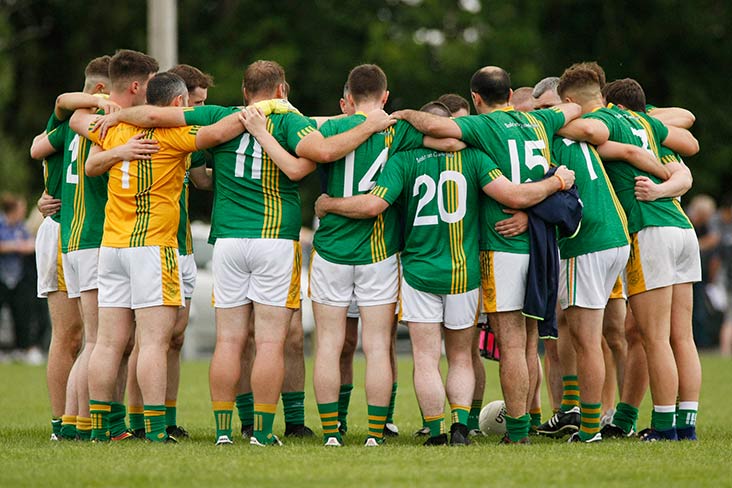 Ultans did have flashes but they were all too few and far between. The talented Martin Dolan gave a typical honest shift as did Darren Kavanagh who kept plugging away but things just weren't going the way of the men in green and black. Gearoid Rennicks kept Coyle's men in touch with a brace of scores, one of which was a corker from an acute angle.
Castletown's forwards ran the legs off the tiring Ultan's defenders - Darren Finney enjoyed the extra space which was afforded to him as he ran riot in the latter stages. Add in the substitute James Finnerty who was introduced before the resumption of play for a rare appearance and with Ross, Smith and Wayne Donegan pointing, it looked ominous. Incidentally, Donegan who always gives 100% never seems to take his body-warmer off, perhaps it's a performance enhancing body-warmer…who knows!
Despite Robbie Hoey excelling at full-back, Ultan's did find the net approaching injury-time when Rennicks bundled the ball home but there was to be no late revival as the outstanding Ross sealed the win and safety. Castletown can plan for another year of Intermediate football but for Ultan's it's Junior A football for 2019.
Dunboyne v Simonstown (SFC Semi-Final)
Dunboyne and Simonstown clashed in one of the most eagerly awaited semi-final clashes for many a year on Saturday afternoon in a sunny but blustery Pairc Tailteann. Everyone had their opinion on this game but generally speaking it was a 50/50 game in most eyes with bookies affording the North side blues marginal favouritism in terms of the odds.
Playing with the aid of a strong breeze in the opening half, playing into the town, it was the reigning and defending back-to-back Keegan Cup Kingpins who were eager to stamp their authority on the contest from the off. They did that too hitting the opening 3 scores courtesy of a brace of frees from Podge McKeever and an outrageous effort from James Kilcullen from 55 metres with the outside of his right boot.
Simonstown looked up for it and for whatever reason, Dunboyne were ponderous in possession and some tenacious tackling from Ciaran Kenny's men lead to whole host of turnovers. Despite the lead, the men in sky blue were rather wasteful with their shot selection and ball retention and this afforded Ciaran Byrne's men a toe-in to the game. The lethal Robbie McCarthy got the men in black and amber on the scoreboard and a score from David McEntee, son of Meath manager Andy reduced the deficit to a solitary point.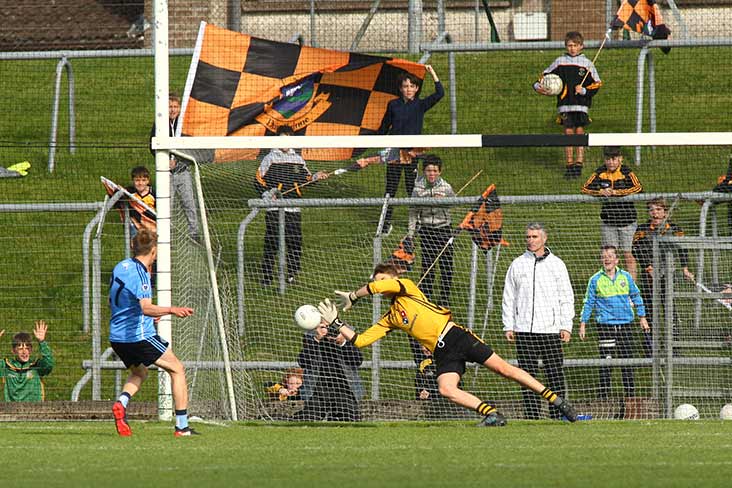 The big turning point game on the quarter of an hour mark as a long delivery was knocked down by Crouchy Mark McCabe superbly into the path of Nicky O'Brien who was hauled down for a penalty. If you want a snippet of McCabe's career, just watch that small extract…it was a vintage piece of Crouchy play. As it turned out, McCabe was denied from the spot by a tremendous stop from Dunboyne net minder Cian Flynn.
It was a significant moment and despite Kenny's men posting the last couple of scores of the half from the lively Nathan O'Brien who was introduced before the break, you never felt the Champions were in control. Dunboyne battled back admirably despite losing the influential figure of Cathal Finn after just 5 minutes and will have been happy with the scoreline at the break.
Dunboyne made an instant impact at the start of the second half with county star Donal Lenihan escaping the attentions of Stephen Moran and co to narrow the gap. The Jones brothers, not the Jonas brothers were growing into the contest. Whilst Kilcullen was terrific in the first half, Niall Jones dominated the midfield exchanges in the second half.
The first of the hammer blows came when the deadly McCarthy nipped in to apply the deafest of finishes to the net. This was quickly followed by a stunning second goal from substitute Cathal Lacey riffling into the top corner. In truth, the game looked up for Simonstown and their crown which they have held for 2 and a half years. Brian McGrath and Nicky O'Brien never gave in and performed as well as they could have in the circumstances. There was too many no shows for Kenny's men and Dunboyne looked far hungrier and fitter as the game went on. There's a saying that hunger is great sauce and it looked that way as further scores from Lenihan, McCarthy, Jones and Shane McEntee stretched the lead to double scores.
The usually ultra-reliable Lenihan blazed a penalty over the bar but it was only academic at this stage as the men in black and amber were romping towards the Keegan Cup decider. Sean Ryan was magnificent at corner back as was Gavin McCoy at centre back and county man Seamus Lavin at wing back. Simonstown never throwed in the towel but they were simply outclassed by a slicker, hungrier Dunboyne side. We are Meath's finest Mickey Brennan fired over what was only a late consolation as the curtain came down on Simonstown's 3-in a row bid.
Dunboyne will be confident of making it a double success along with the Junior's win in a couple of weeks and they will be favourites to do so. They have a great panel to choose from and they play football the way it should be played…on the front foot, expressing themselves, it's great to see!
Simonstown have provided us with some brilliant moments in the last couple of years and they showed their class after the final whistle congratulating the Dunboyne players…gracious in defeat. The beaten semi-finalists departed to a terrific ovation from their loyal supporters who showed their appreciation for their troops. The Dunboyne fans did similar with their victorious team and will no doubt pile into HQ in a fortnight as they look to cap off a memorable year in style!
Dunboyne v St Vincents (JFC Final)
Dunboyne and St Vincents served out a right royal exhibition of football to warm even the coldest of souls in HQ on Saturday evening. It wasn't always wonderful football, there were errors and misplaced placed passes but it was a fantastic advertisement for Junior football in Meath. It was entertaining throughout and had most if not everyone on the edge of the seats right up until the 90th minute of a pulsating contest.
St Vincents were unfairly written off in many circles, somewhat disrespectfully in certain circles but we won't go there. Dunboyne were rightfully favourites however after dumping Ballivor out in the last 4 and they were eager to share the limelight with their Senior side on Saturday evening.
The game went with form in the first half with the men in the striped jerseys wrestling control of the contest in the early stages. That shouldn't come as a surprise to anyone really because anyone who knows anything about St Vincent's know that they don't leave Ardcath until at least half an hour into the game! For all their dominance in that opening period though, Dunboyne only lead by 4 at the break and we all know a 4-point lead at half time can be dodgey lead, just ask Simonstown Gaels! Nevertheless, it was captain Comer and the deadly Jack Cox in the inside forward line who did the damage and but for a fine stop from Cathal Tallon it could have been worse.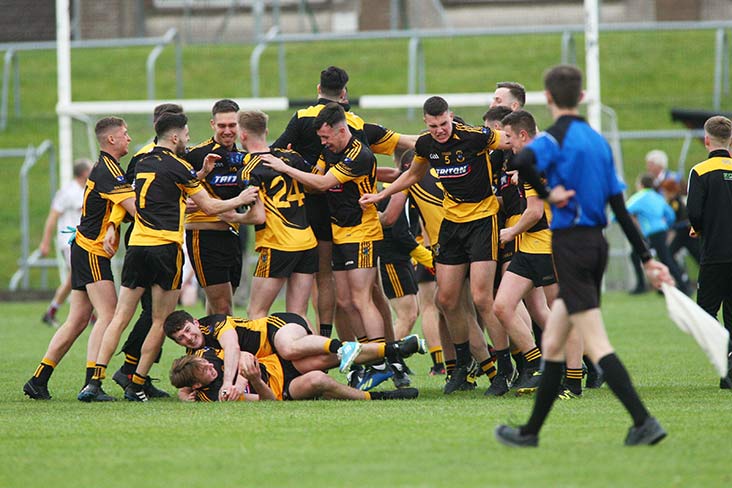 In typical Vincent's style, the rallied in the early stages showing great heart and spirit, two commodities which have helped the men in maroon and white get as far as they have. Richie O'Sullivan has been superb for the Ardcath men all year and he roared into the contest with a brilliantly taken goal which helped Vincents take the lead for the first time in the game.
From there on in, the game ebbed and flowed as the lively Jason Daly chipped in with a nice score to stem the tide. Vincents defended valiantly throughout with the Tallon brothers epitomising this with Davy tremendous at full back doing an excellent man-marking job on the big Dunboyne target man Sean McGrath.
Despite standing at 8'4, Tommy Field spent the whole week leading up to the final lying in bed with the flu. One would imagine it would either be a very big bed or else his feet as constantly peeking out of the bottom of the bed…who knows! I didn't even think giants got sick but there you go. Needless to say, when the day came, Field was never missing this one and he picked up his iconic knee bandage, an accessory similar to that of WWE Star Kane's mask and he was ready for war! Despite being far from 100%, Field landed a trademark free from range to edge the Vincent's in front once again.
Dunboyne manager Ger Robinson has pretty much seen it all in his playing days and is in the early stages of his managerial career. Robinson is very much in the mould of a modern manager; he embraces the skinny bottoms and even has the ear piece and all. I doubt he needed too much advice to release Dunboyne stalwart, Stephen Moran from the bench with 20 minutes to go. Moran missed the Semi-Final through injury but was deemed fit enough for a cameo, not just any cameo, a match winning cameo.
It would be unfair to say Moran single-handedly turned the game on its head but he had a major influence that's for sure. Indeed, it was Moran who struck with the very last kick of the game to ensure another 20 minutes of extra time. The decision itself to award the free seemed harsh on the Vincent's and with almost 4 minutes elapsed on the scoreboard, Moran stood up and was the coolest man in Pairc T nailing the free.
Vincents looked deflated almost like a beaten team which I suppose it understandable considering how close they came to winning it in normal time. The BFF (Big Friendly Field) was retired to the subs bench to try and recover for the second half of extra time. It was all going wrong for Ronan Kearns side when the inspirational Hand suffered an injury at the start of extra time which ended his final and he was visibly distraught as he departed the pitch.
The big score in the extra time period came from Darragh Nolan who riffled into the top corner in the first half of extra time and this proved decisive. Vincent's had chances but just couldn't manage to claw back the deficit and they will be ruing some squandered opportunities in normal time. The biggest one came in the 60th minute of normal time when Vincents had a chance to seal a historic win but the evergreen Dunboyne net minder, made an extraordinary reflex save from an O'Sullivan effort. O'Connor might be a bit greyer than he once was and may even resemble Jack Frost but there was nothing frosty about his acrobatics on Saturday evening!
It was a memorable final between two sides who showed desire, passion, character and guts but ultimately Dunboyne just about had enough but my word did they have to dig deep! Dunboyne will go forth to play in the Intermediate Championship for the first time in many a year whilst St Vincent's will have to do it all over again next year. Before they do, they will represent Meath in the Leinster Junior Championship and although it is perhaps only of scant consolation, they will do so with a degree of pride and it is most definitely a fitting reward.
Na Fianna v Slane (JBFC Final)
Na Fianna were crowned Junior B Champions of Meath with a comprehensive victory over Slane on Sunday afternoon. Captain Brian Queeney gave a magnificent performance in the actual game but his speech afterwards topped even that. He referenced the predictions in the 'We are Meath' podcast in the lead up to the game and how 3 of the 4 picked Slane, I'm not one to boast (LOL) but I selected Na Fianna…partly because from a Cortown point of view, we were banking on them winning!
Of course, Na Fianna's win preserved Cortown's status in the Junior A status for 2019 not that that will have been in the forefront of the Enfield/Baconstown/Rathmolyon sides minds as their sole focus was on lifting the Matthew Ginnity Cup. It was a second half purple patch which proved extremely fruitful for the men in black and amber which effectively blew Slane away along with the gale force breeze in Navan also!
Experience counts for so much on final day and Na Fianna had fountains of that in their ranks with Dean Henrick, Ollie Lewis and the aforementioned Queeney all playing in a Senior final as recently as 2015. Old age has probably curtailed Queeney and Lewis' Senior appearances of late whilst a mixture of hard work and partying has limited Henricks career as a first team footballer. Make no mistake though; this trio had a massive bearing on the outcome.
Meath fans love to have a cult hero on the panel, they don't always have to be Graham Geraghty's or Ollie Murphy's and for a couple of years Ollie Lewis was the darling of Meath. He was raw and you never quite knew what he would do next but Meath fans used to love seeing him introduced from the bench and proceed to run around like a wild hare!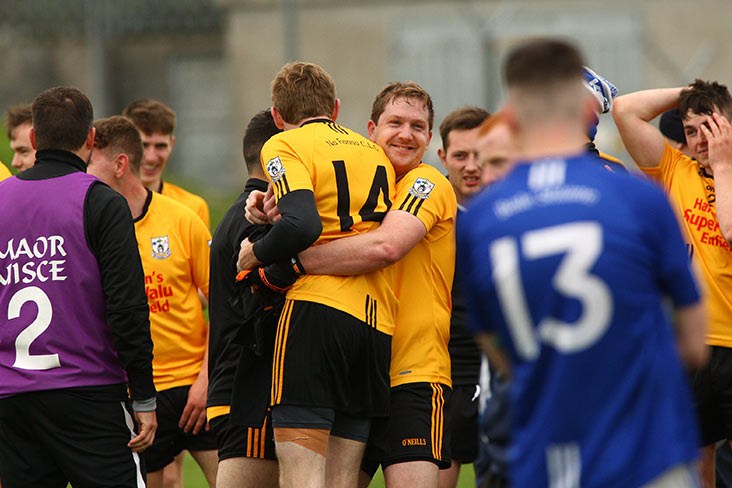 Lewis was outstanding on Sunday, the legs might be tired but the brain and hands are still in full working order. His fielding was exceptional at times too as was his partner in crime Queeney and they really dominated the midfield exchanges with some help from Henrick.
Slane did try hard but it was all too much for the Boynesider's. Podge McGowan displayed his unquestionable class with two fine goals, his second an absolute rocket to the roof of the net. At that stage it was only a mere consolation but earlier in the piece, captain Alan Harding threatened to spoil the party with some fine scores.
Na Fianna counteracted with some terrific scores of their own with some of the younger players showcasing their ability as Jack McNally and Mark Slevin accounting for a large proportion of their tally. They also had a solid foundation with Sean Coffey and Stephen Slevin excelling in the full back line. Coffey will be just one of several who will be looking to complete a memorable double this coming weekend as he lines out in the Intermediate hurling final. It would be wrong of me not to mention to old warhorse, Tommy Cosgrave who was lining out for his 47th year of adult football and he enjoyed a fine outing at centre back.
Na Fianna, fresh off the back of a Junior C win in 2017, have now made it back-to-back Championship successes which is a marvellous achievement. They will look forward to Junior A football in 2019 with hope in their hearts that they just might make it a hat trick of titles. Slane on the other hand will be disappointed especially after dumping out Championship favourites Kilbride in the semi-final but they will hope their stay in the Junior B ranks is short. The new proposals might ensure this and even if they don't with players of the calibre of Eoin Gibbs, Eanna Mooney and Podge McGowan in their ranks, they have the right credentials to go one step forward next season.
Donaghmore/Ashbourne v Summerhill (SFC Semi-Final)
Summerhill booked their place in the Keegan Cup final courtesy of a stunning second half performance with the aid of 3 second half goals. I had the feeling all week that Summerhill would have far too much ammunition for Donaghmore/Ashbourne and this proved to be the case albeit after a hairy first half performance.
The Moores adopted a similar approach in the first half which is hard to criticise considering they were playing into an extremely strong wind in that first half. The Hill struggled to use that breeze to their advantage, often kicking aimless balls into the likes of the Dalton brothers who wouldn't be renowned as high fielders. It was meat and drink to the likes of Cormac McGill and Sean Curran.
Gabriel Bannigan's men took full advantage too as they established a 3-1 lead after 15 minutes with raiding wing back Paul Gilligan causing trouble. Conor Carton was getting forward as much as possible too with the intelligent Colm O'Mealoid holding the centre and keeping tabs on one of the Hill danger men, David Larkin.
Summerhill did improve, they really had to and a couple of crucial interceptions from experienced Hill full back Caolan Young seemed to inspire his lacklustre teammates as a wonderful Barry Dardis turn and point from under the stand off his weaker left boot proved to be just the tonic for John Lyons' men.
Kevin Ryan was as industrious as ever in that half and his direct running style was causing Don/Ash real problems and he drew a couple of frees which Dardis converted with ease. A terrific Bryan Menton was score was instantly followed by a great goal chance for O'Mealoid. His first effort was stopped brilliantly by Tony 'Cluxo' McDonnell from close range. However, O'Mealoid picked up the loose ball and looked sure to riffle the rebound home but for an absolutely sensational goal-line block from John Lavelle to preserve the Hill's 3 point buffer at the break.
The significance of that double stop was not fully appreciated until that man McDonnell once again foiled Ashbourne again, this time from a rasper from the boot of Gilligan. Fast forward 60 seconds and at the other end, Summerhill at the ball in the net as Hannigan made a superb save but this time Davy Dalton cushioned the rebound into the net with aplomb.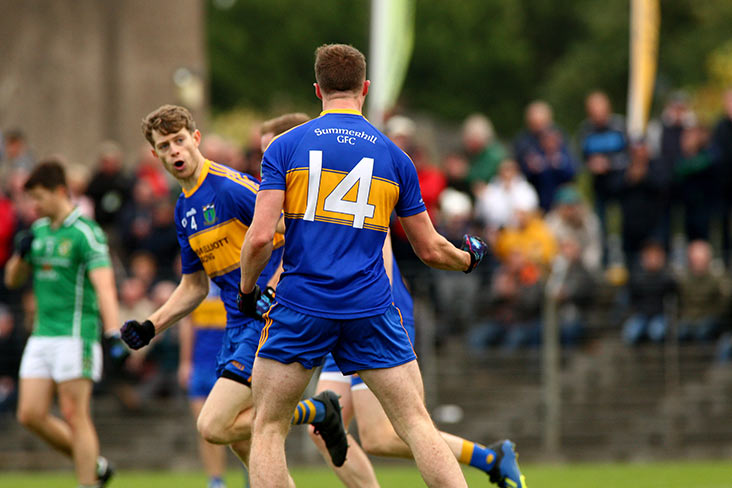 Summerhill are one of these sides that when they get their gander up, they are a tough side to stop. The men in green did interrupt the onslaught as Andrew Tormey and Ashbourne's record transfer from St Sylvester's Gary Sweeney played a neat 1-2 with the latter palming home to give Bannigan's men a glimmer of hope.
Barry Dardis soon stepped into the spotlight and he riffled a brace of goals in a devastating 5 minute period. Some of the interplay in the lead up to the goals were remarkable and glorious to watch. Ryan, Larkin and Seanie Dalton were all involved before Dardis did the rest as only he can.
I found it hard to believe Dardis couldn't get a spot in the Meath 15 this year but I'll be absolutely gobsmacked if he can't get into the starting 15 next year. The man is different gravy and what's more, he has a burning desire and ambition to put on the green and gold of Meath and that is great to see. This type of passion is sometime's lost in today's society but I have no doubt he will don the Meath jersey, whether that is next year or not we'll have to wait and see but I have no doubt it will happen sooner rather than later.
John Lyons has Summerhill moving well and big Dave Clare, the man mountain who hasn't not worn shorts for 11 years has instilled toughness into this group of players. They are a well oiled machine with a beautiful balance and a bench capable of making a difference if required. The forward line is to die for but they are far from a one trick pony as Martin McHugh once termed the Gooch. They have a powerful midfield with Micheal Byrne a formidable influence in and around the midfield sector. You have that steel and athleticism in defence to with Willie Ryan, Stephen Husband and Young providing the backbone with Padraig Geraghty, Lavelle and Iarla Hughes tenacious in the tackle with pace to burn. Don't forget the veteran McDonnell who has been performing like this for almost two decades!
Despite a late consolation goal from Tormey following up from a Sweeney effort, Ashbourne simply couldn't live with the movement in the dynamic Hill forward line and for me didn't show enough ambition in the second half themselves. If they can add an extra attacking threat to their game, there is no reason why they can't challenge again next year. For Summerhill they are back in the county final again and although they are missing Brian Ennis and last year's captain Richie Hatton, they have as good a chance as they ever had to regain the Keegan Cup. Dunboyne might have other ideas though!!
Ballinlough v Longwood (IFC Final)
Sunday September 30th is a day that will live long in the memory and go down in the history books of Longwood GAA as one of if not the finest in their long history. David Flynn will soon have a statue erected outside the clubhouse as he reaches legendary status in the village. He along with this group of players have bridged a 76 year wait for the Mattie McDonnell Cup which is an unprecedented achievement. To put that into some sort of context, they have contested the last 3 Intermediate relegation play-offs.
It's not as if this is a brand new group of players or they have had an influx of youth or Dubs into the village, it's down to hard work and dedication. As a matter of fact, I'd put themselves and the Vincents, two of the smallest parishes in County Meath as two of the most committed teams in the county.
So what has Flynn added, I'd suggest some belief that they can achieve and that's exactly what they've done. They were bang at it from the off on Sunday and left Ballinlough in their wake as Ryan Moore, a long lost brother of Arsenal star Hector Bellerin started brightly. The lively Aaron Ennis was also causing havoc inside as the Lough struggled to keep a hold of the rampant Wood.
The last few minutes of the first half looked like they could prove to be a huge turning point as Longwood leading by 5-0 missed a glorious goal chance as Evan Coyle did everything right but applying the finish as lashed his shot off the post. Fast forward a couple of short minutes and big Wayne Leonard was hauled down. Up stepped Longwood's favourite son, Mickey 'The Honeybadger' Burke but Stoney was denied by a class stop by Derek Muldoon.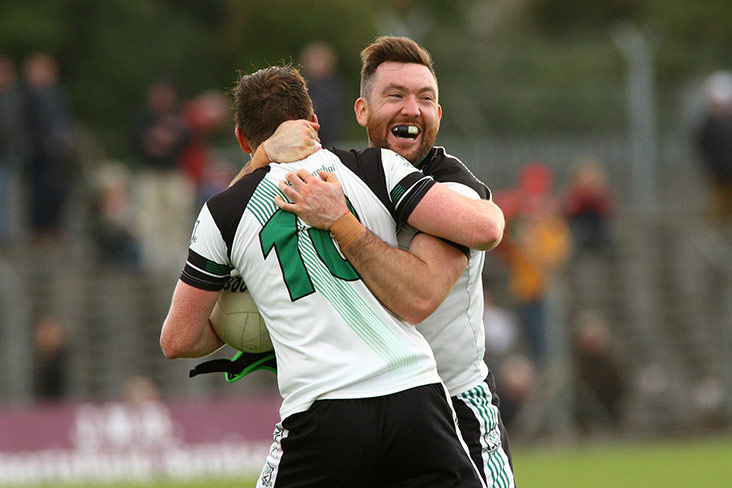 It was just what the Lough needed and they finally woke up as corner back Robbie Farrell hit an inspirational score to get the Lough crowd on their feet. Talisman Peadar Byrne finally found his range with a free after some disappointing misses and the hardworking Seanie Geraghty made it a two point game at half time with a fine score.
Considering all that went on in that first and playing against the breeze, Brian Donoghue and his side will have been thrilled with only going in 2 points down at the interval. Longwood will have been cursing their luck and no doubt fearing the worst but they turned in quite the second half performance.
Some of the performances were gladiator like and big Damien Healy looked like a gladiator with his Petr Cech like helmet. His close marking on Byrne was crucial to the outcome. His brother Anthony in midfield was also outstanding as was that of captain Joey Stenson was got on a mountain of ball throughout.
Chris Lynch and the Big Show Simon Deevey enjoyed one of the most physical tussles Navan has and will ever see. It would have been welcome in the UFC or the WWE as the two men battled tooth and nail from start to finish. Deevey created two good goal-scoring chances but was denied by some marvellous last ditch defending from a Longwood side who were determined not to be on the losing side.
Ballinlough kept at it but it just wasn't their day despite the efforts of Jonnie Reilly and Seanie Geraghty who kicked 2 points each from wing half back and wing half forward respectively. Podge Muldoon who is a loyal servant of Ballinlough enjoyed a brilliant dual with Burke with both symbolising everything that is good about both of these clubs.
I suppose the difference was Moore who was magnificent and Ballinlough, despite trying a number of different players on the lethal centre forward, just couldn't get to grips with lightning quick Bellerin. Another man with a ponytail, Eoin Lynch had a major influence on proceedings as did substitute Corran Byrne who clipped over a classy score just after his introduction. Aaron Ennis kicked the insurance point as referee Paul Mooney started the celebrations when he blew the full time whistle.
Longwood can now look forward to Senior football for 2019 and even typing that feels weird, before they even start contemplating that, they will give the Leinster Championship one hell of a rattle. Ballinlough in comparison when the dust settles, can reflect on a brilliant campaign and one which even the most optimistic of Ballinlough fans could not have envisaged at the start of the year so that tells you all about the job that Brian Donoghue has done with this group of players.
Most Read Stories