FL Div 2: Easy for Nobber
February 12, 2018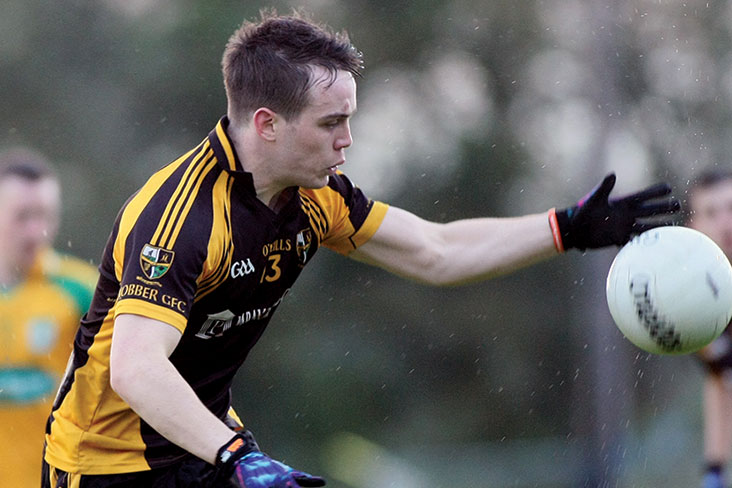 Nobber's Fiachra McEntee
Nobber  2-12 Walterstown 0-5 
A Fiachra McEntee goal and a point in the 6th and 7th minute set Nobber up for victory. 
Further scores from Dale Larkin (2) and another 2 from Jack Condra (prior to injury) saw the homeside lead 1-5 to 0-3 at the break.
On the resumption Walterstown were again hit for a goal this time courtesy of Aidan Shields.
The winners continued to dominate and held their rivals to just 2 points in this second period
Further scores from Larkin (2), Richard Shields, Sean Meade and one each from subs
Alan Farrell and Darragh Cassidy sealed the victory and a valuable two league points.
Nobber scorers: Fiachra McEntee 1-1, Dale Larkin 0-4, Aidan Shields 1-0, Jack Condra 0-2, Richard Shields 0-1, Alan Farrell 0-1, Darragh Cassidy 0-1, Sean Meade 0-1
Nobber: D Hutchinson, S,O,Brien, E Fagan, B Cassidy, B Heffernan, P Meade, D Halpin, N Farrell, J Condra, R Shields, F McEntee, T Murtagh, S Meade, A Shields, D Larkin
Subs: D Cassidy for Fagan, A Farrell   for Condra, B McEntee for R Shields, K Casserly for A Shields, C Cassidy for N Farrell
Most Read Stories